Winter Wedding Cake Flavor Ideas
For your celebration on cold days, try one of these cake flavors!
Winter weddings are all about playing to the season. Soft and cozy textures, warm layers, crackling fires, rich colors…in a season that's all about getting close with the people you love, a wedding fits right in, and the wedding cake is no exception!
From spins on classic flavors to seasonal fillings and combinations, we love the idea of using every last bite at your wedding to bring the theme together. To tempt your taste buds (and help you figure out which delightful combo is right for you), we've asked some of our favorite bakers from around the country to fill us in on what they're baking this winter. We'll take a slice of each!
Chai Tea and Honey Buttercream
"Our most popular winter wedding cake flavor is our spiced Chai tea cake with honey French buttercream," says Lexi Mota, owner, cake designer, and pastry chef at The Cakerie in Birmingham, Alabama. "We balance the spices in the cake with the light honey flavor of the frosting. It's a classic combination that reminds us of a hot cup of tea on a chilly day, and the spices give the cake a speckled look that is beautiful when you cut that first slice!"
S'mores
If your groom is considering a classic chocolate cake, he'll love the s'mores cake. "We layer a graham cracker cake with dark Valrhona ganache and toasted marshmallow buttercream," Mota describes. "It's a play on a classic dessert that can be changed to suit the couple, too." She recommends flavoring the marshmallow filling with peppermint or orange. Yum!
Vanilla With Coconut, Pecans and Bourbon
And for a Christmas-time wedding, look no further than Mota's twist on the Alabama state cake, the Lane Cake. "Our classic vanilla cake is made decadent with a mixture of coconut, toasted pecans, bourbon, and bourbon-soaked golden raisins," says Mota. "We do a vanilla French buttercream border to lock in the filling between the layers, and recommend this cake be naked to allow the coconut and pecans to drip down the sides."
Peppermint and Double Chocolate
Winter wedding cakes are all about rich, indulgent flavors. "Something about cool peppermint just makes it feel like the holidays," says Elysia Root, owner and creative director of Chicago's Elysia Root Cakes, who pairs the wintry flavor with decadent double chocolate cake, pink peppermint buttercream, crushed candy canes, and dark chocolate ganache. "It's sweet and refreshing, and when paired with the chocolate, it's a delicious way to savor the season and finish a wedding meal!" The crushed candy canes and rich peppermint buttercream are an unexpected textural contrast your guests will love.
Brown Butter Spice Cake With Cream Cheese and Maple Buttercream
Root's brown butter spice cake, frosted with cream cheese and maple sugar buttercream fillings, combines cinnamon, cloves, nutmeg, allspice, cardamom, and fresh ginger with rich molasses and brown butter. "This warm flavor is amazing for a cold and snowy night," she explains. "Spice cake is a timeless winter classic, and the brown butter adds some extra depth, alongside a little tang from the cream cheese and the sweetness of real maple syrup."
Mexican Chocolate
For an adventurous couple looking for something unexpected, look to the spicy-sweet combination of Mexican chocolate in Root's chile chocolate cake with Mexican chocolate buttercream and chocolate fudge. "We spice chocolate cake with cinnamon and cayenne, then pair it with cinnamon-spiced Mexican chocolate buttercream and a single layer of bittersweet chocolate fudge," describes Root. It's not for the traditionalist, but it's a winning combination that will surprise your guests and become their new favorite wintry treat.
Butter Almond and White Chocolate Ganache Filling
"Our most popular winter wedding flavors are warm and inviting," says Erin Holloway, co-owner of Art of Cakes Bakery in Maryville, Tennessee. "Butter almond cake is our most popular traditional wedding cake flavor, and in the winter we top it with a creamy white chocolate ganache filling." A rich update on a classic is always a good idea!
Sugared Pecan and Brown Butter Filling
"I also love our sugared pecan cake with brown butter filling," says Holloway. "It's something you might eat after a Christmas meal. It has a warm, toasty pecan flavor and the browned butter filling really sets it off."
Bourbon Vanilla and Raspberry Filling
For a little kick, Holloway recommends bourbon vanilla cake with raspberry filling. "The bourbon vanilla cake is a punched-up twist on traditional vanilla. Raspberries add some sweetness and tang, and the red rue brings Christmas colors inside the cake," she describes. Make sure to get pictures of the cake-cutting!
Devil's Food and Peppermint Buttercream
"We have a few flavors that just say 'winter,'" says Jennifer Luxmoore, owner of Sin in Providence, Rhode Island. "Our soft, fluffy devil's food cake with peppermint buttercream is one of them. The buttercream is white and creamy, with pieces of candy cane mixed in." It looks just like drifts of snow against the dark chocolate cake!
Spice Cake and White Chocolate Chai Ganache
"One we love to curl up with in front of a fireplace is our spice cake. It combines warm, fragrant spices like cinnamon, mace, allspice, and nutmeg, and is filled with a rich white chocolate chai ganache and dark chocolate buttercream," Luxmoore describes. That one-two punch of spices will definitely give your guests a warm and cozy feeling.
White Chocolate and Pomegranate Curd Filling
"Finally, couples love our white chocolate cake with tangy pomegranate curd filling," says Luxmoore. "The red filling against the white cake is a beautiful contrast, and that fruity filling is a nice flavor change from the season's more expected rich, chocolate flavors."
Gingerbread and Eggnog Creme
"We love creating cakes that are winter in a bite," says Kristina Serfass, owner of Baked. Custom Cakes in Seattle, Washington. "It's fun to put a unique twist on more traditional holiday flavors!" For a serious dose of holiday nostalgia, try the gingerbread cake with a creamy eggnog creme, which will take you straight back to childhood.
Cranberry Orange and Cream Cheese Filling
A more adult palate will love the cranberry orange cake, a vanilla cake with fresh cranberries frosted with an orange zest cream cheese filling. A totally classic combination of holiday flavors, presented in a new and unexpected way.
Chocolate Peppermint
Love chocolate? "Guests of all ages will love the chocolate peppermint cake, with dark chocolate cake, chocolate ganache, and peppermint cream," Serfass describes.
Fudge Cake With Peppermint Chocolate Mousse and Meringue Buttercream
"As the weather turns colder and snow starts to fall, I love sipping peppermint hot cocoa with my son," says Rachael Teufel, owner and cake designer of Intricate Icings in Denver, Colorado. "I love taking those special memories and translating them into cakes." She layers rich chocolate fudge cake, light peppermint chocolate mousse, and a vanilla swiss meringue buttercream reminiscent of whipped cream. "I sprinkle crushed peppermint candies on each plate when it's served for a pretty finish," Teufel says.
Bourbon Caramel Pecan
"Winter is the perfect time for rich flavors," she says of her bourbon pecan cake. "The pecan cake itself is light in texture, but the flavor of roasted pecans and bourbon caramel is quite decadent." Layers of pecan cake, bourbon caramel, and chocolate ganache are best enjoyed while sitting by the fire!
_____
Source: by Jaimie Mackey to Brides
Featured image: O'MalLey Photographers
See more content from our blog!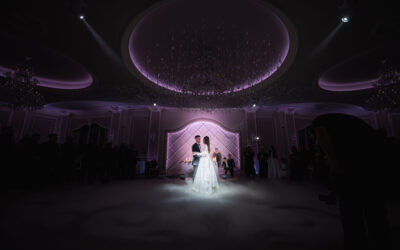 Your wedding guests will be of different generations: from grandparents to nephews and nieces to friends of your own age. That is why both wedding planning experts and modern couples agree that today's weddings should feature a good mix of new wedding songs (40% of your playlist) as well as the classics (60% of your wedding party playlist).
Contact & Location
The Mansion on Main Street is a picturesque events venue wrapped in elegance and modern beauty. Situated amidst exquisitely manicured grounds, lush gardens and a large cascading waterfall in Voorhees, New Jersey, this breathtaking property is ideal for gatherings of any kind, including but not limited to weddings, corporate events and celebrations.