Wedding trends you'll see everywhere in 2020
The Knot details what its experts are seeing couples gravitate towards for their nuptials and Insider spoke to The Knot's editor-in-chief Kristen Maxwell about the biggest wedding trends you can expect to see everywhere next year.
In 2020, couples will be using florals for more than just bouquets.
"One of the things I'm loving is this idea of using florals in sort of unexpected ways," Cooper said.
"They're incorporating edible blooms into food, into drinks," she said of 2020 couples. "Or they're even using their florals to sort of create textures and shapes in a monochromatic way."
For instance, couples are color blocking their flowers to create stunning decor, which The Knot demonstrated through massive floral blocks at its 10th annual gala in New York City.
Eco-conscious wedding decor is also becoming more common. For instance, The Knot showcased streamers made of recycled T-shirts at its gala.
Cooper told Insider that "sustainability is top of the line" for a lot of 2020 couples.
Eco-friendly weddings are becoming more common, with couples intentionally avoiding Styrofoam flower holders or giving flowers a second life through additional decor.
They're also composting flowers and food after the event, decreasing waste.
Couples are choosing to create customizable menus, keeping their guests in mind at every turn.
Self-service bars are also becoming popular, with guests grabbing their own beverages.
"This next generation is the most diverse generation to get married," Cooper said. "So I think that the exciting challenge for these couples is figuring out how to incorporate different cultures, ethnicities, or religions into one event."
One way couples are handling this challenge is through their registries, where they're taking the opportunity to raise money for things they really want instead of just home decor items. Some use it to raise money for honeymoons, a down payment on a house, or even IVF treatments, according to Cooper.
People are embracing unplugged honeymoons.
"For a while, everything was on social media as soon as the couple said 'I do,'" Cooper said of modern weddings. "But then we started seeing a lot of couples asking people to put their phones away during the ceremony."
"Now, we're seeing that extend to the honeymoon," Cooper said, with people choosing to use their honeymoons as a time to debrief and really be alone with their partners.
See more content from our blog!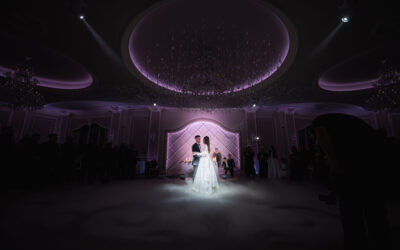 Your wedding guests will be of different generations: from grandparents to nephews and nieces to friends of your own age. That is why both wedding planning experts and modern couples agree that today's weddings should feature a good mix of new wedding songs (40% of your playlist) as well as the classics (60% of your wedding party playlist).
Contact & Location
The Mansion on Main Street is a picturesque events venue wrapped in elegance and modern beauty. Situated amidst exquisitely manicured grounds, lush gardens and a large cascading waterfall in Voorhees, New Jersey, this breathtaking property is ideal for gatherings of any kind, including but not limited to weddings, corporate events and celebrations.