The Prettiest Wedding Table Number Ideas from Real Weddings
By putting some thought into your table numbers, you can turn a sometimes-small detail into a standout décor element. How, exactly? Embrace your wedding's theme, be it rustic, modern, or something else entirely. It's not a bad idea to coordinate their design with the design of your seating cards or seating chart, either. After all, the pieces go together—you can't have one without the other.
You can also customize the display items further by nodding to your personalities or relationship. For example, we've seen table "numbers" that aren't digits at all, but instead different locations meaningful to the couple. Really, you can turn to anything for inspiration, from your event's color scheme to your shared hobbies. Whatever the case, you'll want guests to see what you chose and say, "That's so them!"
No matter what you end up deciding on for your table numbers, start your search for inspiration here. Why? Because these examples—which range from utterly elegant to playful and quirky—are all stunning and creative. Whether you're wondering what you should use for yours or you're looking for ways to display them, the following photos will help you plan.
Rachel May Photography
Just Like Home
This creative couple used traditional French enamel house numbers (found by the bride's mom!) to identify each table.
Mirelle Carmichel Photography
Geometric
With the help of elegant gold calligraphy, white triangle-shaped blocks were transformed into the chicest table numbers.
Sara Richardson Photography
In the Clear
At this Allure Weddings & Events celebration, slabs of lucite were transformed into table numbers by way of pretty white calligraphy.
Bonnie Sen Photography
Modern Style
This couple knew they wanted blackened steel table number holders, but couldn't find what they were looking for, so they ultimately asked a friend to create them. They completed the look with a modern printed number that identified each table.
Nirav Patel
Literary Favorite
As this couple's themed wedding (the bride and groom were Harry Potter fans!), tables were marked with books from the series. The bride painted old copies of her favorites and calligraphed class names, such as Potions, Divination, and Astronomy, on each.
Birds of a Feather Photography
Global Affair
This travel-themed Lady Liberty Events wedding benefited from tons of inspired décor, including these globe table numbers.
Aga Jones Photography
All About Agate
Numbers were painted onto bright agate slabs for this reception's table numbers.
Greg Finck
Unique Display
While the table number itself was fairly classic, the item that displayed it—a bronzed flower—was totally unique. Lavender & Rose Weddings executed the chic look.
Mirelle Carmichel Photography
On-Theme
For a nautical or seaside wedding, you can't beat a themed table number. These wooden boats surely wowed guests.
Amanda Alessi Photography
Honeycomb Table Numbers
The Butcher, The Baker, The Stylist & Creator dressed up these already-cool reception tables with unique honeycomb table numbers.
Cari Courtright Photography
Tall Order
This bride and groom placed their DIY table numbers in triangular décor pieces for a truly one-of-a-kind design.
Jenna Mcelroy Photography
Counting Crests
The motif on these acrylic table numbers coordinated with this couple's custom crest by The Inviting Pear.
Ali + Julie
Candle-Lit Display
Simple table numbers rested against candles for this boho wedding by Chocolate Creative Design.
O'Malley Photographers
Deckle-Edged Table Numbers
Floral frogs held these deckle-edged La Happy table numbers in place.
Abby Jiu Photography
Sailboat Signs
These sailboat wedding table numbers by Table 6 Productions were absolutely adorable.
Onelove Photography
Greenery Accents
These greenery table numbers looked just right beside the rest of this wedding's JL Designs centerpieces.
O'Malley Photographers
Driftwood Table Numbers
Looking for a rustic spin on nautical wedding décor? Add a hand-painted driftwood table number to the reception setting.
Kayla Barker
Table Number Illustrations
These gorgeous floral table numbers by Alli K Design were delicate and romantic but definitely still make a statement, and fit right in with the floral décor from The Wildflowers.
Sasithon Photography of The Weddings Artists Collective
Metallic Inspiration
Calligrapher Mindy Liu created these simple, elegant table numbers with classic gold ink, channeling the metallic accents that filled each centerpiece display.
This Love of Yours
Brass Table Numbers
These three-dimensional table numbers added extra depth and unique texture to an already gorgeous table display. Bonus: The brassy, gold color is a great complement to nearly any wedding palette.
Kate Headley
Garden Inspiration
For their garden-inspired wedding, this couple paired lush centerpieces with table numbers that fit the theme perfectly. These real pressed flower and plant table numbers from Cheree Berry Paper were just what the event called for!
Laura Inova Photography
Planted Table Numbers
Potted plants always add a fun element to wedding centerpieces. We bet these shabby-chic table number succulents had more than a few admirers on the big day.
Ether and Smith
Cloche Table Numbers
Say hello to your new favorite garden wedding table number idea. These unique cloche table numbers didn't just incorporate a floral print, they included the real thing in their three-dimensional displays.
Ether and Smith
Love Languages
Each table at this couple's "XO" themed wedding featured a unique twist on a table number. Instead of sticking to numerals, the couple named each table for the word "kiss" in a different language.
Ryan Ray
Garden Goals
The classic simplicity of these hand-lettered table numbers from Brown Linen Design fit in beautifully with the couple's slightly vintage, super romantic, garden wedding vibe.
Heather Waraksa
Green Accents
These calligraphy table numbers from Anne Robin were a great pairing for the couple's dark green linens and matching calligraphy escort cards.
Roey Yohai Photography
Palette Pro
Is your color palette the dominant detail of your wedding? Choose a table number to match, like this couple did with their classic blue table numbers.
Carrie Patterson
Rustic Style
Table numbers like these are simple, chic, and would be the perfect project to add to your list of handmade to-dos. The white lettering adds an extra touch of sophistication, too.
Ryan Ray Photography
Jewel-Toned Tables
Gorgeous jewel tones infused every inch of this Texas wedding, including the deep navy table numbers with their elegant calligraphy from The Left Handed Calligrapher.
Emily Wren Photography
Handmade Table Numbers
Inspired by a similar style of escort card the couple discovered on Pinterest, these geometric star table numbers added an unexpected, playful element to table décor.
Josh Gruetzmacher
Simple Sophistication
To fit the classic, elegant mood of their simple olive branch centerpieces, this couple opted for sophisticated table numbers printed on paper and mounted on clipboards.
Acqua Photo
Bright Ideas
Bright pops of pink helped these polka-dotted table numbers tie in with the black, white, and pink palette and pattern-heavy décor from this Kate Spade-inspired celebration. The pattern also reflected the couple's envelope liners from Peanut Press Creative and a layer of their wedding cake.
Katherine O'Brien Photography
Hand-Lettered Numbers
Carmen Collins created these super sweet table numbers. The highlight? The vintage-inspired stands that matched the eclectic vibe of table décor.
Liz Banfield
Natural Numbers
A nature-inspired wedding requires nature-inspired décor! These table numbers were calligraphed in white ink on green tiles that tied in with the look and hues of the palm leaves on each place setting.
Thayer Allyson Gowdy
Simple and Chic
These white folded table numbers were simple, but elegant—and a gorgeous accent for the couple's already-full reception tables.
Mademoiselle Fiona
Directional Decanters
The crafty bride at this chic soirée used ribbon to tie vintage metal numbers to IKEA pitchers.
Liz Banfield
In the Details
This bride's father painted and mounted the wooden table numbers that were inspired by the hand-painted ceiling at the wedding venue.
Kate Osborne
Rock On
Locally foraged stones, gathered on the resort grounds the day before the celebration and painted with gold foil digits, served as table numbers at this winter wedding.
Gideon Photo
What's for Dinner?
This couple topped each plate at their colorful wedding reception with pink cutouts representing the table number. 
Alison Conklin
It's the One
"As a little joke, the favors told guests their table number, although there was only one table," this bride shared of her Florence fête. "I brought the 'one' and a small easel, while the florist and groom created a beautiful table number display out of moss."
Gary Ashley for Les Loups
Cute Chalkboards
This bride recruited her bridesmaids to help assemble the table arrangements with flowers from Eva's Garden, which went in Weck canning jars of all different shapes and sizes, along with mini chalkboard table numbers.
Cadence & Eli
Clear Choice
Guests found their seats at this modern Minneapolis celebration via hexagonal table numbers that were displayed in clear acrylic frames.
Marisa Holmes
Frame-Worthy Figures
For their table numbers, this bride and groom asked Wendy Ware to calligraph designs that mirrored the stationery, with an orange tile motif on the top and bottom. The couple then displayed the signs in gold frames.
Shannen Natasha of The Wedding Artists Collective
Novel Numbers
To make the table numbers for his wedding, the groom cut digits from the pages of vintage books and pasted them to the covers.
Meg Smith Photography
Winging It
Instead of traditional numerals, large prints of hand-painted birds in wood-based picture frames adorned these tables and served as identifiers for the corresponding escort cards given to each guest. The illustrations (done by the bride's aunt) were of species often seen on Martha's Vineyard. The original paintings were framed and hung in the newlyweds' home.
Aaron Delesie
Simple Symbols
Nestled amid their serene tablescape, the pretty sculptural numerals at this celebration were made by stacking cardboard on a sturdy wooden base.
Tinywater Photography
Double-Duty Design
A swipe of blue paint transformed glass water bottles into multitasking table numbers at these nuptials.
Our Labor of Love
Wrap It Up
Guests found their seats at this fête via burlap-wrapped wine bottles.
Jill Thomas
Whimsical Table Numbers
The whimsical, illustrated blooms on this couple's table number cards mimicked their wildflower centerpieces.
Polly Alexandre Photography
French Flair
Leaf-shaped table number cards from Vintage Twee were embellished with small butterflies and customized in French as a nod to the bride's mother's roots and displayed in Cox & Cox holders.
Sue Kessler
Oak Accents
Stained-oak numbers and vases of dahlias and camomile topped tables at this nature-inspired wedding in Pocantico Hills, New York.
Corbin Gurkin
Famous Tunes
For their Hawaiian destination wedding, this couple named their tables after vintage albums. Each one was labeled with a colorful card.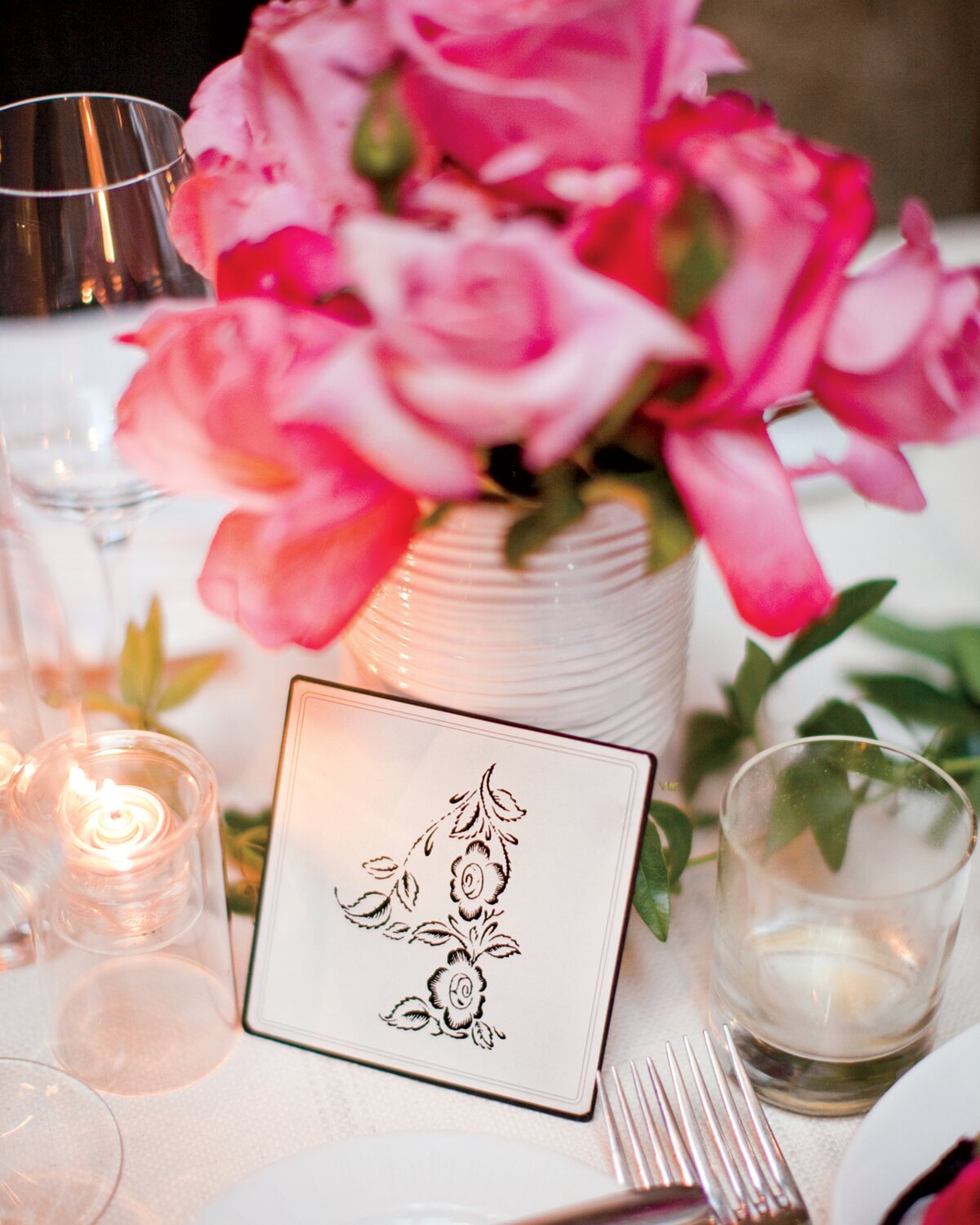 Nancy Neil
Well Drawn
Here, illustrated numbers were printed on tented cards. They coordinated with the illustrated initials used in the couple's invitation suite.
Orchard Cove Photography
Mini Banners
These playful paper flags showcased table numbers alongside low centerpieces constructed of Spode vessels (collected over months by the antique-loving couple); they were propped up on mercury-glass vases and surrounded by lush arrangements.
See more content from our blog!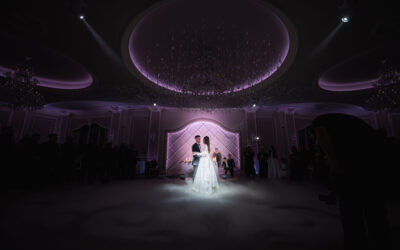 Your wedding guests will be of different generations: from grandparents to nephews and nieces to friends of your own age. That is why both wedding planning experts and modern couples agree that today's weddings should feature a good mix of new wedding songs (40% of your playlist) as well as the classics (60% of your wedding party playlist).
Contact & Location
The Mansion on Main Street is a picturesque events venue wrapped in elegance and modern beauty. Situated amidst exquisitely manicured grounds, lush gardens and a large cascading waterfall in Voorhees, New Jersey, this breathtaking property is ideal for gatherings of any kind, including but not limited to weddings, corporate events and celebrations.