Wedding Planning Tasks That Are OK to Tackle Before You Get Engaged
A little pre-engagement wedding planning can go a long way. Here are the tasks that are totally okay to tackle!
Even if there isn't yet a ring on your finger, engaging in some pre-engagement wedding planning is actually totally okay. As long as you and your partner are on the same page that a proposal is forthcoming, it can be quite helpful to get a head start on designing your big day—especially if you're thinking you'll have a shorter engagement period. In fact, according to a WeddingWire survey, two-thirds of millennials are taking at least one wedding-planning action prior to getting engaged. If you're thinking of going that route, we recommend keeping things firmly in the research stage if you're planning a wedding but not yet engaged. Don't start reaching out to vendors or putting down deposits until the engagement has been announced.
If you're feeling ready to do some pre-engagement wedding planning, here are the tasks it's okay to tackle.
Identify a wedding style.
Couples who are thisclose to getting engaged may spend at least a little time discussing their future wedding. A good opening topic is coming up with a general wedding style or theme. In fact, according to the WeddingWire survey, 1 in 2 couples discuss the style of the wedding they imagine before the question is popped. Would you rather have a casual, laid-back wedding, or an elegant, formal event? Come up with a few words you'd use to describe your ideal wedding, and compare your list with your partner's. This can be a fun pre-engagement wedding planning activity for a rainy day, as long as you keep the conversation relaxed and don't let it start any arguments between you and your partner. Talking about your future wedding should be fun and exciting, not a source of stress.
Think about size.
Do you want your wedding to be big, small, or somewhere in between? Turns out that nearly half of couples talk about the desired size of their wedding before getting engaged. While the average U.S. wedding has about 127 guests, there are many factors that will go into the size of your wedding, from if you and your partners have big or small families to where your wedding will take place (hometown weddings tend to have more guests than destination events), the venue you select, and more. Be prepared to compromise—this will be the first of many decisions you may not agree on.
Discuss potential dates.
While there's no need to select an exact wedding date before you're actually engaged, nearly half of couples discuss the time of year they'd like to wed prior to getting engaged. There are benefits to getting married in any season; it all depends on the type of wedding you and your partner are envisioning (outdoor or indoor?) and your desired engagement length. By deciding on a wedding season and year (not an actual date, yet) as part of your pre-engagement wedding planning, you'll be at a good starting point once you're ready to start your venue search in earnest.
Browse attire online.
What could be more fun that looking at pretty dresses and imagining your own dream gown? Turns out that one-third of engaged couples browse wedding attire online before getting engaged. While looking at wedding attire inspo before getting engaged is totally cool, don't take it too far, tempting as it may be. Hold back on actually shopping until you have a wedding date and venue firmly set. Your wedding season and venue will have a huge impact on the type of look you'll wear, so it's best to avoid actually shopping until you've firmly nailed down that info.
Create Pinterest boards and get inspired.
We all know that Pinterest is a huge part of wedding planning. But did you know that a quarter of couples create wedding Pinterest boards before getting engaged? There's no shame in the secret wedding board game! In fact, half of those who created Pinterest boards before getting engaged did so at least a year before the question was popped. Most start by pinning "pretty things," such as décor (68 percent), dresses (64 percent), and flowers (58 percent), but it's up to you to decide which boards you'll create. Thinking about how you want your wedding to look and feel will make the planning process easier once you're ready to get started.
Research venues.
One of the most important steps of wedding planning is choosing a venue—once you have your venue booked, most of the other tasks on your checklist will fall into place much more easily. So if you're doing some pre-engagement wedding planning, you can certainly start researching venues—researching is the important word here (in fact, about a quarter of couples research venues before getting engaged). Activities such as contacting, touring, and reserving wedding venues should be reserved for the post-engagement period. Until then, feel free to browse venues in your desired wedding location online and read reviews to narrow down the best of the best.
Check costs.
One of the most daunting experiences engaged couples face is realizing how much a wedding actually costs. To avoid the sticker shock, take some time to read up on how much weddings cost in your area. There are lots of online resources where you can do so without reaching out to vendors, so you can get a general sense of how much you (or your parents) will need to set aside to pay for your big day. What's more, you'll be a more prepared and educated consumer right out of the gate once you're officially engaged and ready to start hiring vendors.
See more content from our blog!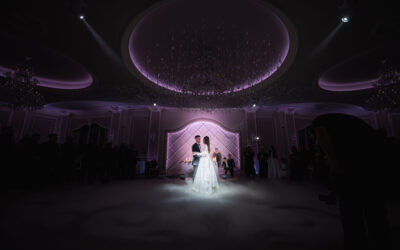 Your wedding guests will be of different generations: from grandparents to nephews and nieces to friends of your own age. That is why both wedding planning experts and modern couples agree that today's weddings should feature a good mix of new wedding songs (40% of your playlist) as well as the classics (60% of your wedding party playlist).
Contact & Location
The Mansion on Main Street is a picturesque events venue wrapped in elegance and modern beauty. Situated amidst exquisitely manicured grounds, lush gardens and a large cascading waterfall in Voorhees, New Jersey, this breathtaking property is ideal for gatherings of any kind, including but not limited to weddings, corporate events and celebrations.