Wedding Menu Ideas By Season
Choosing the right food and drink options is essential to pulling together your vision for your wedding. Your wedding menu will likely be impacted by what foods are in season and are typically associated with the time of year you get married. Keeping in mind the season will ensure that you are serving your guests fresh, flavorful food. Choosing a seasonal wedding menu also gives you the opportunity to play with unique flavors and unexpected food and drink ideas. Whether you get married around Christmas or in the middle of summer, there are plenty of options for catering your menu to the flavors of the season during your wedding reception.
The menu you choose will likely also be impacted by the style of wedding reception you are having. Whether you are serving a sit-down dinner to your guests, having a buffet or offering small bites during cocktail hour, consider choosing seasonal foods to really impress your guests. Adding special touches like wedding menu cards can also add a special touch to your event. Read on for wedding menu ideas by season.
Spring

If you are getting married in the spring, play up the bright flowers, pastel colors and light flavors that the season is known for. Make sure to incorporate the many fruits, vegetables, and herbs that are in season this time of year, like asparagus, melons, apricots, lavender, and mint. Celebrate the warmer weather by choosing foods that will complement blooming seasonal florals and bright sunshine.
Spring Wedding Menu Ideas
Appetizers:
Assorted

charcuterie board

Colorful fruit bar

Mixed green salad with a raspberry-infused vinaigrette

Deconstructed bruschetta

Mini shrimp salad rolls
Signature Drinks:
Bellinis

Raspberry coolers (champagne and raspberry sorbet)

Mint Juleps

Make-your-own Mimosas

Assorted flavors of lemonade (such as lavender, raspberry, and peach)
Main Courses:
Orange-soy glazed scallops

Lightly seasoned trout with parsley-caper vinaigrette

Spring vegetable risotto

Grilled rack of lamb with asparagus

Herb-roasted chicken and rice with fresh apricot
Cake And Desserts:
Lavender wedding cake

Macaroons

Petit Fours

Colorful candy bar

Grab-and-go cotton candy stand
Summer
The most popular months to get hitched are June, August, and September. It's no surprise since summer weddings are so much fun! Choose a menu that complements your wedding venue, whether you'll be on the beach, hosting a backyard barbecue, or escaping the heat with an indoor ceremony.
Consider featuring summer favorites in your menu like peaches, watermelon, basil, and cucumber to embrace some of the season's most famous flavors. Help your guests cool down from scorching hot temps with refreshing eats and drinks, cooling cocktails, and cold desserts.
Summer Wedding Menu Ideas
Appetizers:
Miniature crab cakes

Antipasto display

Caprese salad

Shrimp gazpacho

Frozen watermelon slices
Signature Drinks:
Cocktail Paletas

Basil Gimlets

Mai Tais

Sweet tea

Cold sodas
Main Courses:
Pulled pork sandwiches

Grilled chicken with sweet summer vegetables

Brisket with mashed potatoes

Lobster mac and cheese

Shrimp and grits
Cake And Desserts:
Naked wedding cake

Strawberry shortcake

Ice cream sandwiches

Snowcone cart

Peach blueberry cobbler
Fall
Fall is becoming an increasingly popular time to get married due to the predictable weather and the rich colors of the season that make the perfect backdrop for a wedding celebration. If you're getting married during the autumn months, consider a menu full of rich flavors, cozy appetizers, warming cocktails, and hearty main courses. For a truly autumnal feel to your wedding, choose dishes that feature the unique palate-pleasing flavors that fall is famous for like apples, pumpkin, root vegetables, and cinnamon. Coordinate the look of the day down to your napkins for a truly cohesive look.
Fall Wedding Menu Ideas
Appetizers:
Filo tarts with spinach, pumpkin and pine nuts

Potato leek soup shooters

Bacon-wrapped dates

Cranberry and brie bites

Sweet potato rounds topped with cheddar and chives
Signature Drinks:
Spiked apple cider with cinnamon

Moscow mules

Honeycrisp apple sangria

Hot apple cider

Cinnamon rosemary old fashioned
Main Courses:
Grilled petite filet with roast potatoes

Roasted pork loin with sauteed apple slices

Cornish game hen with wild rice

Butternut squash ravioli with brown butter sauce

Wild mushroom risotto
Cake and desserts:
Decadent chocolate cake

Spiced carrot cake

Mini apple and pumpkin pies

Make-your-own smores

Caramel apples
Winter
Comfort food is the perfect staple of a winter wedding menu, as cold-weather events provide an opportunity to serve heavier fare than you typically would during other seasons. Warm up your guests from cold temperatures with a delicious hot meal and cozy cocktails.
Choose a menu that features homely entrees, indulgent desserts, and festive drinks. Consider featuring seasonal flavors like cranberry, mushroom, and dark chocolate to create a winter menu full of decadent delights. If you're celebrating close to Christmas, be sure to remember the day and your delicious reception with a photo card after the holidays.
Winter Wedding Menu Ideas
Appetizers:
Pancetta wrapped asparagus

Mini grilled cheese sandwiches with tomato soup

Butternut squash soup with bleu cheese

Baked brie with blackberry compote

Pear bruschetta
Signature Drinks:
Hot toddies

Mulled wine

Sparkling apple-cranberry juice

Poinsettia spritz punch

Salted caramel white Russians
Main Courses:
Filet mignon with green beans

Herb crusted lamb and mashed potatoes

Stuffed portobello mushrooms

Beef tenderloin with roasted potatoes

Chicken pot pie with winter vegetables
Cake And Desserts:
Red velvet cake

Dark chocolate cake

Hot chocolate bar

Donut bar

Homemade toffee
See more content from our blog!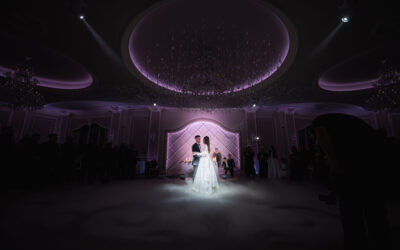 Your wedding guests will be of different generations: from grandparents to nephews and nieces to friends of your own age. That is why both wedding planning experts and modern couples agree that today's weddings should feature a good mix of new wedding songs (40% of your playlist) as well as the classics (60% of your wedding party playlist).
Contact & Location
The Mansion on Main Street is a picturesque events venue wrapped in elegance and modern beauty. Situated amidst exquisitely manicured grounds, lush gardens and a large cascading waterfall in Voorhees, New Jersey, this breathtaking property is ideal for gatherings of any kind, including but not limited to weddings, corporate events and celebrations.