Wedding Dress Timeline: Monthly To-Dos to Perfect Your Bridal Look
Chances are, you've been dreaming of your wedding gown for as long as you can remember. If you want to make sure reality lives up to your dreams, it's important to start planning and shopping for your wedding dress early on. Here, we've compiled a wedding dress timeline that leaves no detail overlooked. The average engagement length is just over twelve months, so our wedding dress timeline fits that length. If your engagement period is shorter, this timeline still works—just compress it. (And if you're getting started wedding dress shopping with less than nine months to go, consider adjusting your focus to finding an off-the-rack gown or scoring a dress at a sample sale, which will spare you the wait time for custom-order dresses.)
Twelve Months to Go
It's tempting to dive headfirst into wedding dress shopping as soon as you get engaged, but you'll save yourself some potential headaches if you plan out a few things first and take the time to do some research. At the twelve-month mark, figure out the following details so you'll be ahead of the game when you start the actual shopping process.
Determine Your Wedding Venue and Date
It's important to know your wedding date before buying a wedding dress, because certain styles that would be gorgeous in a fall or winter wedding just won't work for a spring or summer affair. Nail down your date so you can plan accordingly. Similarly, knowing where you're getting married can also be a huge help. As with the wedding date, the venue will definitely influence your gown choices. What is perfectly chic at a boho beach wedding won't look quite right at a sit-down ballroom reception.
Alternatively, however, you can work backwards: If you've had your heart set on a certain style of wedding dress for as long as you can remember, you might want to disregard the following and let your dream dress influence your date and venue decisions instead. For example, if you've always envisioned long, lacy sleeves and a faux fur muff, you're probably going to want to pick a winter wedding date. Or, if you've always imagined a subtle look, with a simple flowing dress and a flower crown, you might choose the beach or a field as your venue. The sky's the limit, and it's entirely up to you—just make sure to coordinate the vision of your dress with the vision of your overall wedding.
Set a Budget for Your Dress and Accessories
It's never a good idea to start wedding dress shopping without a budget in mind. Imagine falling in love with a wedding gown that's way out of your price range? Figure out your wedding dress budget right off the bat—that way when you head out shopping, you can let your salesperson guide you to the dresses that fit your budget.
Tip
Be sure to factor in the cost of wedding dress alterations, tax, and shipping (if applicable), as well as accessories including your wedding veil, undergarments, and shoes.
Start a Pinterest Board and Figure Out Details You Like
Though you don't need to decide the exact style or silhouette of your dress before you start your search, you do want to figure out a list of things you like and don't like. Having a vision board, whether it's physical or digital, can be useful (and fun).
Start Your Dress Search
You know those episodes of Say Yes To The Dress, where the bride-to-be brings her entire girl gang wedding dress shopping? It looks fun, but that can quickly get out of hand with all the opinions coming your way. Consider limiting the number of people you bring with you. Stick to your mother, grandmother, the person you're closest with on your spouse's side, and your most devoted and open-minded best friend. Everyone's viewpoint is not needed and can make the joyous moment even more complicated than it needs to be. You might even want to head out shopping on your own. Chances are you'll be making multiple trips, so you can also change up your shopping companions.
As you shop, evaluate fabrics and silhouettes to figure out what you're really into. What you loved on Pinterest might not suit you in real life. Keep your options open and at least try on different materials and gown shapes so you can experience them all. You might find your dream dress is even more magical once you try it on, but you also might discover a hidden gem in a style you never even considered.
Make a Final Decision and Buy Your Dress
The time has arrived to actually decide on the perfect dress and put in your order. And while nine months out might seem really early, it's actually not — unless you're buying off-the-rack at a sample sale, wedding dresses are typically custom-ordered, which means you've got to give the designer ample time to create and ship the dress, as well as leaving enough time for alterations, which 99 percent of wedding dresses will need.
Figure Out Your Wedding Day Hairstyle and Choose a Wedding Veil
The perfect wedding hairstyle can either make or break your bridal look. It's best to know exactly what you want far in advance, especially as you've already selected your dress. Are you opting for a veil and any embellished hair accessories? Will you be donning an updo, sleek chignon, or loose curls? There are so many possibilities to consider, but you'll have more than enough time to get everything in order if you plan ahead.
Buy Your Wedding Shoes
Wedding shoe shopping will definitely be one of the more fun tasks of the entire process. Perhaps you'll want a custom-made pair from your favorite designer, or need to take time deciding whether you'll choose a pointed-toe pump or ankle-strap sandal. You'll also want to have enough time to break those bad boys in before you walk down the aisle. A few days of wearing them in the house will ensure you'll be ready to dance from sundown to sunup. The six-month mark is a good place to get your shoes, because you'll need them before your first fitting.
Choose Your Something Borrowed, Something Old, and Something Blue
For your big day, you might want the shoes you're buying at this point to be blue, or you might want to wear your grandmother's vintage clip-on earrings. These are the pieces that will make your wedding ensemble truly special, so you'll want to decide on them early.
Get Your Undergarments
You'll also want to have your undergarments with you once you go to your first fitting, so you'll need to take care of this detail, as well. You will need to pick up a specific kind of bra based on the style of your dress's back and neckline, as well as choose the proper shapewear for the occasion. You might also need a petticoat to make your dress fluff out. This is also a good point at which to order your garter belt.
The First Wedding Dress Fitting
If you were wondering when to get your wedding dress altered, three months out is your answer. Sticking to your wedding dress fitting timeline is really important from here on out. You want to make sure your seamstress has ample time to perfect the fit of your dress. Timing is everything here and bringing your gown in too late may result in having too little time for alterations.
This is when you figure out if your dress needs to be taken in or out, as well as determining whether the hem length needs to be lengthened or shortened. The seamstress will also add bustle points to the dress so that dresses with trains can seamlessly transition during the reception.
You'll want to bring your jewelry, undergarments, shoes, and any other accessories you can to make sure everything will be flawless on your big day.
The Second Wedding Dress Fitting
Most brides have two to three fittings to make their dress absolutely perfect, so your wedding dress alteration timeline will require a trip back to the bridal salon. Most of the difficult work is done during your first fitting, thus, the second is for more minor revisions to your dress—like smoothing out the hemline for instance. You'll want to walk around in the salon with your gown on to ensure you are happy with the length, fit, and any alterations that were completed since your first wedding dress fitting.
The Final Wedding Dress Fitting
This is where it all comes together. Make sure you wear waterproof mascara because you will shed a few tears seeing yourself so close to absolute bridal perfection. You'll want one person you're incredibly close to by your side—like your mother or maid of honor—to bask in the joy, as well as to take a couple of pictures for your scrapbook.
Find a Place to Store Your Wedding Dress for Safekeeping
You will not only want to keep your dress safe, but you'll also want to hide it from your spouse, so it will be a total surprise once you walk down the aisle or have your first look. Keep in mind that if your dress is embellished, separate your veil so no rips occur. Place it in a bag that will allow for the fabric to breathe and examine it to ensure it's perfect. Alternatively, some wedding salons allow you to store your dress there until the big day, which, in some cases, might be easier.
Gather Up Everything You'll Need
Your veil, jewelry, dress, and shoes should all be in one place, so you never lose sight and misplace a piece altogether. You'll also want to have a steamer and a bleach pen on hand, just in case something unfortunate happens. Keep a needle, white thread, and clear fishing wire on hand, as well, in case there are any snags in any of the delicate fabrics, or a bustle point comes loose.
Tip


Pack everything (other than your dress) in a small suitcase so it's easy to haul around.
Give Yourself Ample Time to Get Ready
This is your moment. You'll need at least a half an hour to slip into your dress, so add extra time into the day. Wedding dresses take time to put on, especially those with multiple buttons, hooks, and intricate details. You should be relaxed and not rush for even a second.
________
Source: Brides
Featured image: Getty Image/Brides
See more content from our blog!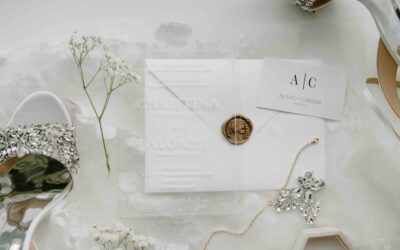 Yes, it is time to start thinking about your wedding invitations since 2024 is right around the corner and a new round of wedding seasons is coming soon. Brides might have the most options of wedding invitations ever in history, with all the different papers,...
Contact & Location
The Mansion on Main Street is a picturesque events venue wrapped in elegance and modern beauty. Situated amidst exquisitely manicured grounds, lush gardens and a large cascading waterfall in Voorhees, New Jersey, this breathtaking property is ideal for gatherings of any kind, including but not limited to weddings, corporate events and celebrations.