TRENDY OR TIMELESS?
CHOOSING A WEDDING DRESS YOU'LL LOVE FOREVER!
Of all the decisions involved in planning a wedding, for most brides choosing a wedding dress is one of the most important. When you start flipping through the various bridal magazines, you'll see all types of wedding dresses, including celebrity styles. While celebrities often choose wedding dresses on the cutting edge of fashion, many will be out of style by next season.
You may want to be fashion forward when choosing a wedding dress, however, you probably don't want to look at your wedding photos five or ten years from now and wonder what you were thinking. Super trendy is great for everyday style, but you may want to steer away from it when choosing a wedding dress. Here are a few tips to help you choose a dress that you'll always love.
AVOID SUPER TRENDY STYLES
Although you've seen it in all the bridal magazines and you absolutely love it now, if you choose a dress that's too trendy, you may be disappointed with your choice in the future. While choosing a dress that is completely timeless may be almost impossible, sticking with classic styles, fabrics and colors will help ensure you'll still love your wedding dress when you look back on it years from now.
THE PERFECT FIT
Finding a dress you love no matter how many anniversaries have passed is about how it makes you look and feel. This starts with the perfect fit. What looks great on your favorite celebrity or fashion icon, might not be right for you. Becoming familiar with the classic silhouettes is a great way to begin your search and a professional bridal stylist can recommend which ones will best flatter your figure.
Ball Gown: This style features a fitted bodice and waistline highlighted by a very full skirt.

Empire: With a high waistline that sits right under the bust, this style then falls to a slimmer skirt.

A-Line: This style cuts close to the hip with a slight flare at the hem.

Sheath: With a slim silhouette, this style closely follows the lines of the body.

Mermaid: The name says it all with a body-hugging silhouette that flares below the knee.

Trumpet: Similar to the Mermaid, this style hugs the body in all the right place, with a more dramatic flare beginning at mid-thigh.
Another important feature when choosing a wedding dress is the neckline. Because it will frame your face, neck and décolletage, it is one of the first things people will notice. Your stylist will work with you to determine which necklines best suit you.
Square: This is a very open neckline that comes down from the shoulders and straight across the top of the bust.

Strapless: A true classic neckline that highlights the shoulders and collarbone.

V Neck: This elegant and dramatic neckline plunges as the name suggests, flattering and elongating your shape.

Bateau: This wide neckline gently follows the curve of the collarbone, almost to the tip of the shoulders.

High-Neck: Typified by a band collar, this style extends above the neckline.

Jewel: This simple neckline is round and sits at the base of your throat.

Draped: This romantic neckline can take on different lines soften by folds of fabric.

Sweetheart: This strapless neckline is shaped like the top half of a heart which highlights the décolletage.
FABRIC AND COLOR
Once you found the perfect fit, it's time to choose fabric and color. Again, you may be tempted to follow the latest fashion trends. But if you want your wedding gown to truly stand the test of time, then it's a good idea to opt for traditional fabrics, such as lace, crepe, shantung, organza, and tulle.
If you're considering colors beyond the various shades of white and ivory, you might want to ask yourself why. Is it the color your favorite celebrity wore walking down the aisle or is it the color you've loved since you were a young girl? The fabric and the color will also affect how you look and feel in your wedding dress.
In the end, you need to be true to yourself. Don't base your wedding dress decisions on celebrity choices and fashion trends. Choose a wedding dress that makes you look and feel like the bride you've always dreamed of being.

CHOOSING A WE
DDING DRESS
When it's time to start the search for the perfect wedding dress, it's best to start with a professional bridal stylist. Not only will they guide you to a dress that you'll love, they can also assist you in choosing bridal accessories to complete the look for your big day.
See more content from our blog!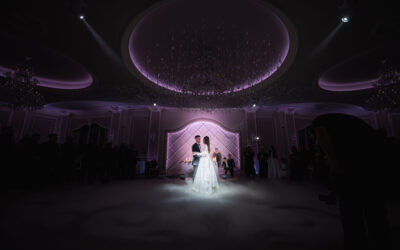 Your wedding guests will be of different generations: from grandparents to nephews and nieces to friends of your own age. That is why both wedding planning experts and modern couples agree that today's weddings should feature a good mix of new wedding songs (40% of your playlist) as well as the classics (60% of your wedding party playlist).
Contact & Location
The Mansion on Main Street is a picturesque events venue wrapped in elegance and modern beauty. Situated amidst exquisitely manicured grounds, lush gardens and a large cascading waterfall in Voorhees, New Jersey, this breathtaking property is ideal for gatherings of any kind, including but not limited to weddings, corporate events and celebrations.