Trend alert: wedding color palette in 2024 that will be all the rage!
Find out in this article what are the wedding colors will be in trend 2024 and leave everyone speechless with your combinations.
If you're getting married and you're wondering what wedding colours will be in trend in 2024, then this article is for you, because we'll tell you about the 25 colours that will be trendy for weddings in 2024!
Previously, weddings were full of nude colours, such as white, beiges, pastels, etc. But now it is changing! Because weddings and fashions evolve, and now strong colours and the variety and mixture of these is the fashion.
Sometimes, many couples choose to have only one colour and others choose to mix several. Do you want to know what colours we are talking about? Then read on and tell us at the end which one is your favourite! 
Let's get started!
Apricot Crush: the trend colour of 2024
This orange pastel tone is a refreshing, energising and restorative shade that brings a great sense of well-being. This is a colour that is somewhere between soft pastels and brighter shades – a perfect balance! It's a shade that goes great with a range of pastels, but also with neutral colours – a total hit for weddings!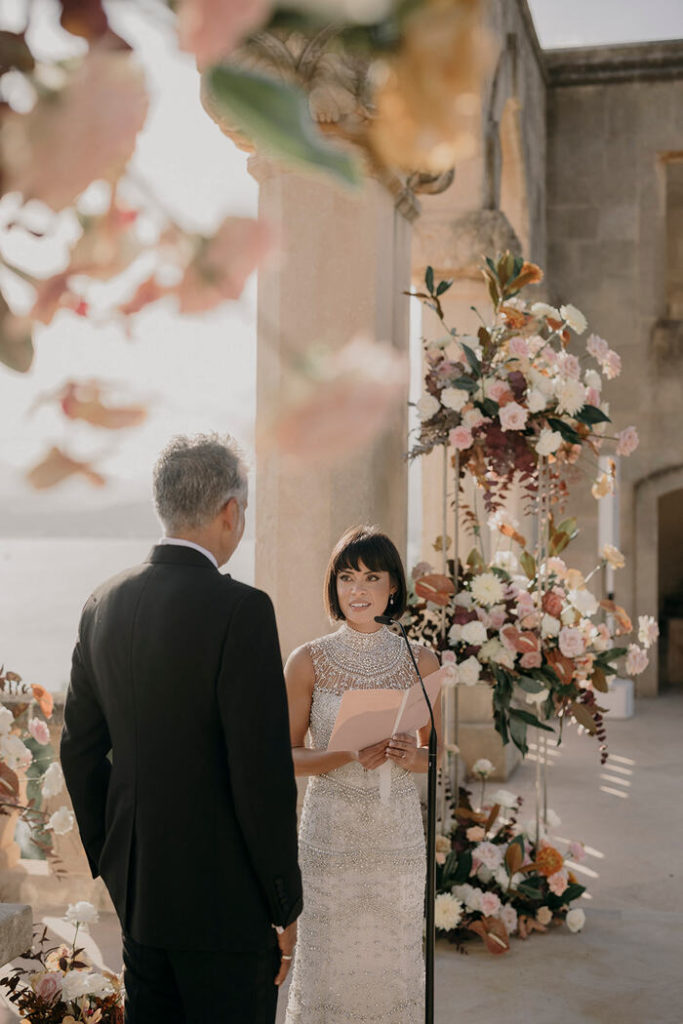 Earth tones
Only few colours can convey the calm and elegance of camel and earth tones. A chromatic prodigy of the rural world that triumphs in the urban world. Wedding colours in 2024 such as terracotta, camel, beige, ochre or toasted will be some of the must-haves that you can combine with each other. Perfect for autumn weddings! 
Apricot Crush, white and green
Sweet but delicate, peach is an excellent wedding colour for an outdoor wedding in summer 2024. In combination with classic white and green, it will make a fresh, modern and glorious wedding day memory. Imagine your bridesmaids in peach dresses holding bouquets of white and green flowers and you, the bride, in a classic white wedding dress. You can decorate your peach wedding arch with white flowers and greenery, arrange peach napkins, white wedding tablecloths, white flowers and green centerpieces and make a peach wedding cake.
Apricot Crush, sage and fuchsia
The apricot, sage and fuchsia colour scheme will make your wedding beautiful and minimalistic. You can decorate your wedding arch, wedding cake and wedding ceiling with apricot crush and fuchsia flowers with sage leaves – very romantic! Bridesmaids in sage green dresses will also look great with apricot crush and fuchsia bouquets.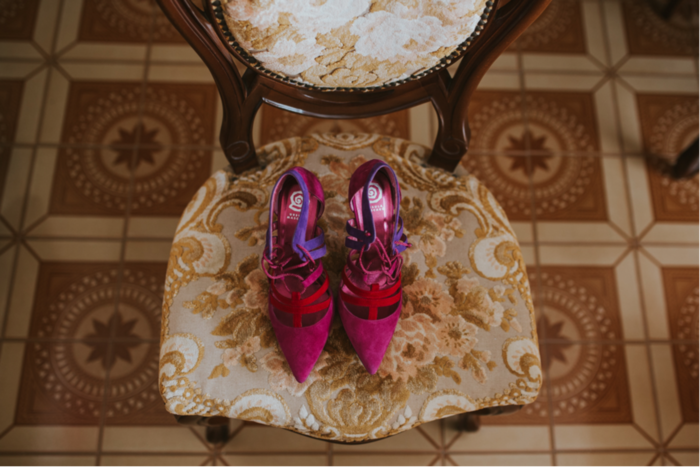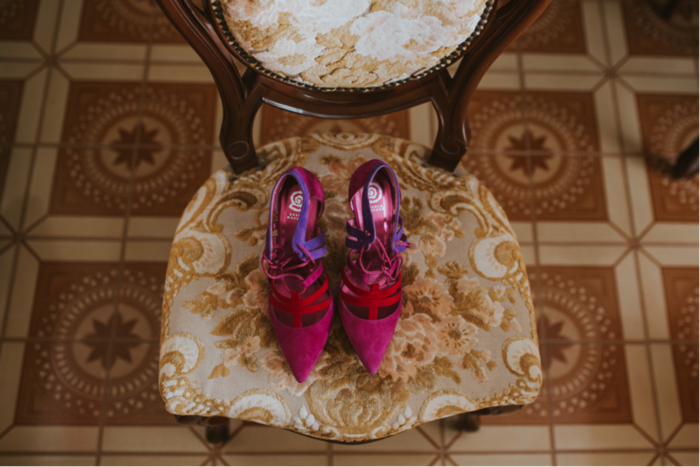 Blue, green and orange
We love two use the combination of blue-green with green, white and orange to create a very elegant look. Imagine a big bouquet of orange flowers, filled with green leaves, with blue crystal glasses and an aquamarine tablecloth – we love this combination! It's one of our favourite choices of wedding colours in 2024.
Orange, purple and yellow
We like the idea of mixing orange flowers, with shades of purple or lavender and butter yellow. The combination can be applied for your ceremony and reception flowers to stunning effect as well as at the wedding banquet. For the tablecloth: butter yellow and for the centrepieces orange and purple flowers. The effect will be amazing.
Neutral and metallic tones
Light and bright earth tones are not only refreshing, but also let the decoration speak for itself. If you want to be a bride with a difference and a neutral or beige dress is your thing, don't hesitate to pair it with metallic objects. It's an innovative choice and it's perfect for your bridesmaids also. Everyone will be able to shine with their dresses in silver tones.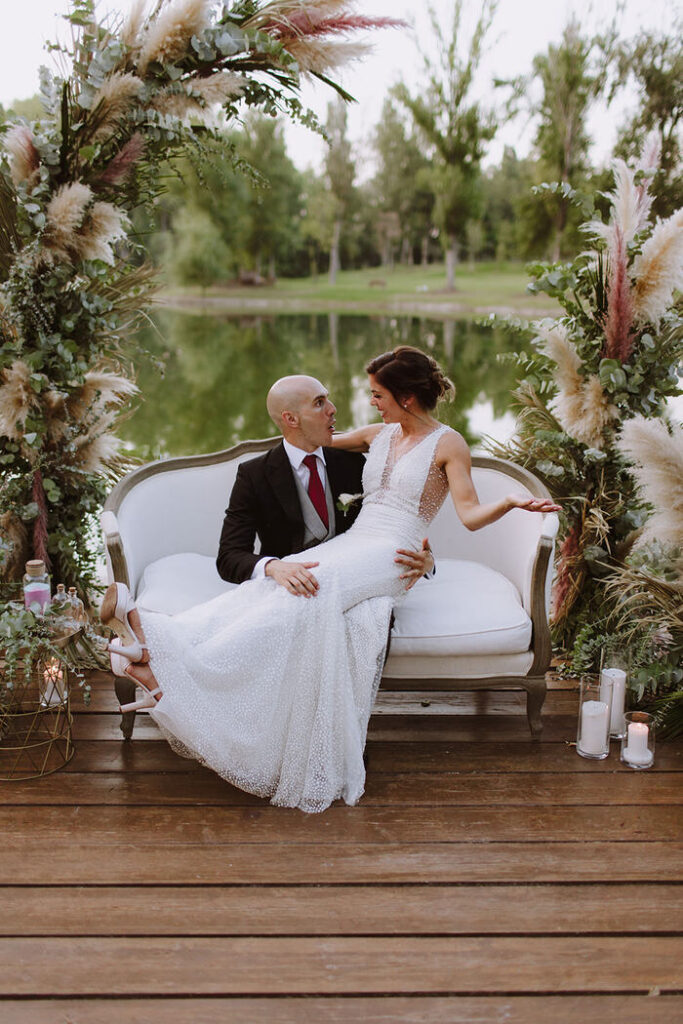 Photo by Fran Gribodo
Earth tones with champagne
An undeniable earthy colour that will make all the spaces of your wedding look great. Combining earth tones with another neutral and muted colour, champagne, will make your whole wedding shine. The groom and groomsmen in champagne suits, champagne chairs at the banquet, matching cutlery and wedding cake, while the bridesmaids wear camel or earthy dresses.
Warm tones with green
There is no denying that warm tones are popular for weddings in any season, and the trendy combination this 2024 will be to mix saturated colours such as reds, oranges and fiery yellows, with very intense greens. Undoubtedly one of the most popular wedding colours in 2024. 
Ice blue and navy blue 
If you want an elegant wedding, you can choose an ice blue and navy blue colour combination. Both the bride in a white wedding dress and the bridesmaids in ice blue dresses can hold bouquets of white flowers to make the wedding more pure and holy. You can cover the wedding table with an ice blue wedding tablecloth and set white wedding chairs around the tables.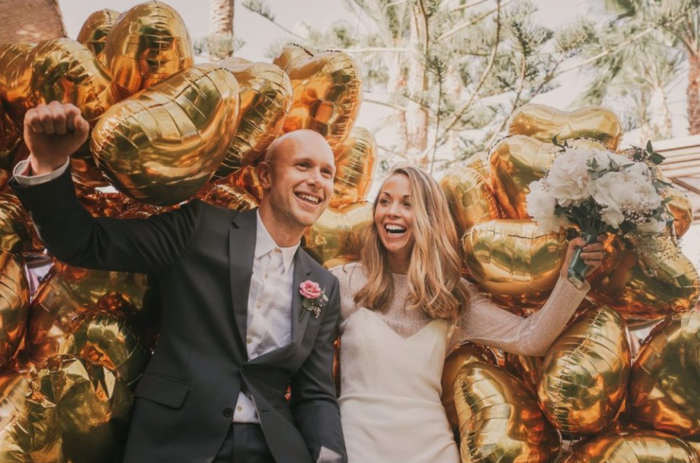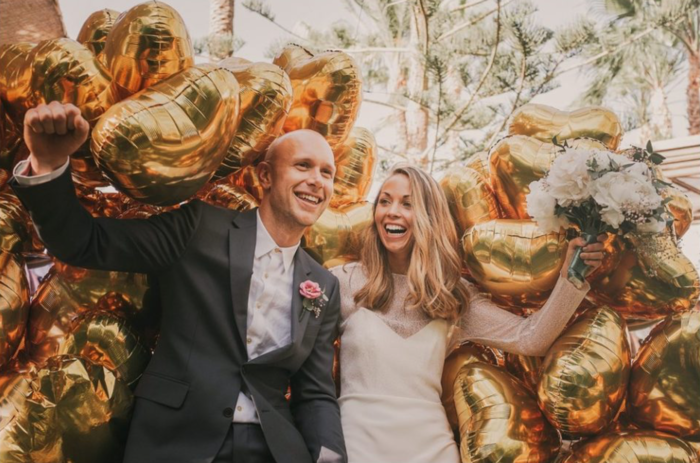 Marine blue and yellow
Marine blue is always considered as an autumn or winter wedding colour. But when used in combination with a bright yellow, it can be used in your 2024 wedding. Yellow and white bouquets will make your bridesmaids in dark blue dresses to be active and passionate. Groomsmen can wear grey suits with yellow ties. You can place yellow flowers to decorate their wedding table and wedding table number card, place navy blue napkins, wedding invitations with lemon images and decorate the wedding cake with yellow lemon to make your summer wedding more summery.
Gold, hot pink and green
Both tropical green and hot pink will be the best wedding colour for a wedding in 2024. To make your wedding more beautiful, you can choose gold bridesmaid dresses for your leading ladies. All flowers including bouquets, wedding arch decorations, wedding photo backdrop, even wedding invitation kits can be hot pink flowers and tropical leaves. The wedding ring in a box of golden color will also shine! 
Pink, coral and orange
Summer weddings should be bright and colourful. Using the bright pink, coral and orange colours together will also create a great wedding palette! Bridesmaids in pink, coral and orange dresses will look most fascinating. All flowers in bouquets, wedding cake decorations, centrepieces and wedding invitations can be a mix of pink and orange flowers. 
Pink, orange and white
Various shades of pink and orange combine perfectly with white flowers in a bouquet. A cheerful color palette perfect for summer or spring weddings. Take advantage of the fact that orange is in trend for your bridesmaids to wear this color while holding white and pink flowers. And for the banquet? Well, one of the best options is a pure white tablecloth filled with centerpieces of orange-pink flowers.
Red, pink and white
Dark reds are common for fall and winter weddings, but in combination with lighter tones, they are going to be used for spring weddings too. For example, for this 2024 we bet on red flower bouquets, on white tablecloths and with napkins and glassware in light pink or nude tones. Elegance without a doubt. 
Red, pink and blue
What's so amazing about this palette? Yes, believe it or not, this combination is very elegant and full of personality, because blue flowers are fashionable as never before, and surprisingly mixed with pink and red flowers create a harmonious and romantic ensemble. Try it and you will see how these wedding colors in 2024 will leave you speechless!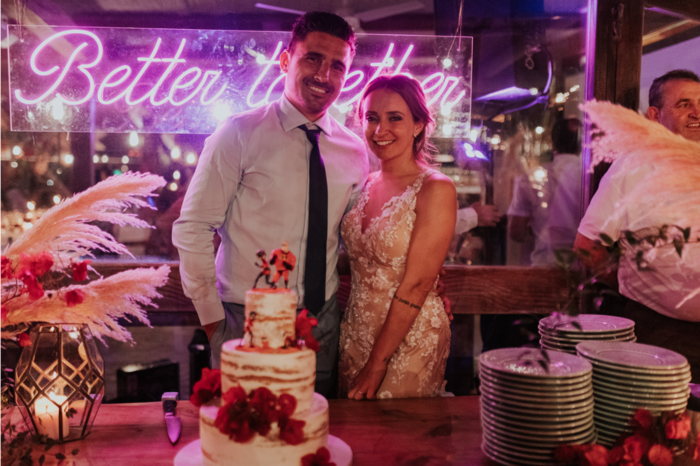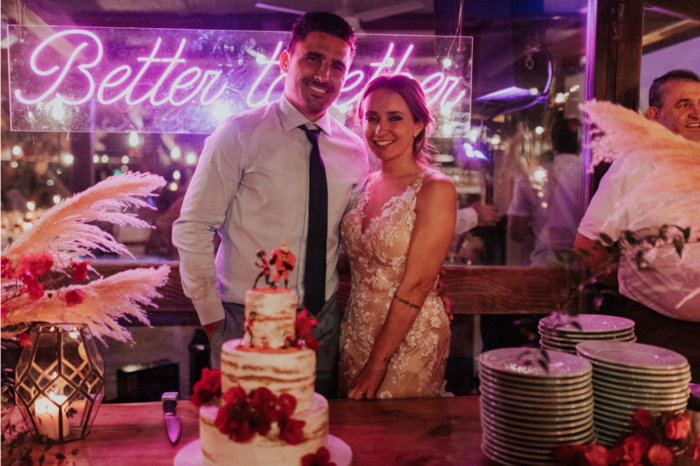 Dusty pink and emerald green
Dusty pink, as an elegant shade of pink, has become increasingly popular in recent years. It will make your wedding in 2024 romantic and fascinating. Especially, when you use this color for bridesmaid dresses and flowers, cake and napkins in the same shade. And the best thing is that you can add emerald color to make your wedding full of liveliness. You can put an emerald green tablecloth on the banquet tables and a bunch of leaves decorating in this shade of green. 
Gray and blue
Depending on where you organize your wedding this palette can go with your style or not, and if your thing is a winter wedding and in a wet climate, this combination works perfectly for you. The groom in gray, the bridesmaids in blue, tables set with bluish greens and tableware in slate materials. Undoubtedly a combination where success is assured, it is one of the wedding colors in 2024 that we like the most! 
Blue, purple and pink
The soft and fresh tones are always a success, especially in summer weddings. The best combination is with aquamarine curtains and centerpieces with purple flowers and light pink tablecloths, all contributing to the feeling of brightness and spaciousness of the venue.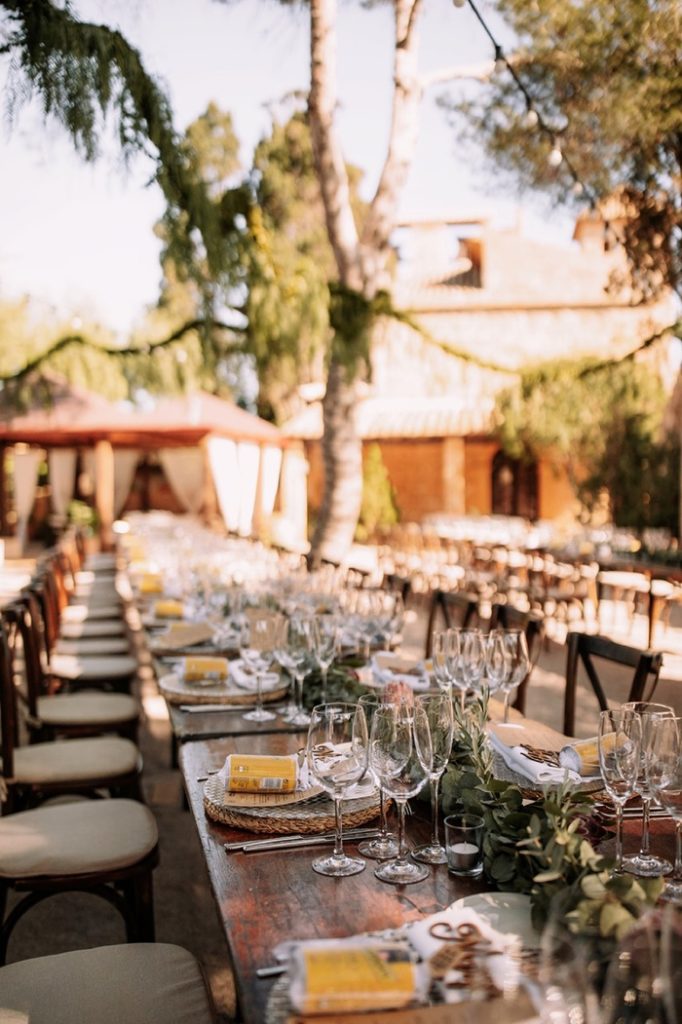 Yellow and green
If you are fond of peace, tranquility and well-being, your best combination will be the mixture of yellow and green. These two acid colors will give a cheerful and harmonious touch. Just as green is hope, green is happiness, and your guests will feel it! We are crazy about a lemonade corner with green leaves, decorative and practical! So, this combination can't be missed at your summer or spring wedding.
Maroon and beige
Autumn and winter weddings will be flooded by the color burgundy, because this color conveys the feeling of a cozy wedding, with strong character, full of personality and class. How about a bouquet of maroon flowers to match with vibrant lips in the same color? It will stand out beautifully with a pair of beige shoes to match the tablecloths and the decoration of the place. We love this bet!
Green and purple
Yes, we haven't gone crazy. This combination is going to revolutionize weddings next year. Green is one of those colors that will NEVER disappear from a wedding pallet, because natural areas full of leaves and plants give a wedding that unique and fresh touch that everyone would like to have. And if you add to that the purple of lilac flowers, you will get a harmonious environment.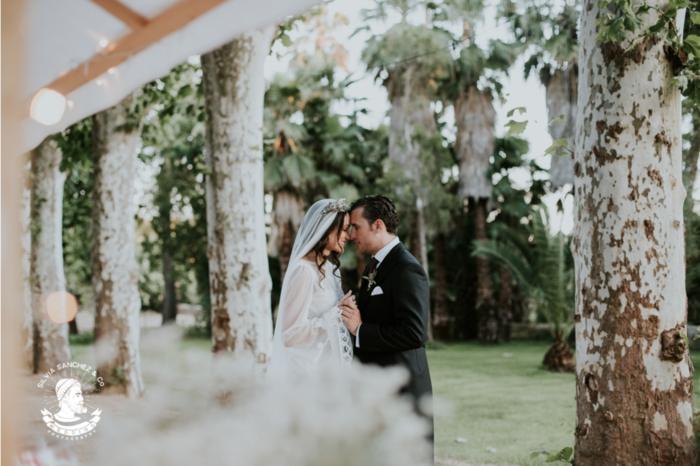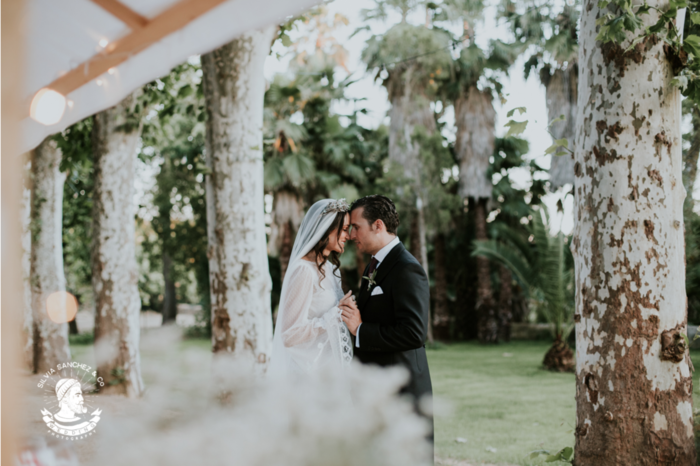 Black and white
Without a doubt, white is a basic color for weddings, just as black is also a must for the most classic, elegant and distinguished couples. So, combining these two colors together is the perfect way to leave all your guests speechless when they see white tablecloths, black tableware and candles, white flowers… Did you see the bouquet of black flowers that Pilar Rubio had at her spectacular wedding? Dare you too with these wedding colors in 2024!
Blue and white
Another of those colors that will never go out of style at weddings is blue in all its versions: electric, turquoise, aquamarine, dusty, pastel… Whether on the invitations, on the tablecloth, on the bride's shoes or on the minutes, blue will always be a total success. There is a reason why they say that all brides have to wear something blue on their big day! Of course, to combine it, nothing better than white to convey that sense of calm, peace and tranquility. 
Lavender with pink
The combination of lilac with lavender pink is one of the ideal combinations for all those brides and grooms looking for a romantic, fresh and vital wedding. Our advice is to decorate the tables with pale pink tablecloths and place lilac candles on them, matching the bows on the bride and groom's chairs and even the bride's bouquet and headdress. Modern and sophisticated!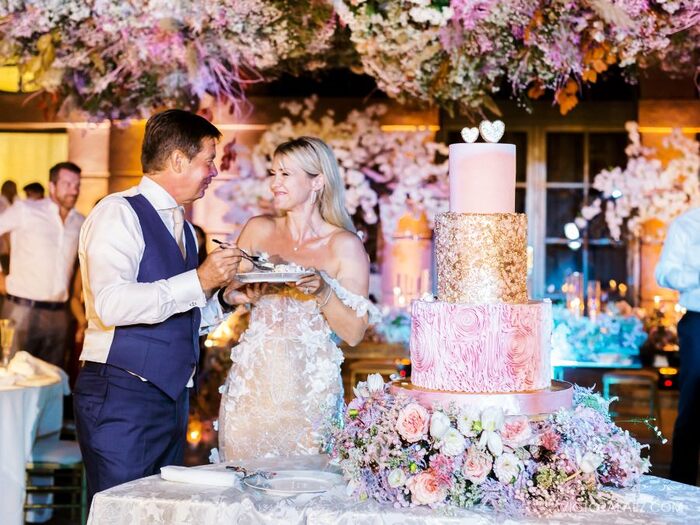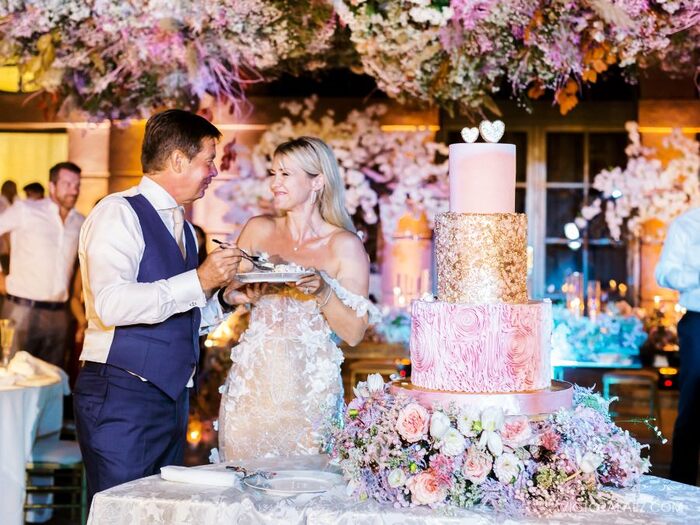 See more content from our blog!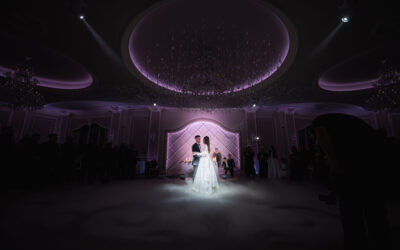 Your wedding guests will be of different generations: from grandparents to nephews and nieces to friends of your own age. That is why both wedding planning experts and modern couples agree that today's weddings should feature a good mix of new wedding songs (40% of your playlist) as well as the classics (60% of your wedding party playlist).
Contact & Location
The Mansion on Main Street is a picturesque events venue wrapped in elegance and modern beauty. Situated amidst exquisitely manicured grounds, lush gardens and a large cascading waterfall in Voorhees, New Jersey, this breathtaking property is ideal for gatherings of any kind, including but not limited to weddings, corporate events and celebrations.