Top 10 Tips for choosing your Wedding Cake
After your dress, venue and flowers, your choice of wedding cake is going to be a focal point, especially at the wedding reception, so it deserves more than just a fleeting thought; there are going to be lots of photographs of you posing with it, cutting it and feeding each other, so it's worth making it a memory to remember. Below are my top tips for ensuring your wedding cake is everything you dreamed it would be, and more.
1. Start to think about the Types of Cakes you like and don't like
Wedding cakes are a long-standing tradition and have been around, in one form or another, for hundreds of years. As with everything else, styles change, and trends come and go, so there is a lot of choice out there. It may seem a bit daunting at first, but you are likely to gravitate to what you like and don't like. Start adding some designs you like to a mood board or Pinterest board.
The different types of cake available include:
Tiered and stacked cakes in various shapes (eg round, hexagonal, square, novelty), covered in fondant, buttercream or 'naked'.

Cupcake Towers with or without a cake tier

Mini Cakes, including spherical cakes called Temari cakes

Cheese Wheel Cakes – a range of different types of cheese, stacked in a tiered formation to resemble a cake. Not a real cake at all … in other words, an imposter 😀
Take some time to think about which of these options you really don't like or want to start your journey on narrowing down your choices.
2. Budget
Many couples don't know how much to budget for a wedding cake as they haven't had the need to buy one before, and may be surprised that the 4-tier regal design they were considering is closer to the £1k mark rather than the £200 they were expecting. Remember you are paying for a bespoke, one-off, edible work of art, and that takes skill and expertise. The more elaborate the design, (eg ruffles, flowers, intricate piping, complex flavours etc) the more skill, expertise and time is required by your Cake Designer.
If budget isn't a considering factor then, by all means, go all out on the design of your cake. However, if you do have a budget you need to stay within, it is best to be honest with your Cake Designer on what that is. Every good Cake Designer will relish the challenge to create the best possible cake they can in your price range (although be aware that some Cake Designer do have a minimum order value).
3. How many guests does your cake need to serve?
You need to have a fair idea on your guest numbers before you finalise the size of your cake. That's not to say that your guest number has to dictate the size of your cake, but it is a good starting point.
When thinking about your guest numbers, consider whether your cake will be served only to your day guests or whether you cake will be served later on to include your evening guests. You may also want to factor in absent guests.
If you are having 80 guests but you still want that 5-tier elaborate regal cake, speak to your Cake Designer about using 'fake cake' for some of the tiers. This is where a styrofoam/polystyrene dummy is used instead of real cake, so you get the effect that you are going for but you're not having to waste a lot of cake. Likewise, if you have your mind set on an elegant 3-tier cake but you have 200 guests to feed, your Cake Designer is likely to suggest having a separate 'cutting cake'. This where your Cake Designer will make a plain square or rectangular cake. You can choose your flavour and it will be covered in buttercream and/or sugar paste, but it won't be decorated. This cake is kept in the kitchen and is cut up and served along with your main cake.
4. Serving your cake
The 'when' and 'how' of how you plan to serve your cake will also be an important factor in deciding the size and number of portions you need. The main ways of serving your cake are:
Instead of Dessert:
Simply put, your cake is served to your daytime guests as the last course of their meal and instead of a dessert. Your portion size, when served in this manner, will usually be 2"x1" and you will need to ensure you have a portion for each guest at the Daytime reception. You will first need to check with your venue/caterers if this is an option available to you and, if so, if you will incur any additional charges.
During the Evening Reception:
If you choose to serve your cake during the evening reception, you will need to include the number of evening guests into the equation. However, two important things to consider are that a) not everyone will need or want a piece of cake (so assume you will need enough portions to serve about 70% – 80% of your guest numbers and b) you can elect to serve a 1"x1" portion size instead of the 2"x1" portion size.
Given to guests as a Wedding Favour:
You may choose to go down the traditional route of packaging your cake into individual portion boxes, ready for guests to help themselves when they leave your reception. Usually you would include evening guest in this number too and you are probably safer allowing for 90%-95% of guests (at the end of a long day, and because it is packaged, more guests may be willing to indulge in a slice). Make sure that your venue or caterer is prepared to wrap the portions in clingfilm and box them up. You will usually be expected to provide the boxes yourself but it's worth talking to your Cake Designer and caterer about this option too. Don't forget to include labels, specifying the cake flavour and allergy info.
As part of a Dessert Table:
If you are having a Dessert Table with lots of tasty treat options, it is highly unlikely that everyone will have a piece of cake. In this instance you can serve smaller portions (ie 1"x1" and you only need to cater for approximately 50% – 60% of your guests)
Tip: Make sure to tell whoever will be cutting your cake what portion size you would like served. You wouldn't want to run out of cake if the slices are cut too thick. Also let the venue staff/caterers know what you want to do with any leftover cake, as they may land up throwing it away if you haven't given them specific instructions.
5. Style & Design
It is likely that your wedding cake will, in part at least, be influenced by the general theme and style of your wedding. You can take greater or lesser inspiration from things like …
Your Venue:
Choose a cake that will fit in with the style of your chosen venue. For example, a 5-tier elegant cake would suit a stately home venue far better than a novelty cake based on your ice skating hobby. Similarly, the same 5-tier elegant cake may look totally out of place if you're having an outdoor wedding. Have a good look at your venue … are there any particular features or details of the venue that you would like to incorporate into your cake design?
Your Wedding Dress:
Some brides choose to base the style and design of their cake based on their wedding dress. Your chosen Cake Designer can replicate elements such as the lace, pleating and beading of your dress.
Your Wedding Invitations:
If you have a particular colour or design element on your invitation, you may want this reflected on your cake. Elements such as colours and family crests look particularly elegant.
The overall Style and Theme of your wedding:
A lot of your wedding cake inspiration is likely to come from the overall style and 'feel' of your wedding reception. For example, if your flowers are going to be soft pinks and pale blues, it is unlikely that you will choose a cake with orange and yellow flowers.
This is your wedding cake so do ensure that your wedding cake fits with your personality. If you hate plain white cakes, rather go for that quirky design you've been dreaming on for months. If there are any particular interests or hobbies that you both have, consider incorporating a suggestion of these into your cake or, if you there is a family tradition you want to pay homage to, feel free to incorporate this into your cake.
Time of Year & Weather
The time of year you are getting married may depict the style of cake you go for (but not always). For example, if you're getting married in the winter months, you may want to consider autumnal elements on your cake whereas, in mid-summer, you may wish to consider alternatives to a pure buttercream cake, which may not hold up to the heat. More on this later in the blog.
It's also important to consider that the main wedding season runs from May to September (in the UK, at least) and Cake Designers may get booked up well in advance for this busy period, so be sure not to leave booking your cake until the last minute.
6. Fresh Flowers, Artificial Flowers or Sugar Flowers?
There are plenty of debates across the web focusing on whether you should use fresh flowers or sugar flowers on your cake. Ultimately, you are likely to make your choice based on two main criteria; the first, and most important one, is your personal preference of what you think will look good on your particular cake and secondly, your budget may play a big part.
Fresh Flowers:
A Fresh Flower option ensures that the flowers on your cake match the rest of your flowers exactly. If you do use fresh flowers, it is essential that you use non-toxic flowers and that they are attached in a food-safe way. It's also important that your florist knows exactly how to prepare the flowers for use on your cake as, apart from contamination, some flowers can land up staining your cake. It is likely that your Cake Designer will require your florist to provide the actual flowers. A downside of fresh flowers is that if they are installed on the cake too early, or if it is a hot day, they could start wilting. If you do want fresh flowers on your cake, do speak to your florist about ways to keep them looking their best.
Artificial flowers
Artificial flowers (eg silk) are another option to consider. There are so many different varieties and some of them are quite realistic. It's important to buy the best quality you can afford to ensure they don't land up looking tacky on your cake. Also ensure that they are food-safe and do not contain any toxic glues or chemicals.
Sugar Flowers:
Opting for Sugar Flowers takes away the hazards associated with using fresh flowers. An added bonus is having a keepsake you can keep for decades to come. Any good Cake Designer will want to know what flowers you are using and may even wish to speak to your florist. If you are choosing sugar flowers, then do opt for a Cake Designer whose sugar flowers are of a high standard; poorly made sugar flowers can destroy the whole look of your cake.
7. Flavours & Fillings
Gone are the days, thankfully, when the only wedding cake flavour available was fruit cake! Today the options available are nearly endless and most Cake Designer will allow you to have a different flavour for each tier of your wedding cake.
When deciding on what flavour(s) to choose, most important is … what do you both like? It's your cake and you need to enjoy the flavour of your own cake … but also be prepared to be a bit brave, especially if you're having a different flavour on each tier.
Also consider if you need to account for any specific allergies or dietary requirements. It is vital that you discuss this with your Cake Designer as not all Cake Designer are able to accommodate this. (This should be one of your shortlisting criteria if it's important to have allergies catered for in your wedding cake as there are strict guidelines in place for food businesses).
Fillings and coverings:
There are almost as many options for cake fillings as there are sponge flavours and your cake maker will be able to discuss the different options with you.

Cakes are usually first covered in a layer of buttercream or ganache, before being covered in sugar paste (also known as fondant). Ganache is a combination of cream and chocolate (mmmm yummy). Naked and semi-naked cakes only have varying degrees of buttercream and no sugar paste. Fruit cakes are usually covered in marzipan before being covered in sugar paste.
8. Displaying Your Cake
Consider both the 'where' and the 'how' your cake will be displayed as some of this will need to be taken into consideration with design and assembly. For example, an outside/marquee mid-summer wedding cake will have different considerations to an indoor winter wedding in a stately home.
Regardless of these factors, your cake deserves to be displayed in a way that gives it full advantage. Most venues provide a separate table for your cake. However, you don't just need to go with the mainstream display of your cake. If you haven't got any specific ideas, feel free to ask your planner, stylist and Cake Designer for their ideas. Some of the current trends include Floral hoops and swings, and might just give you the oomph you're looking for. It goes without saying that, however your cake is displayed, it needs to be safe and secure and out of reach of little fingers.
9. Tastings and Cake Design Consultations
It's important to shortlist a few Cake Designers whose work appeals to you.
Most bespoke Cake Designers will offer you the opportunity to attend a design and tasting consultation with them. Some Cake Designers offer this as a complimentary session whilst others charge a nominal fee (which is usually deducted from the cost of your cake should you then go on to order your cake from them). Whether they charge or not is no indication of their expertise or skill, it's just a personal choice that they have made for their business.
At the consultation, the Cake Designer will ask you lots of questions to get a good idea of your likes and dislikes, and they will want to hear as much about your wedding, style, preferences, personality etc as possible. If you have a mood board or samples of colours, flowers, invitations etc, these all help the designer to ensure the general style is carried through. You will also be given between 3 and 6 different cake flavours to taste – sometimes you can choose what flavours you would like to try but often it will be a selection from the Cake Designers most popular flavours.
Your Cake Designer will discuss initial design ideas with you. Some Cake Designers will come up with a couple of draft designs at your consultation session whilst other Cake Designer will do this afterwards. Of course, the design is then tweaked until you are 100% happy with it. Most Cake Designer will allow you to make some minor changes up until between 4 to 12 weeks before your wedding but do check each Cake Designers terms and conditions on this.
Cake Designers are unlikely to give you their designs until you have paid a deposit or booking fee. If you are given the designs before you've paid a deposit, the Cake Designer would have done so in good faith that, even if you don't select them, you do not give their design to another Cake Designer.
10. Delivery
Most Cake Designers will offer the option of delivery and some will even insist that they deliver it. Sometimes the delivery costs are included in the price, whilst other bakers may quote for this separately.
My suggestion is to factor this into your budget as it gives you one less thing to worry about. If you collect your cake yourself and it is damaged after you have taken possession of it, whether in transit or otherwise, the Cake Designer will not take responsibility for the damages. If the Cake Designer delivers your cake, they will ensure that your cake is set up well in time and any mishaps that occur, prior to handover, are fixed.
It's worthwhile checking your Cake Designer's terms and conditions in terms of delivery, set-up and damages. If they don't have this in their T&C's, make a point of asking and write this down.
Bonus Tips!
Bonus Tip 1:
Book your Cake Designer 6-18 months in advance and finalise the details of the cake once you've made final decisions on your flowers and styling.
Bonus Tip 2:
Remember to actually eat some cake yourself! You'll be amazed at how many couples don't get to enjoy their own wedding cake! Either ask your caterer or someone in your wedding party to dish up some cake for you and your new spouse if you're busy mingling. If you want to be super indulgent (and why not?), ask your caterers not to cut the top tier and to package it in a box. You can then enjoy it at your leisure … midnight snack anyone?
Bonus Tip 3:
This is your wedding and your wedding cake. The above is just to give you some information on what to think about. Ultimately, you decide what you want. Don't be persuaded by family and friends, or even your Cake Designer, to go down a route that you are not comfortable with.
Bonus Tip 4:
Always ensure that there is a contract in place. This protects both you and your chosen Cake Designer. Be sure you have a chance to read the T&Cs before you pay a deposit or booking fee. Most Cake Designers will have a copy of the T&Cs on their website or will happily email you a copy – be very aware of any Cake Designer (or wedding supplier) that does not want to share this information.
______
Source: Amara Cake Boutique
Image: United Elite Photography
See more content from our blog!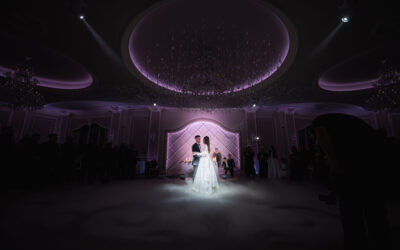 Your wedding guests will be of different generations: from grandparents to nephews and nieces to friends of your own age. That is why both wedding planning experts and modern couples agree that today's weddings should feature a good mix of new wedding songs (40% of your playlist) as well as the classics (60% of your wedding party playlist).
Contact & Location
The Mansion on Main Street is a picturesque events venue wrapped in elegance and modern beauty. Situated amidst exquisitely manicured grounds, lush gardens and a large cascading waterfall in Voorhees, New Jersey, this breathtaking property is ideal for gatherings of any kind, including but not limited to weddings, corporate events and celebrations.