These 2020 Wedding Ceremony Songs Will Update Your "I Dos"
Music adds personality to any wedding ceremony. If you're looking to add a modern touch to your "I dos," check out these top wedding ceremony songs for 2020.
Everyone wants the perfect ceremony music lineup, but if you're tired of hearing the same predictable songs, it's time to think outside the box. While classic ceremony music has its place, many modern couples are also incorporating 2020 wedding ceremony songs. Thanks to music industry trend-spotters, Hollon Yarborough of AMP'D ENTERTAINMENT in Atlanta, Georgia, and Elissa Pociask of Green Line Talent in Chicago, Illinois, we've rounded up all the hottest tunes that are practically begging for a spot in your ceremony.
From Taylor Swift to Kasey Musgraves to Dan + Shay, here are 10 fresh wedding ceremony songs for 2020 weddings.
"Rainbow" by Kacey Musgraves
There's no doubt country music darling, Kacey Musgraves is having a moment, and her music is sure to make its way into wedding ceremonies this year. In fact, Pociask thinks "Rainbow" has the potential to be a huge 2020 wedding ceremony song. "This song is a beautiful reminder that life is going to have its storms, but with you, there's always a silver lining (or rather, a rainbow!) to make it all worthwhile," she said
"The Bones" by Maren Morris
This newly released country/pop love song is capturing hearts everywhere, and it's not without good reason. Its catchy chorus beautifully describes the rock-solid foundation of a relationship that can weather any storm. "Baby, I know any storm we're facing / Will blow right over while we stay put / The house don't fall when the bones are good."
"Lover" by Taylor Swift
"Pretty sure T. Swift wrote 'Lover' knowing it would be a wedding staple for the next couple years," Yarborough said. "It hasn't broken hard on the radio yet, but it's coming, and it will be HUGE in the coming year."
"Cinnamon Girl" by Lana Del Rey
For the couple seeking an indie ceremony soundtrack, Pociask dubbed "Cinnamon Girl" the ultimate dreamy surrender to a love anthem. "This is a song that describes how even imperfect love can bring you to a better place," she said.
"Stay High" by Brittany Howard
"Indie Rock fans will likely be pulling from Brittany Howard's incredible new record. As the frontwoman for Alabama Shakes, Brittany has won over a sizable fanbase, and her new solo record is sublime. I expect "Stay High" will make it to several playlists from the cool kids in 2020, Yarborough said.
"Not Going Anywhere" by Keren Ann
A beautiful song with lyrics like, "Tide will rise and fall along the bay / And I'm not going anywhere / I'm not going anywhere," make this Keren Ann track a lovely mid-ceremony selection.
"Higher Love" by Kygo featuring Whitney Houston
This 2019 reboot of the iconic "Higher Love" covered by Kygo and featuring Whitney Houston is an increasingly popular choice that Yarborough expects to see on music lineups for 2020 wedding ceremony songs.
"This Is Why I Need You" by Jesse Ruben
This mellow indie tune could be used anywhere during the ceremony but would be an especially great choice during a unity candle lighting, washing of feet ceremony, or any important ritual you may be including.
"10,000 Hours" by Dan + Shay feat Justin Beiber
Many couples are taking note of this song thanks to its pop-country crossover appeal. Plus, based on the lyrics alone, it's not hard to see why. "I'd spend ten thousand hours and ten thousand more / Oh, if that's what it takes to learn that sweet heart of yours / And I might never get there, but I'm gonna try / If it's ten thousand hours or the rest of my life / I'm gonna love you."
"Good as Hell" by Lizzo
As the ultimate feel-good tune, Yarborough is confident this new Lizzo hit will be the definitive recessional song for couples this year.
See more content from our blog!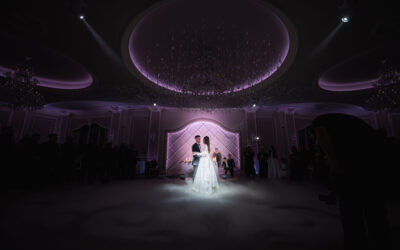 Your wedding guests will be of different generations: from grandparents to nephews and nieces to friends of your own age. That is why both wedding planning experts and modern couples agree that today's weddings should feature a good mix of new wedding songs (40% of your playlist) as well as the classics (60% of your wedding party playlist).
Contact & Location
The Mansion on Main Street is a picturesque events venue wrapped in elegance and modern beauty. Situated amidst exquisitely manicured grounds, lush gardens and a large cascading waterfall in Voorhees, New Jersey, this breathtaking property is ideal for gatherings of any kind, including but not limited to weddings, corporate events and celebrations.