The Top Wedding Cake Trends for 2020
Looking for the perfect wedding cake design for your 2020 wedding? We've rounded up the trendiest styles to give you some serious dessert inspiration.
The most delicious part of any wedding has to be the cake. While you may have a few ideas about what you want yours to taste like, you may not have found your dream
wedding cake design
just yet. Of course, you want it to look just as good on the outside as it tastes on the inside, so it's understandable if you're being a bit picky. To help you out we've put together this list of our favorite wedding cake trends for 2020. With everything from artsy buttercream patterns to sleek geometric designs, you're bound to find something you love (or at least get a little bit of inspiration to point you in the right direction).
Here are the top wedding cake trends for 2020.
Painted buttercream
If you want your wedding cake to look like a real piece of art, opt for a painted buttercream design. This 2020 wedding cake trend is like a 3D oil-painted masterpiece, but instead of paints, your wedding cake baker will use icing. It all starts with a watercolour buttercream base (made with icing of different colours swirled together). Your baker will then make their masterpiece overtop using brushes and palette knives. The end result is something that looks like it belongs in a gallery instead of a dessert table.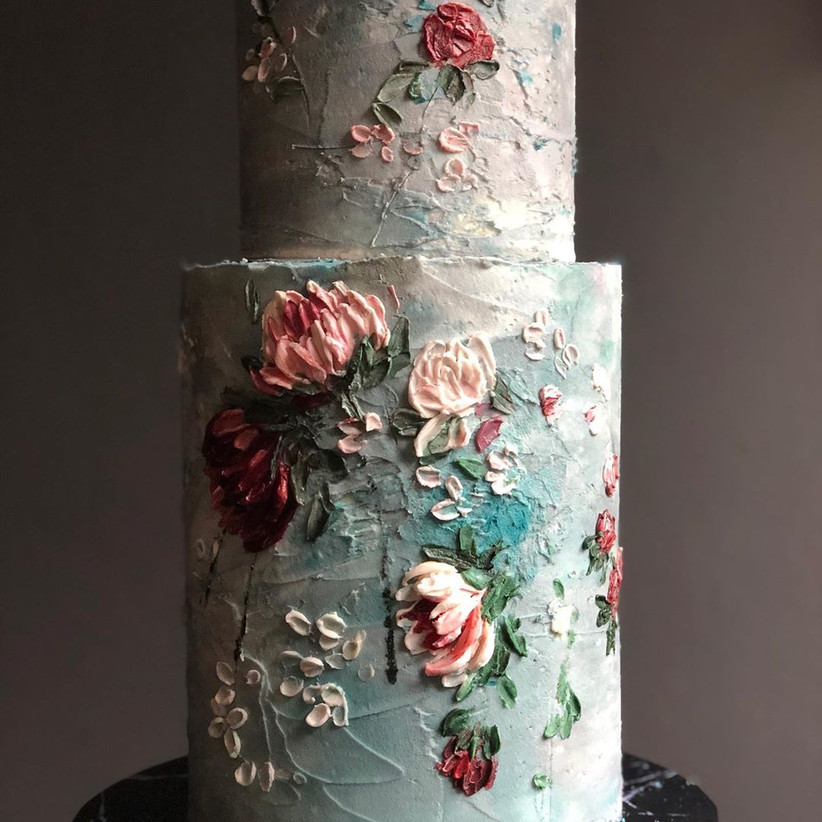 Abstract watercolour
Another artsy option that can be interpreted in many different ways is the abstract watercolour design. The base is similar to that of the painted buttercream cake: your baker will use a mix of different coloured buttercream icings to create an artistic backdrop. The more texture it has, the better (at least in our opinion). They'll then top it off with an abstract geometric design to make the whole thing a little more interesting. The end result is a modern, industrial dessert that's perfect for any warehouse, gallery or factory wedding.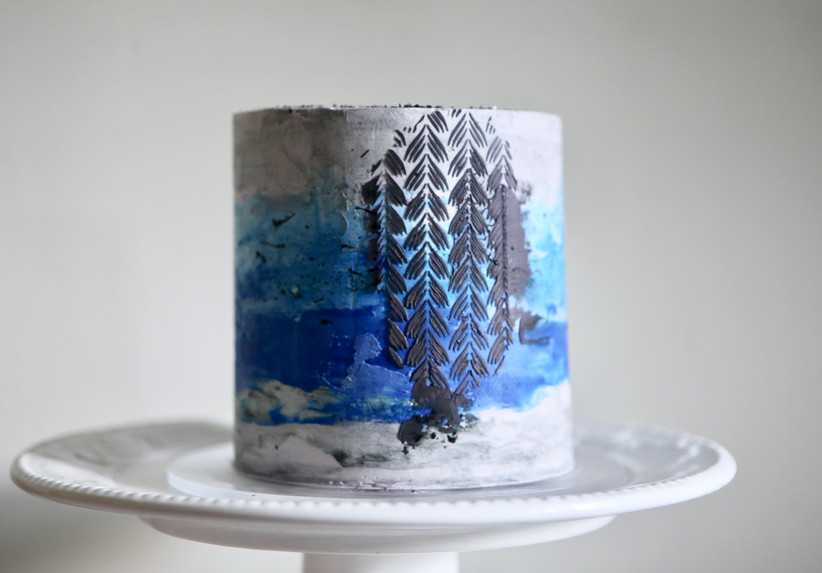 Sculpted elements
If you love sleek and chic designs, this 2020 wedding cake trend will be right up your alley. The base of this one is simple – just a simple layer of buttercream or fondant that lets the sculpted element steal the spotlight. As for the showpiece, it can be absolutely anything you want. From an abstract design created with rounds of chocolate to a grand floral sugar sculpture, you can really let your imagination go wild with this one. Thanks to its versatility, it's great for all wedding themes.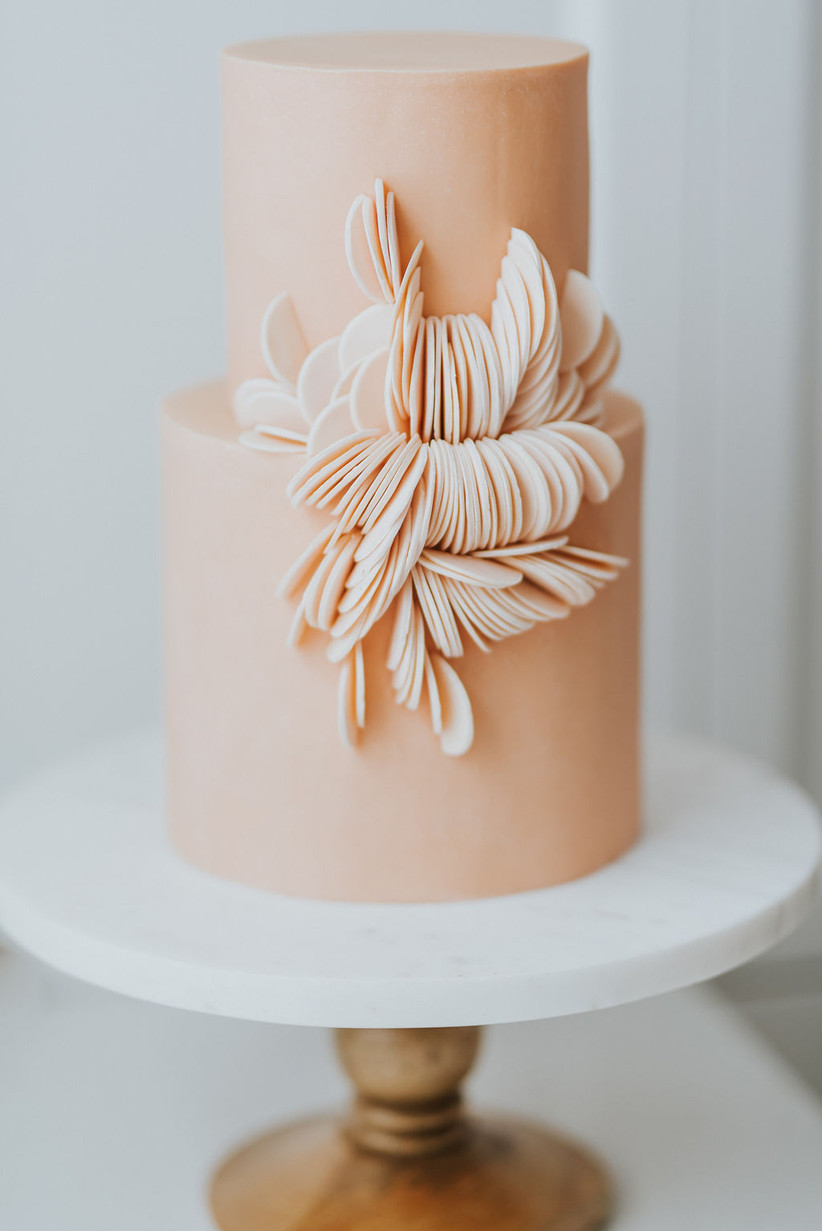 Super texturized designs
Now, mix and match designs aren't really anything new, but in 2020, bakers are expected to be taking them to the next level with bolder patterns and textures. We love how this one blends several different rosette patterns with a watercolor tier and a shag rug texture on the bottom. If we were going to sum the whole thing up into just a few words, it would be "the more texture, the better".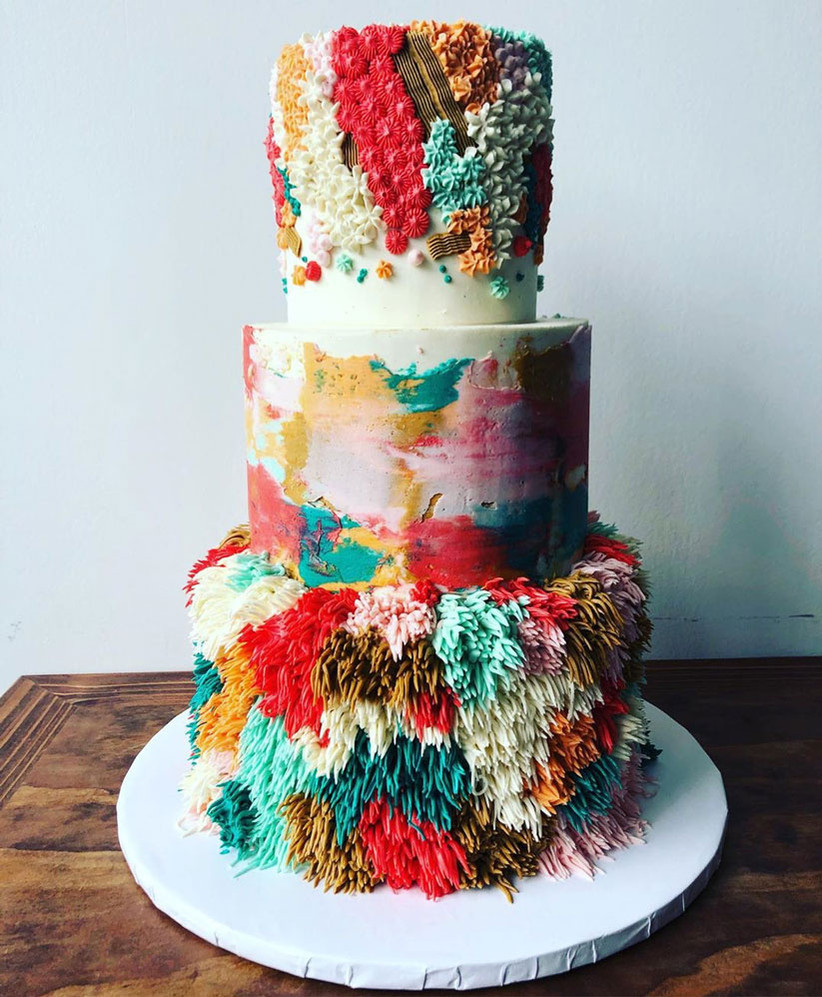 Amped-up naked cake
Naked wedding cakes have been and always will be a fan favourite. This year, instead of going for simple naked cake and semi-naked cake designs, couples are expected to be more liberal with their use of colours. This means both icing and the cake itself will be bolder and brighter. Traditionally the naked cake is done with a golden brown cake interior and a thin layer of white icing (for semi-naked designs), in 2020 bakers are expected to go with bolder blend (like this yellow middle tier) to shake up the classic look.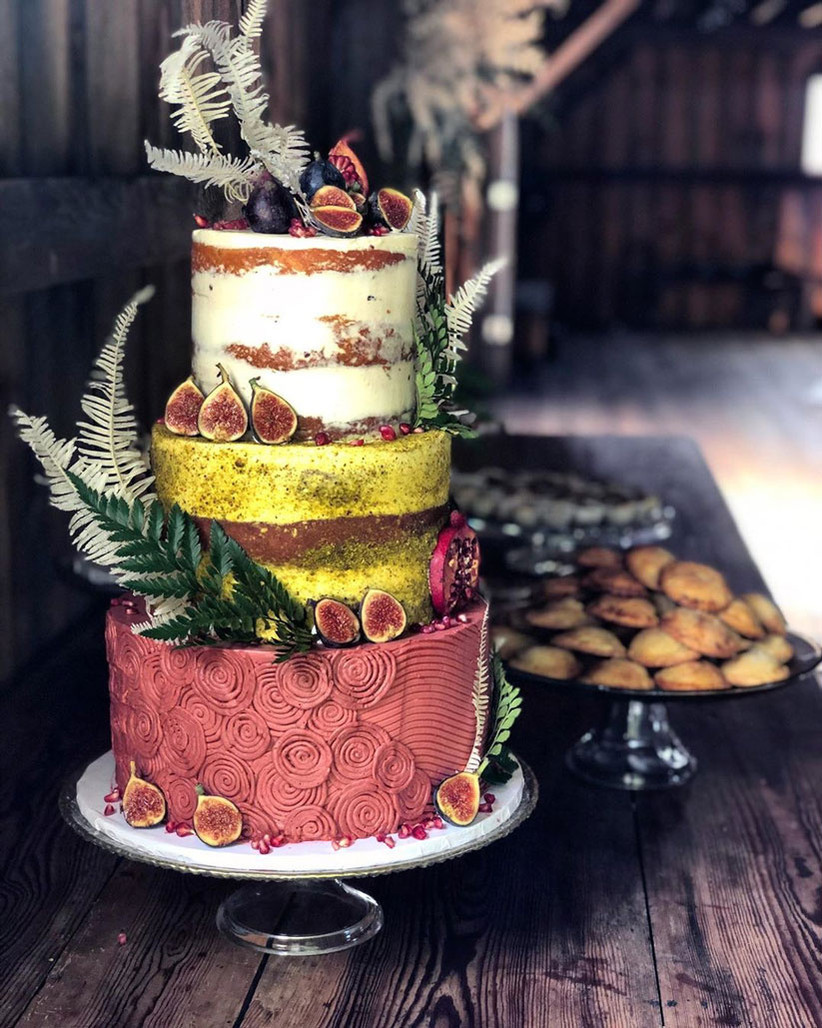 European tile patterns
Haven' found your 'something blue' yet? Well, this 2020 wedding cake trend will take care of it for you. The base is a simple white fondant (or buttercream, if you like a less perfect look) and it's topped off with a European tile-inspired design that can be done with a brush, stencil, wafer paper, or a mix of all three. This is the perfect design for a traditional, elegant affair, and would be especially awesome for a garden wedding reception.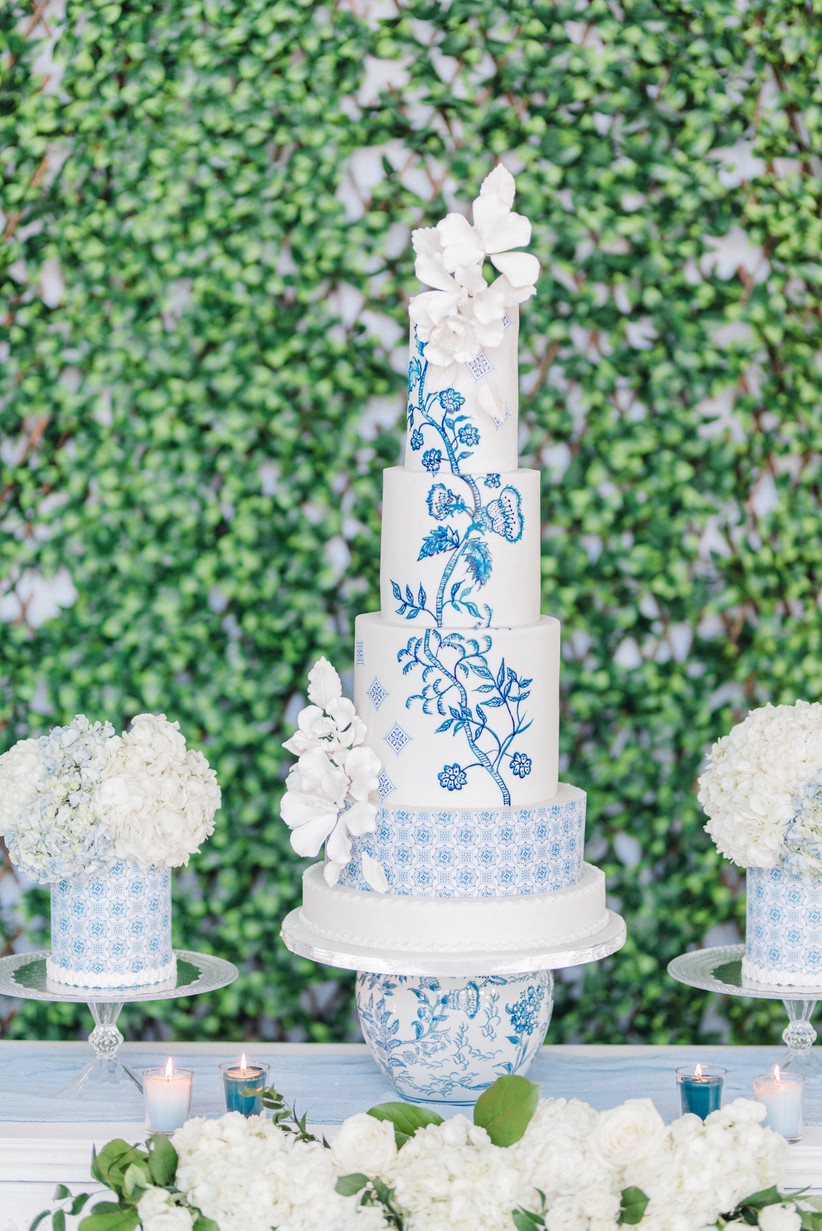 Gravity-defying tiers
Typically, wedding cakes start with a wide base and work their way up to smaller and smaller tiers. Well, not in 2020! Bakers are shaking things up this year and adding in installation pieces, like this glass orb, that look like they'd throw off the balance of the entire cake (but don't worry, they won't).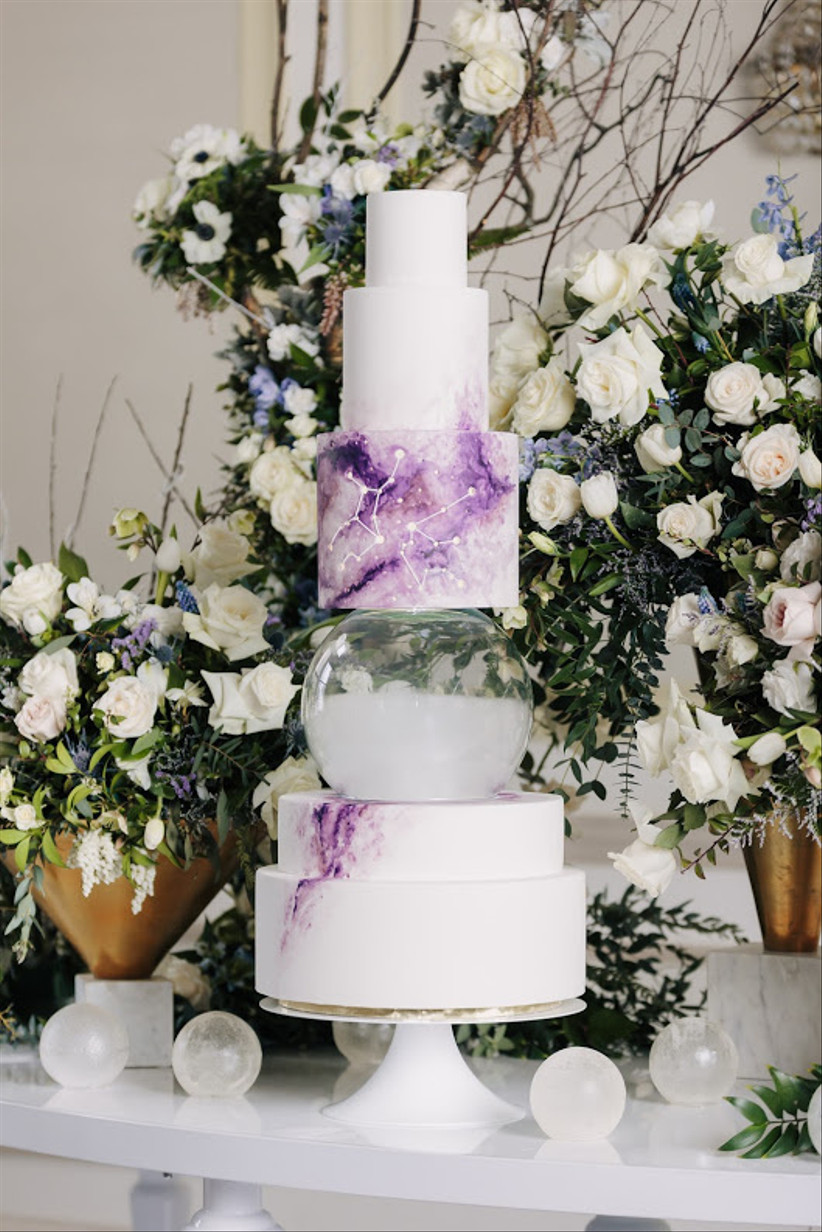 Square single tier
Single tier cakes have been rising in popularity over the past few years. This should come as no surprise as small weddings, micro weddings, and elopements are also getting quite popular (less people = less cake). However, the single-tier is getting a revamp for 2020, instead of a round shape, bakers are going with crisper lines and favoring square designs. These are great for all event styles, but especially minimalist celebrations.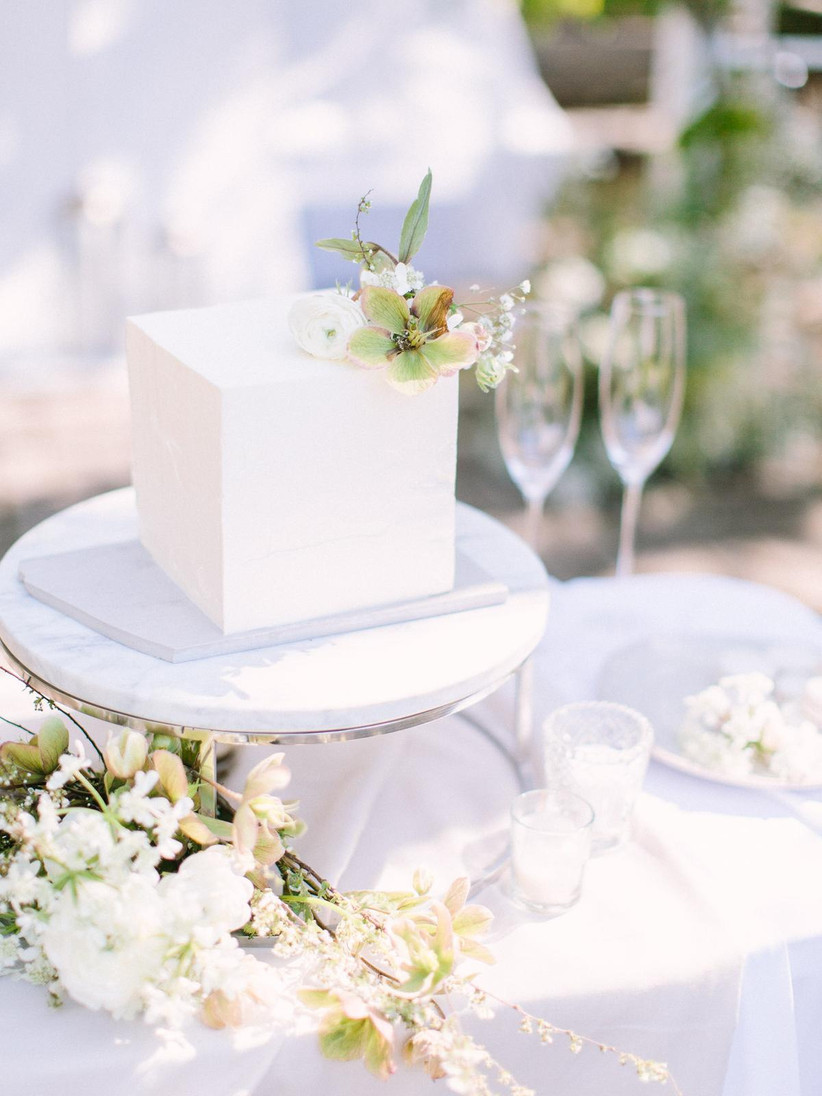 Maricle Kang / Cake by Nicole
Edible flowers
Love the idea of covering your wedding cake in flowers but don't want to work with sugary petals or faux blooms? Well, you're in luck, this is the year of edible flowers. Not flowers made of chocolate, fondant, or sugar but actual blooms that you can eat. We love how they look pressed into buttercream, and we highly suggest embracing this trend if you're throwing a garden wedding.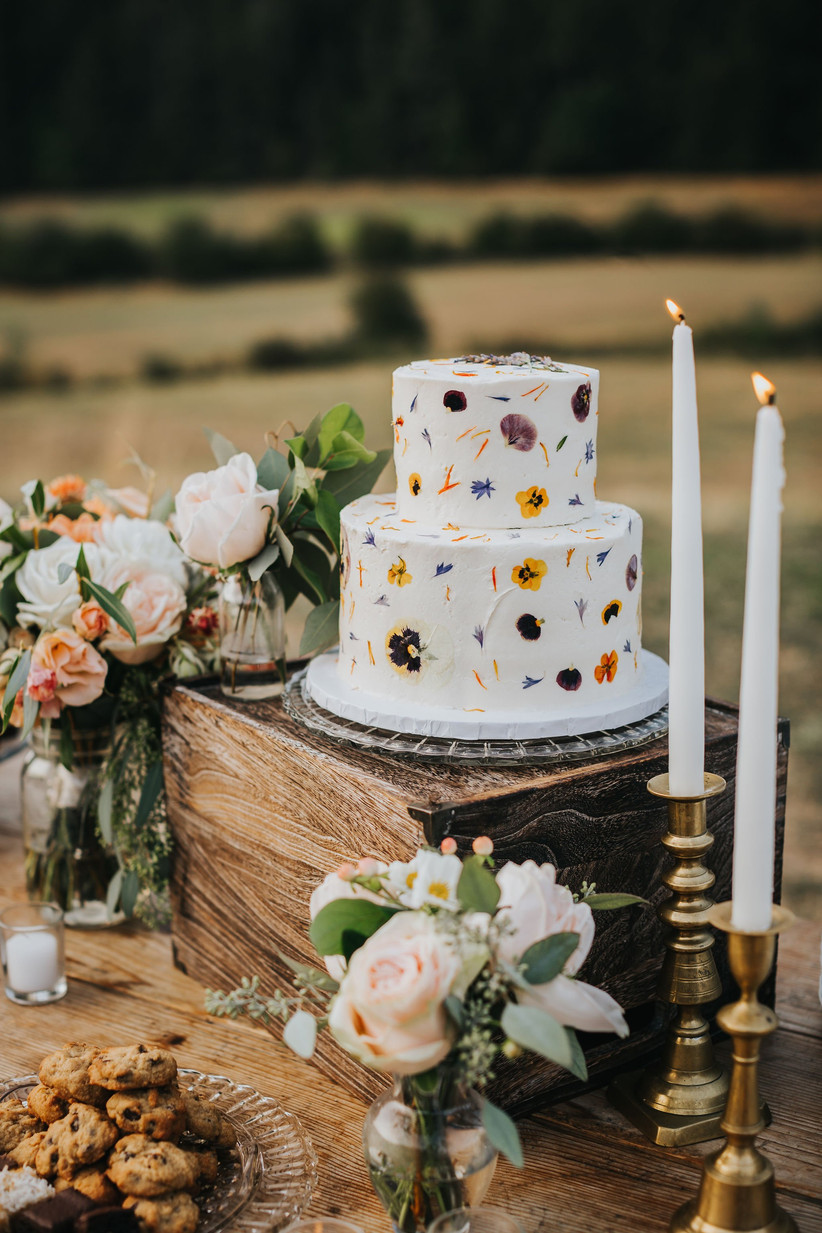 Fault line cake
Fault line cakes are definitely a trend that's on the rise in 2020. The baker will use buttercream or fondant icing to make a deep impression. They'll then decorate inside of that "fault line", making it more intricate than the rest of the cake's body. This style is definitely a little different and will catch your guests' eyes and camera lenses.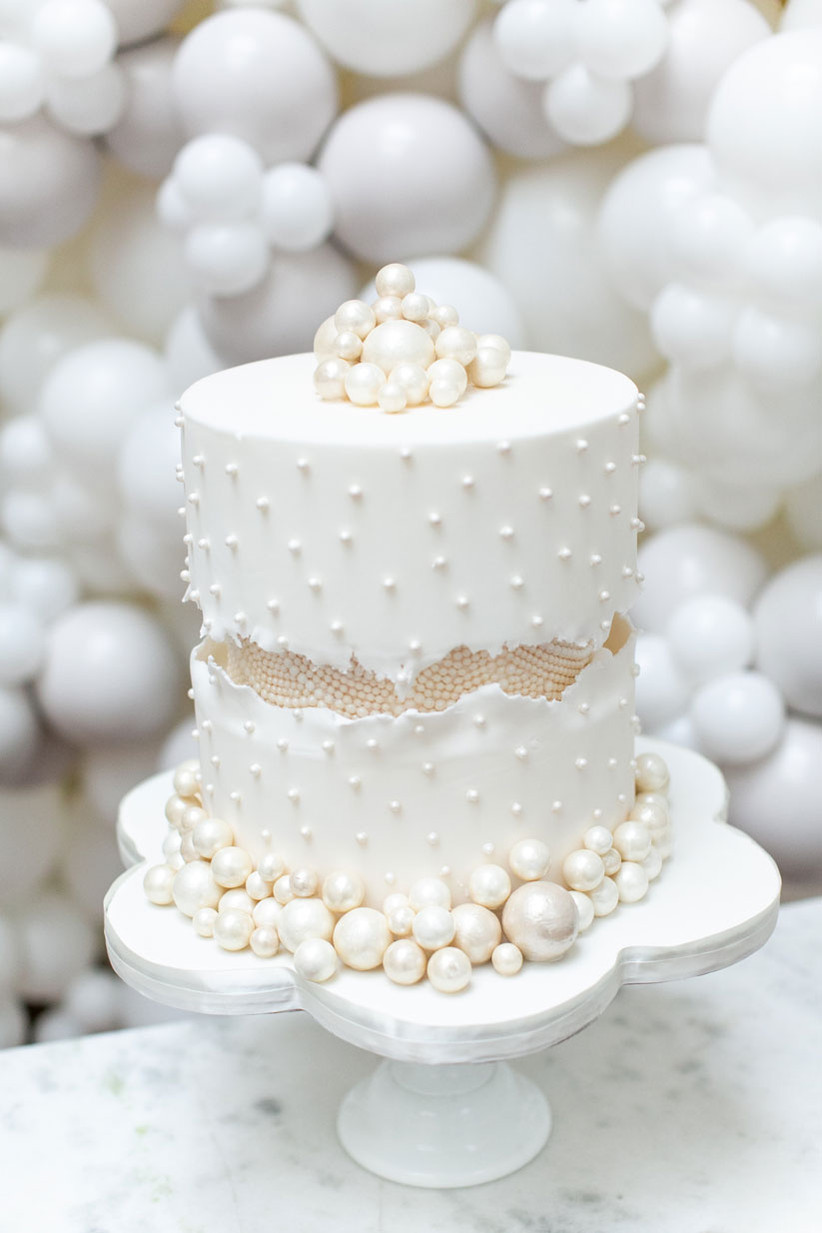 Vegan and gluten-free
Vegan and gluten-free wedding cakes are rising in popularity, even for those without food allergies or dietary restrictions. These confections can taste just as good as wheaty, buttery recipes (if you find the right baker), so why not sample some out? P.S. Choosing this option will ensure that most (if not all) of your guests can enjoy your dessert.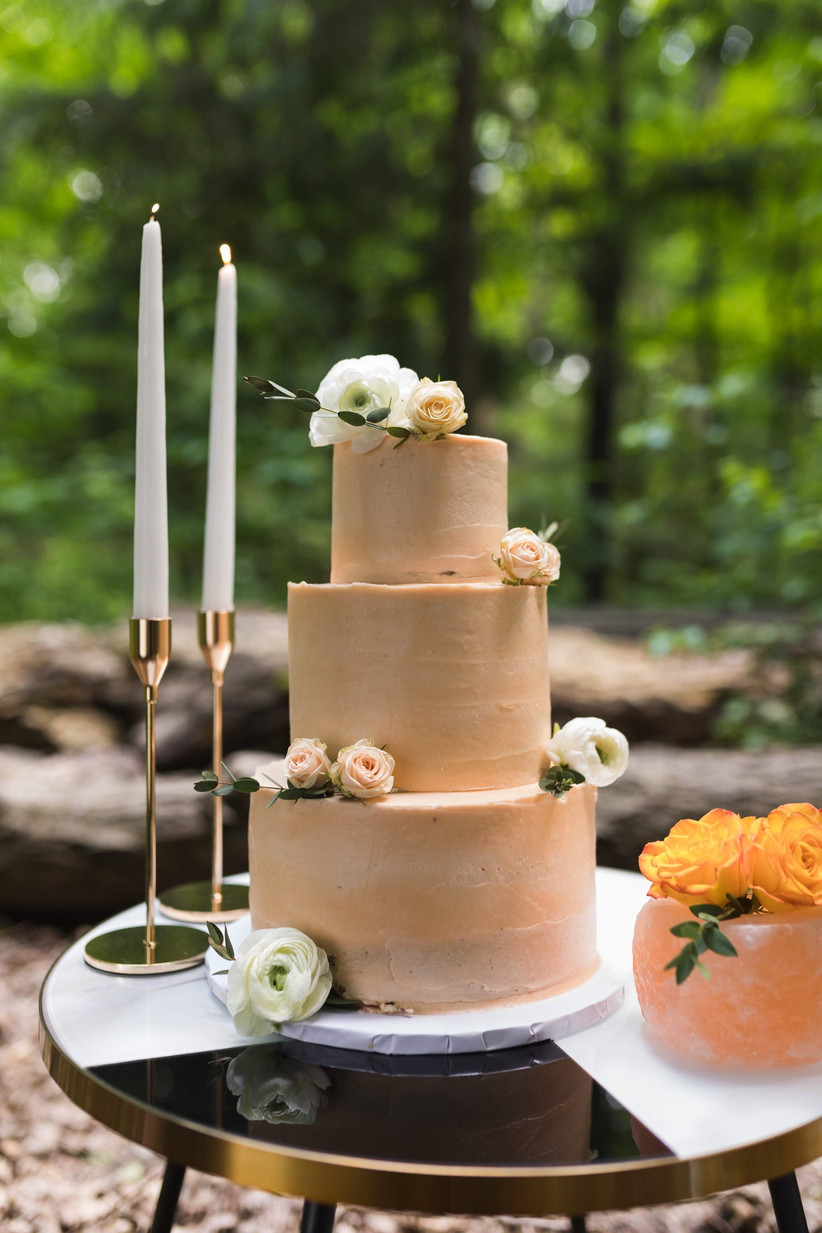 Cake alternatives
If you don't have an insane sweet tooth, there's no need to serve a traditional wedding cake. You can easily swap out fluffy cakes slathered in icing for fruit towers, pizzas, cheese, or just about anything else you love. Whether you make it sweet or savoury is totally up to you.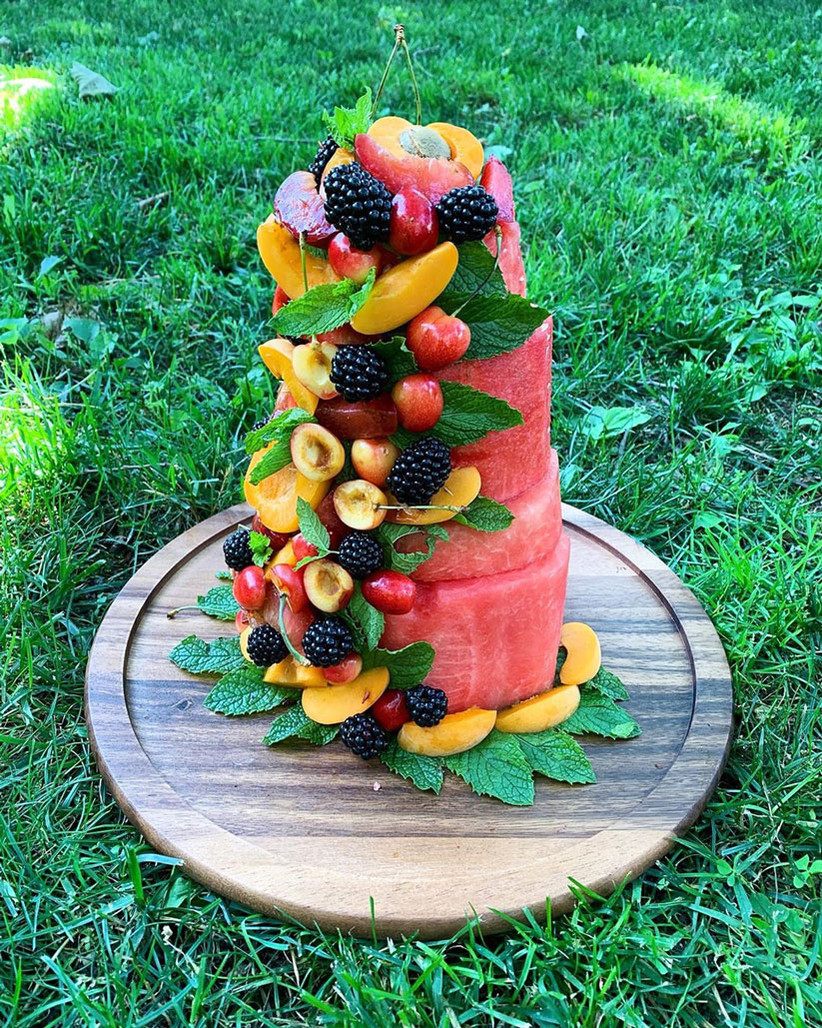 See more content from our blog!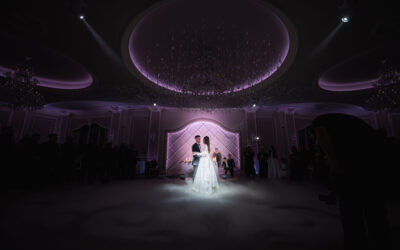 Your wedding guests will be of different generations: from grandparents to nephews and nieces to friends of your own age. That is why both wedding planning experts and modern couples agree that today's weddings should feature a good mix of new wedding songs (40% of your playlist) as well as the classics (60% of your wedding party playlist).
Contact & Location
The Mansion on Main Street is a picturesque events venue wrapped in elegance and modern beauty. Situated amidst exquisitely manicured grounds, lush gardens and a large cascading waterfall in Voorhees, New Jersey, this breathtaking property is ideal for gatherings of any kind, including but not limited to weddings, corporate events and celebrations.