The Top 10 Wedding Catering Trends
Want your reception to be unforgettable?
Here's a little secret: It's all about the food.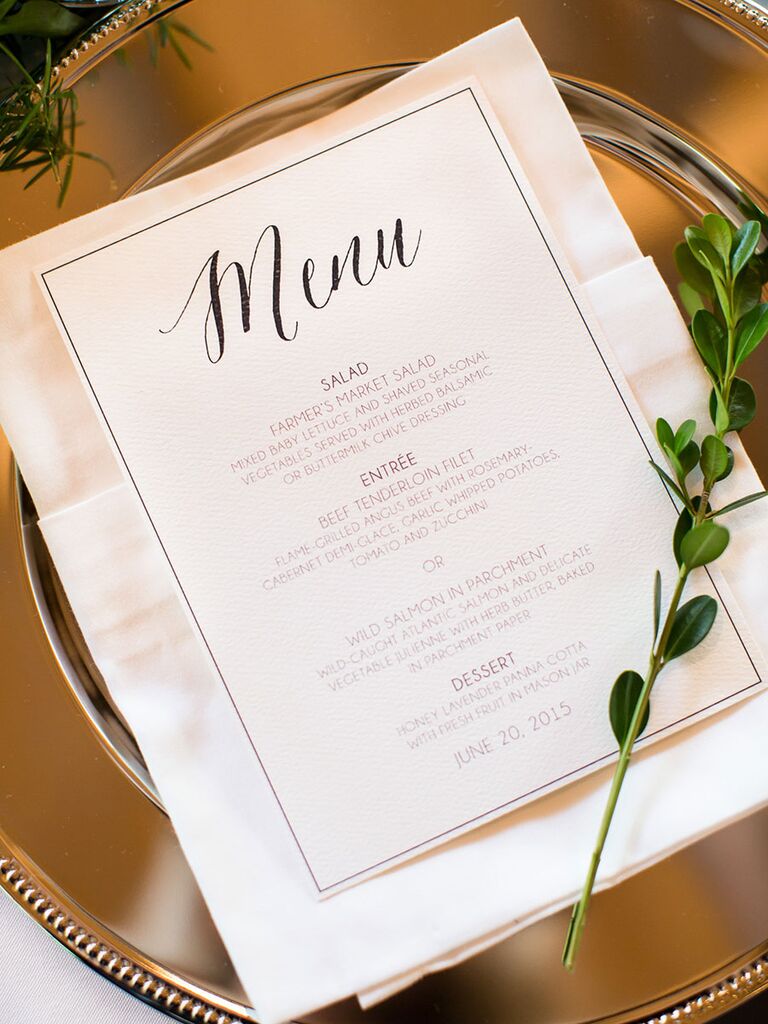 With a notable surge in food-centric media (think: celebrity chefs, the Food Network, foodie Instagram accounts, Pinterest boards and lifestyle blogs) today's couples are tapped into the food and beverage industry more than ever. For many, this means that the standard chicken or beef just won't cut it when it comes to planning a wedding menu. If you're looking to breathe new life into your wedding bill of fare, check out 10 of the hottest catering trends that'll wow your crowd and please every palate.
1. Play With Color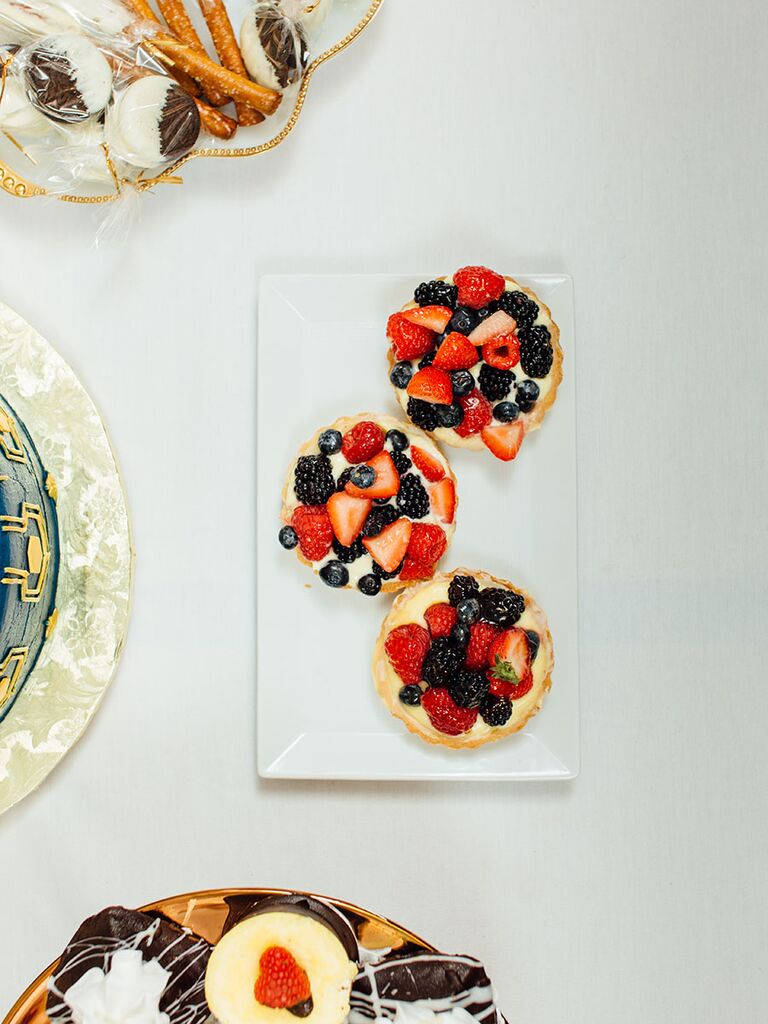 Color is a crucial element in the coordination of wedding linens, flowers and wedding party attire—so why not in planning the menu? Many chefs are coming up with unique ways to infuse color into food to match the couple's signature hues. Don't worry—we're not talking about green mashed potatoes. If you're having a black-and-white wedding, consider serving ice cream sandwiches, Oreos or black-and-white cookies for dessert. Bring this contrasting color scheme full circle with a naked or half-naked cake of rich dark chocolate and velvety white buttercream (feast your eyes on some black-and-white naked cake examples here). If you love the complementary duo of red and green, ask your caterer if they can whip up shot glasses filled with layers of edamame and lobster trifle, or tuna tartare served in wasabi sesame-seeded wontons for cocktail hour.
2. Break Out the Bubbly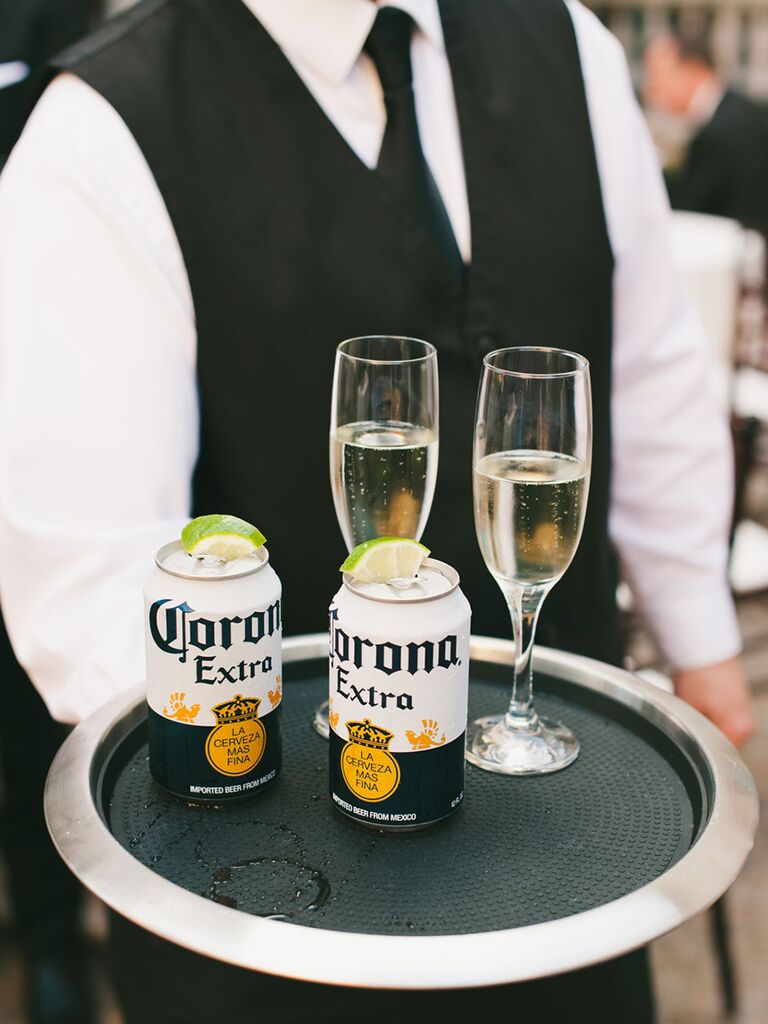 Let your guests play bartender. Ask your caterer to assemble a display at cocktail hour with your drink of choice, the requisite glassware, spirits and any special mix-ins. We can never resist champagne at a wedding, so our favorite go-to is a bubbly bar. Offer champagne, prosecco and sparkling California wine. Also include a variety of liqueurs, such as Chambord, Midori, schnapps and St. Germain, plus fresh-squeezed juices like grapefruit, cranberry and orange. Lay out bowls with freshly pureed peaches, white grapes and pears (hello, Bellinis!). Lastly, don't forget fresh fruit slices, berries and edible blooms to garnish. These personalized satellite bars are the hottest new way to serve unforgettable refreshments.
3. Spring Into Action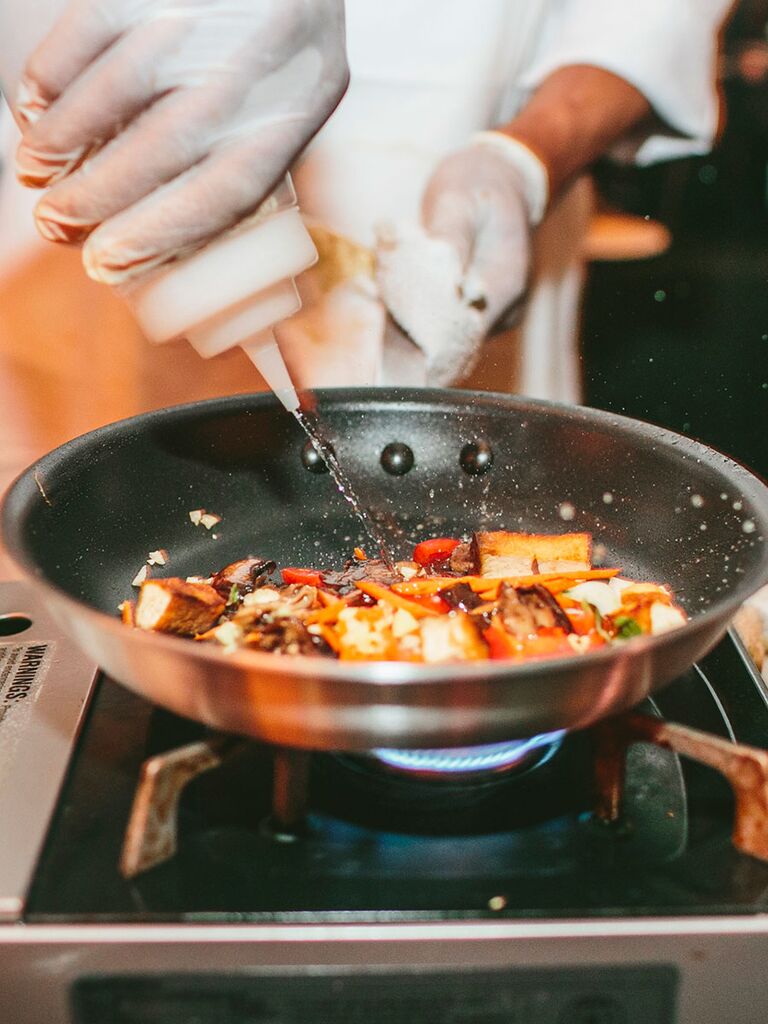 BRANDON WERTH PHOTOGRAPHY
Custom cocktail bars aren't the only way to let guests personalize their reception treats. Caterers are creating interactive culinary kiosks for the cocktail hour and reception. Not only are they fun and oh-so tasty, but these food stations also allow for easy guest interaction and better flow throughout your party. This type of food service is perfect for a cocktail reception where guests eat, mingle, dance or just hang out in a lounge area all night long. Taking the traditional buffet one step further, each station is attended by a chef who can plate your meal and suggest what to pair it with. One popular station is a ceviche bar, which offers a variety of fish in savory cones. If seafood isn't your first choice, how about a fondue cart? Warm cheddar ale and balsamic gorgonzola pots with charcuterie, pickled veggies, fresh fruit and assorted bread options for dipping is delicious.
4. Light Bites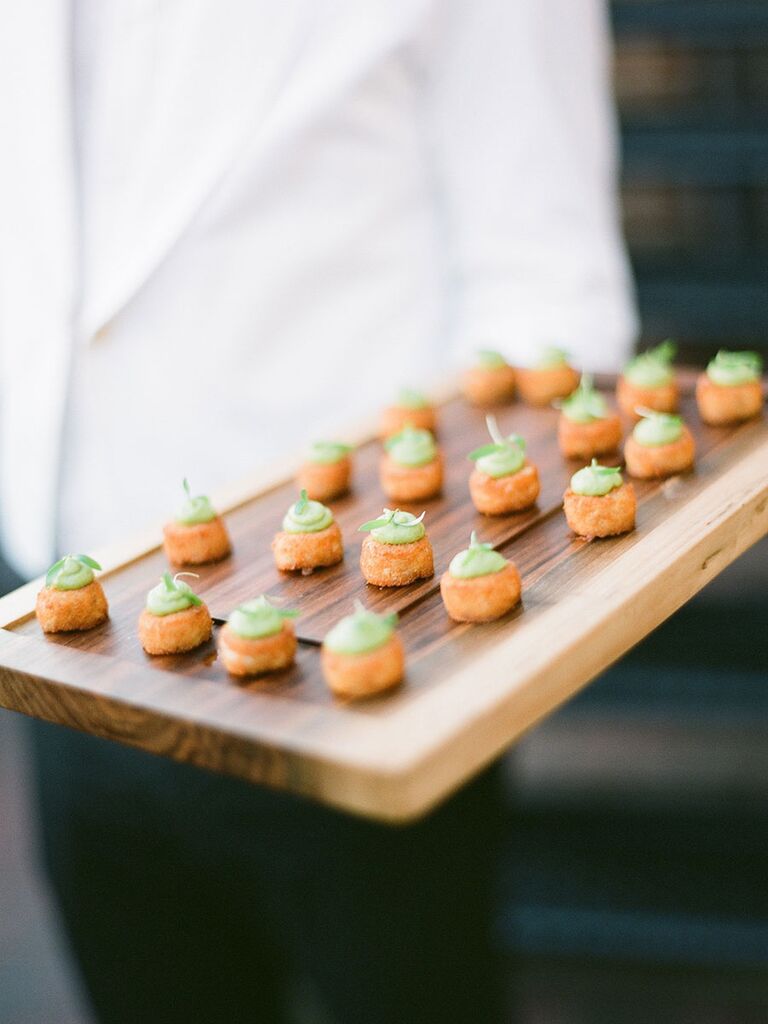 Gone are the days when hosting a large crowd was synonymous with serving heavy food like rich cream sauces, fatty double pork chops and deep-fried apps. Options for healthy and light, yet flavorful and satisfying, fare are practically endless. For the cocktail hour, think small: antipasto skewers with a grape tomato, ball of mozzarella and an olive drizzled with fresh basil oil, or mini lettuce wraps with chicken in a savory Thai peanut sauce. Get that sweet-savory pop with a pecan, raisin and apple crostini speckled with honey and tangy blue cheese. Even though these bites are healthy, you might be surprised to hear they won't break the bank—you're actually spending less since you're incorporating a lot more fresh produce into your menu.
5. Go Green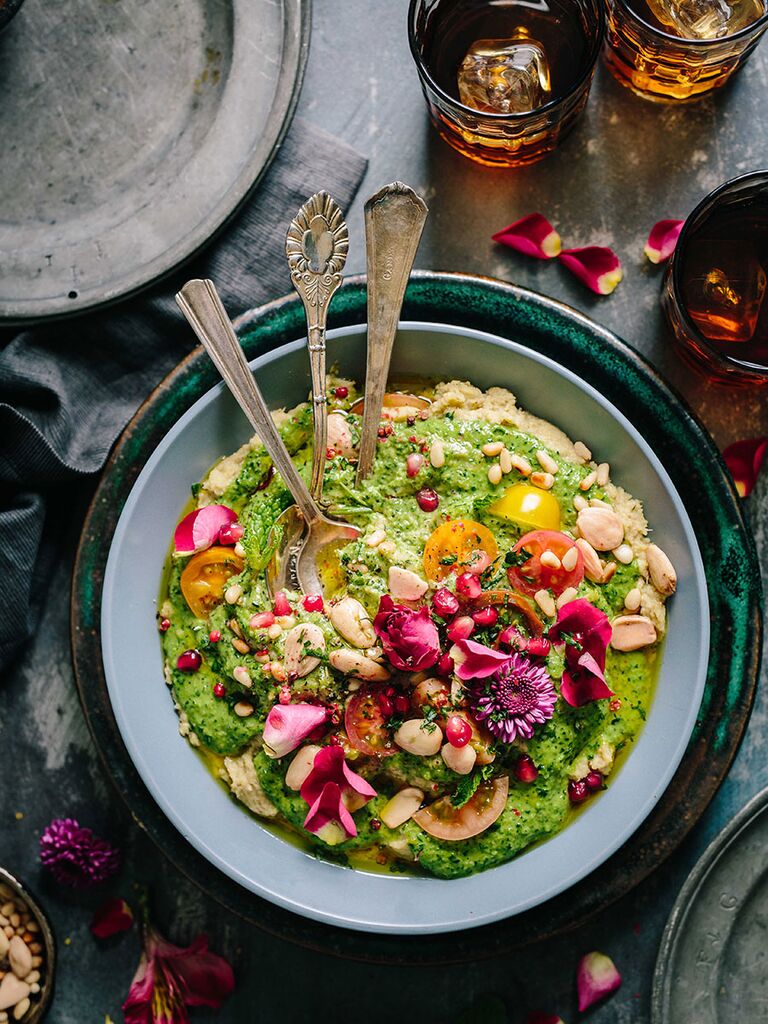 As organic and sustainable ingredients become more available, lots of couples want to have at least one green course on their wedding menus, and caterers are responding. These days, you can serve something as simple as a fresh salad made with organic greens to start, or free-range chicken with organic string beans for your main. And going green doesn't stop with the food. Many winemakers and spirit producers are venturing into organic beverage options, so you should ask your caterer about adding organic tequilas and vodkas or even biodynamic wines to your bar menu. This is one eco-friendly trend that's here to stay.
6. Opt for Family Style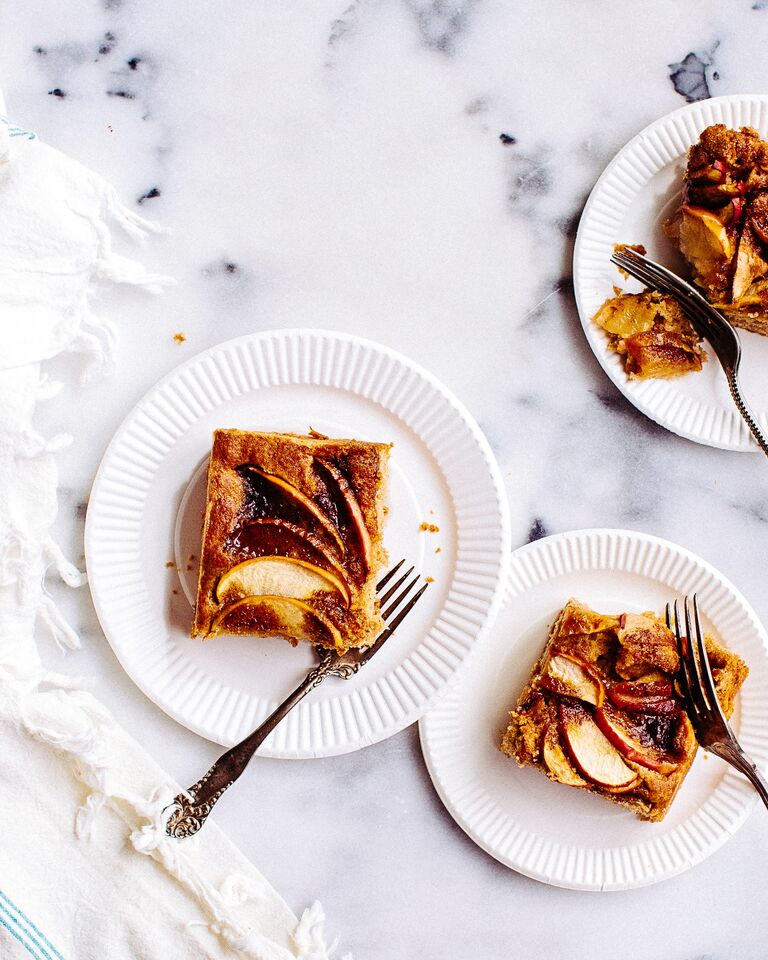 More couples are requesting that their reception meals be served family style to take the stuffiness out of a sit-down meal. Guests can interact casually as they pass around gorgeous dishes, which means more mingling and a better chance that everyone will have an unforgettable night. One thing to consider if you're opting for a family-style meal is to rethink massive centerpieces. You'll need more room for all of those serving dishes, so let the food and beautiful plates star as your décor. Not convinced? Picture heaping platters of bright-red steamed lobster, flank steak rolled with portobello mushrooms, and Emmentaler cheese nestled in magenta and white Swiss chard, along with a colorful dish of vegetable risotto.
7. Get Global Goods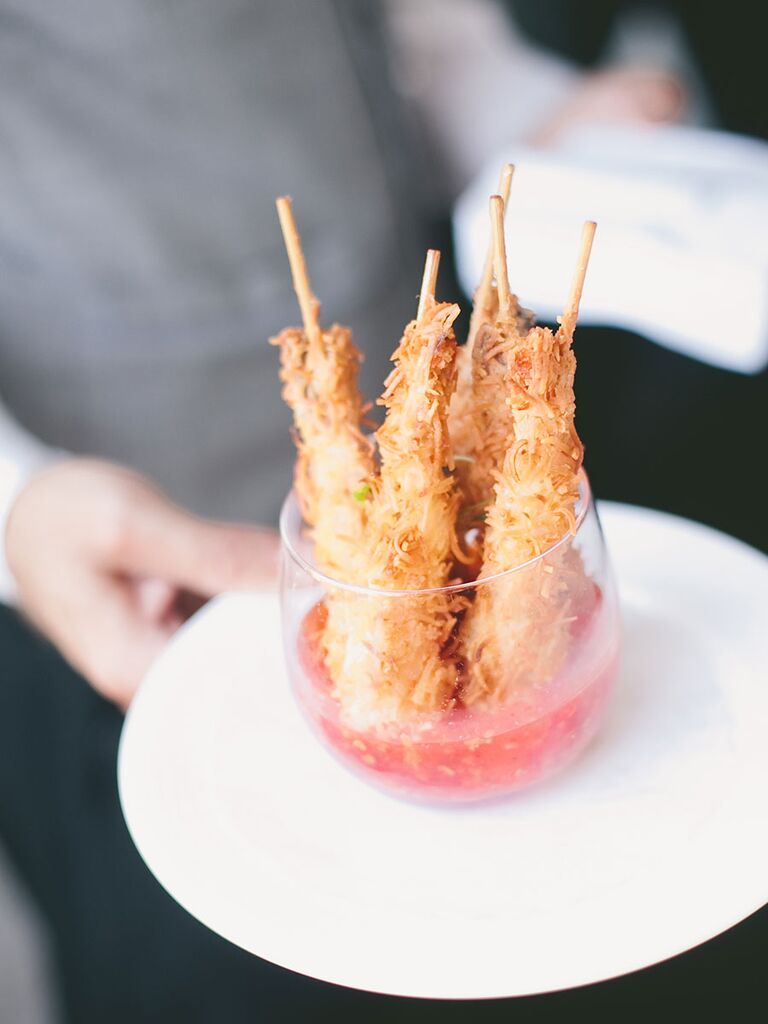 In food, it's all in the details. Those small yet game-changing specifics tend to be in the ingredients lots of caterers are using to give dishes that extra-special flair. Black lava sea or wasabi salt, Middle Eastern herbs and tahini sauces are being used in dishes to add a zing and richness to the flavor. And although you may not quite be able to put your finger on the specific ingredient, one thing you'll recognize is how happy your taste buds are—that's what will get people talking about your wedding. Even if your guests won't remember what flowers were in your bouquet, they'll definitely remember the exceptional food.
8. Try a Taste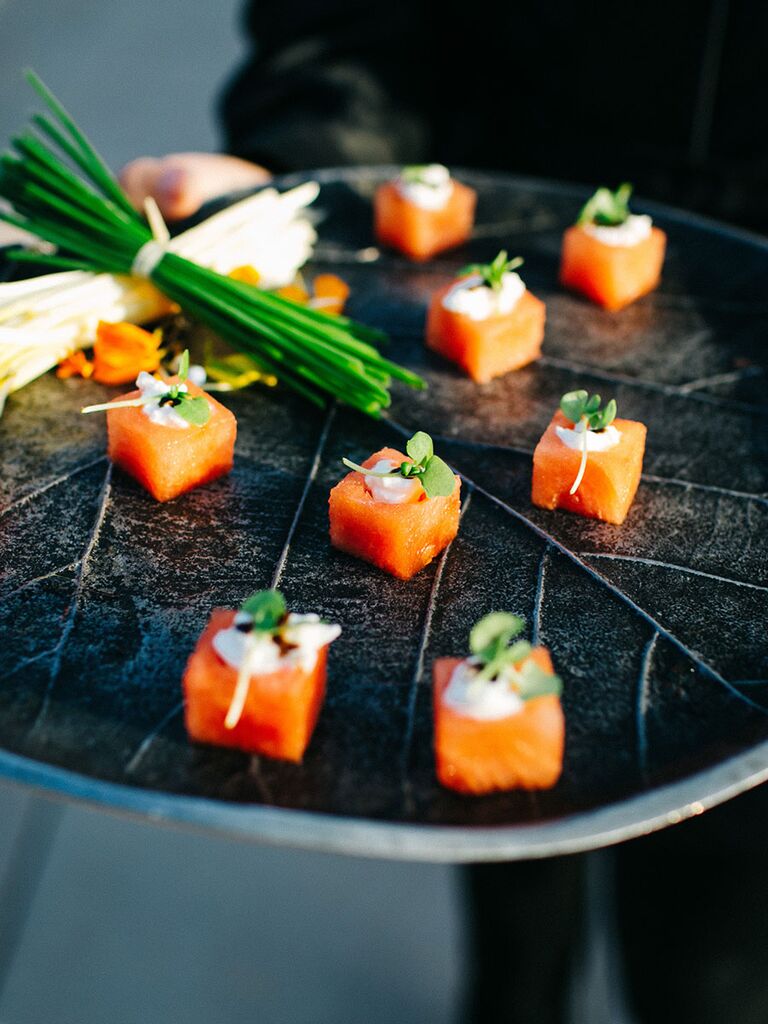 Tasting menus are a foodie favorite, and they've found their way into weddings too. So what exactly is a tasting menu and how would it work at your wedding? You'll be served anywhere from five to seven mini courses (and even though they're "mini," we promise no one will go hungry). Depending on your budget, you can choose to pair a different wine with each course too. For one menu idea, start with a caramelized onion tart with Roquefort cheese, followed by herb-crusted filet mignon alongside pork loin with pear chutney. Move on to a shaved summer squash salad, then indulge in a lobster tail before enjoying cake and bite-size sweets. Just a little caveat: Despite how delicious it may be, a tasting menu will be the focal point of your reception, which means most of your time will be spent eating. So, if you're hoping for a lively and lengthy dance party, then a tasting menu might not be for you. But if you're self-proclaimed foodies and want a sophisticated, black-tie wedding, we say go for it.
9. Kick Up the Kids' Menu
As children's palates are becoming more sophisticated, so are the children's menus at weddings. Say good-bye to chicken fingers and spaghetti. Kids are having more fun eating sushi—yes, sushi!—like California rolls with soy sauce dips, chicken pot pie or ravioli in a brown butter sauce. For the first course, caterers are also serving bowls of fresh fruit, and to drink, don't forget the milk. It's still delicious and approachable, just fresher, healthier and taken up a couple notches. What parents love about this is they can relax and enjoy themselves at the wedding knowing their kids aren't loading up on hot dogs and soda.
10. Late-Night Snacks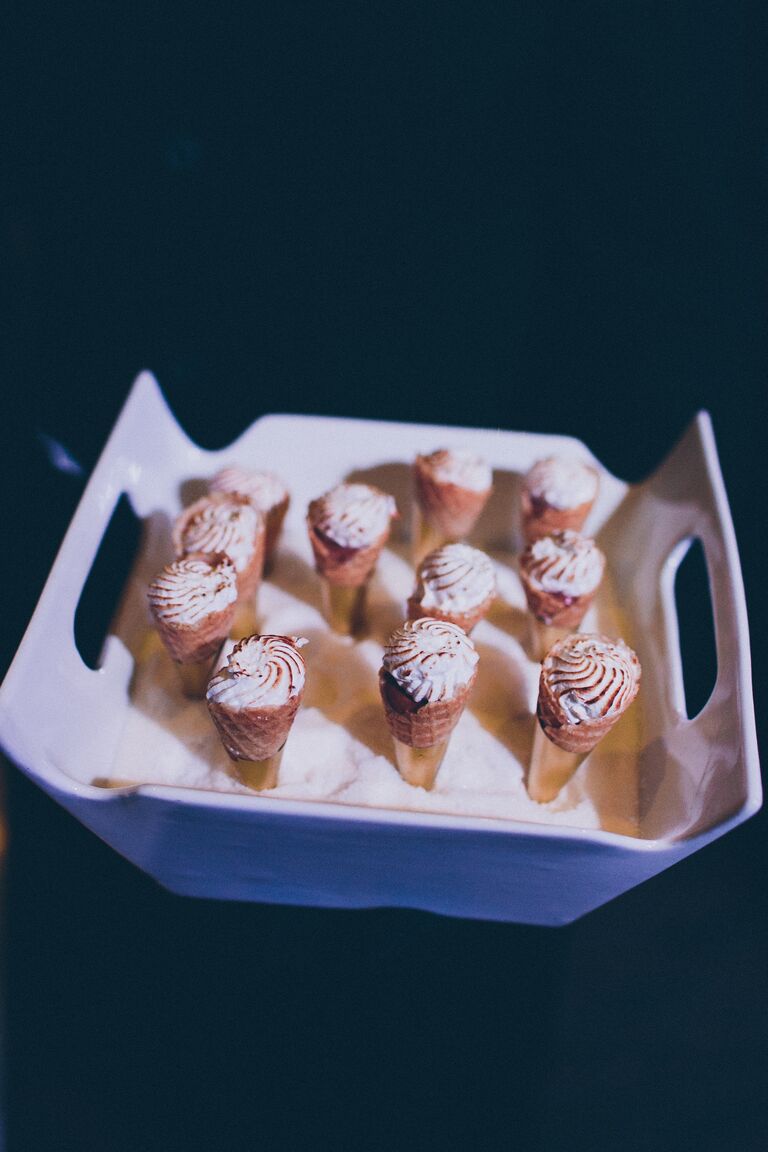 The food portion of the evening definitely doesn't have to end once you cut the cake. Around 10 p.m., couples are choosing to serve late-night snacks. You've already impressed with the hors d'oeuvres and main course, so this part's all about satisfying mid-party munchies with your favorite comfort food. If you love sliders, see if your local burger joint will deliver. Or there's the foolproof crowd-pleaser: warm chocolate-chip cookies served alongside ice-cold milk shooters. Not sure what to serve? Look to your families' ethnic backgrounds for inspiration. Your caterer can also help you with this part of the evening by preparing a table of pizzas, popcorn with toppings, dumplings or an espresso bar. Place your late-night snack stand close to the dance floor for easy access: Dance, eat and repeat!
See more content from our blog!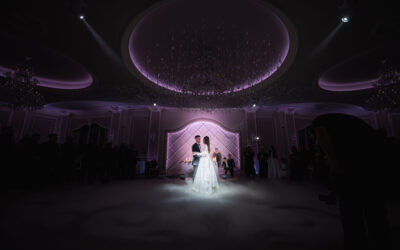 Your wedding guests will be of different generations: from grandparents to nephews and nieces to friends of your own age. That is why both wedding planning experts and modern couples agree that today's weddings should feature a good mix of new wedding songs (40% of your playlist) as well as the classics (60% of your wedding party playlist).
Contact & Location
The Mansion on Main Street is a picturesque events venue wrapped in elegance and modern beauty. Situated amidst exquisitely manicured grounds, lush gardens and a large cascading waterfall in Voorhees, New Jersey, this breathtaking property is ideal for gatherings of any kind, including but not limited to weddings, corporate events and celebrations.