The Best 2020 First Dance Songs to Kick Off Your Reception Right
Check out these DJ-approved 2020 first dance songs and choose your top tune.
"10,000 Hours" by Dan + Shay feat. Justin Bieber
This country duo is on its second year of topping our first dance song list. Last year, their song "Speechless" was played at many a wedding, and this year, music pros predict their new hit with Justin Bieber (a newlywed himself!) will be among the best 2020 first dance songs. "This song debuted at the tail end of 2019, meaning it hasn't really been played through a 'wedding season' yet," says David Moore of TH Entertainment in Denver, Colorado. "We think this will be a popular first dance choice because the mix of country and pop is very trendy right now." Adds Rob Ferre of Life of the Party in Sat Lake City, Utah: "It is a little bit more upbeat and but it is a fun song that people will be singing along with. Plus, it's a relatively short song coming in under three minutes."
"Lover (First Dance Remix)" by Taylor Swift
"Everyone loves some T-Swift," says Romin Zandi of Zandi Entertainment in Reston, Virginia. "This song has a very downtempo, easygoing vibe that makes it easy to dance to." Another bonus: Swift came up with a "first dance remix" of this tune that was specifically remixed for weddings. "The remix has a great pace to it, with dynamic sections to twirl and dip your partner," says Rob Ferre. "This would also be a fun song to invite your guests to join you on the dance floor. After the second chorus she sings: "Ladies and Gentlemen, will you please stand?" which would be perfect to have your guests join you on the dance floor."
"Beyond" by Leon Bridges
R&B fans will love the smooth vocals and romantic lyrics on this track. "This song is a tasteful choice for a first dance," says James Thomas of Peach & Gold in Culver City, California. "The lyrics detail the excitement of discovering true love, and Bridges' musical style will please friends, parents and grandparents alike."
"Adore You" by Harry Styles
Another one of the best first dance songs of 2020, this is definitely a unique pick but we love its upbeat yet sultry feel and sweet lyrics. "The former frontman of One Direction singing 'I'd walk through fire for you, just let me adore you, it's the only thing I'll ever do,' over a pulsating bass line has the romantic intimacy of a first dance, yet is massive enough for a grand entrance," says Digital Dave of DJ Digital Dave in Wexford, Pennsylvania.
"Blessed" by Thomas Rhett
If you're looking for a country first dance song for your 2020 wedding, this unreleased song from Thomas Rhett's latest album is the perfect choice. "This song is the textbook definition of an amazing first dance record,'" says Digital Dave. "The lyrics start out 'The lights are down, but you're shinin' like you always do" and only get better from there. If it's not your cup of tea for your first dance consider playing it during dinner or as a late night slow burner."
"Conversations in the Dark" by John Legend
Will this new song replace "All of Me" as John Legend's top first dance song? It remains to be seen, but we love this song's upbeat vibe and sweet lyrics. "Legend manages to avoid the 'overplayed' mainstream feeling, even while churning out great tracks," says Troy Adams of Carolina DJ Professionals in Charlotte, North Carolina. "Like 'All of Me' was massively popular in recent years, we think this song will be a popular first dance choice."
"Finally/Beautiful Stranger" by Halsey
Halsey's voice is totally mesmerizing, and music pros are predicting this will be among the best first dance songs for 2020. "I love this modern indie type sound with Halsey's unique voice," says Rob Ferre. "It has a nice pace to it, not too fast but something you could slowly waltz to. A perfect dance to draw in your guests as they watch you dance your first dance. Plus the lyrics are very romantic and relevant to slow dance."
"Yours" by Russell Dickerson
Sometimes a song that's a few years old experiences a reemergence, and that's definitely the case with this 2020 country first dance song. Says Fred Tian of MixPro Events in Marietta, Georgia. "This song has been on the radio since April of 2017, but since Russell Dickerson is new to the country scene, it has really picked up as a popular first dance song choice by couples recently."
"Best Part" by H.E.R. feat. Daniel Caeser
Another song that's a few years old, but is expected to be big as a 2020 first dance song. "Though this song came out in 2017, it has slowly been climbing as a popular wedding song," says DJs Pat and Sean Kelly of North Wales, Pennsylvania. "We already know some couples on our list who love this song and are planning it for their first dance in 2020."
"Homesick (First Dance Version)" by Kane Brown
Kane Brown's "Good As You" was a popular first dance song in 2019, and we expect this newer song to hit in big in 2020. We love that Brown released a first dance remix of this song. "For those who love country ballads, this is a great song by Kane Brown that has that country flavor," says Rob Ferre. "He weaves a tale that connects couples for their longing to be together. For couples that have been planning their wedding from long distance, this fits perfectly into that narrative."
"Ease My Mind" by Ben Platt
If you've never heard Ben Platt's incredible voice, stop reading this now and watch the video above. The Tony Award-winner came out with his debut album in 2019, and this song is a clear 2020 first dance song must-play. With lyrics like "You came out of nowhere and you cut through all the noise/I make sense to the madness when I listen to your voice," this song is ideal for couples who have helped each other get through tough times.
_________
Source:
Content and featured image: Wedding Wire written by Kim Forrest
Featured Image: Shelby Erin Photography
See more content from our blog!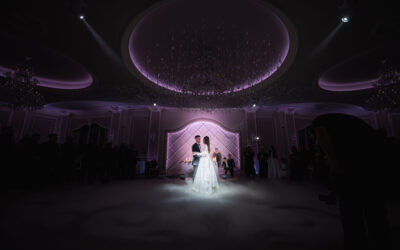 Your wedding guests will be of different generations: from grandparents to nephews and nieces to friends of your own age. That is why both wedding planning experts and modern couples agree that today's weddings should feature a good mix of new wedding songs (40% of your playlist) as well as the classics (60% of your wedding party playlist).
Contact & Location
The Mansion on Main Street is a picturesque events venue wrapped in elegance and modern beauty. Situated amidst exquisitely manicured grounds, lush gardens and a large cascading waterfall in Voorhees, New Jersey, this breathtaking property is ideal for gatherings of any kind, including but not limited to weddings, corporate events and celebrations.