The 16 Best Wedding Party Favors for Every Type of Festivity
While you're not required give out wedding favors on your big day, it's a sweet way to add a custom touch to the celebration. If your budget allows, and you do want to offer up a small gesture of thanks to the family and friends who traveled from near and far to celebrate you, a wedding favor is a great way to do exactly that. You can choose something reflective of you as a couple or a fun element that ties into your wedding theme, destination, or décor.
When choosing wedding favors for your guests, there are a few important things to keep in mind. According to the Liz Curtis, the founder of party planning site Table + Teaspoon, useful items are always appreciated. She adds that anything that'll make guests feel more comfortable during your wedding weekend is a great idea. Think individual sunscreen for a beach wedding, miniature bug spray bottles for a woodland event, or or an edible gift for late-night snacking.
Lynette Dow, a coordinator with Amy Abbott Events, encourages couples to consider a favor that ties into the location of the wedding—such as a small bottle of maple syrup for a Vermont wedding or a mini bottle of tequila for a wedding in Mexico.
To help you find a wedding favor that will undoubtedly delight your guests, we researched and rounded up the best wedding favor ideas for every wedding style and venue based on usefulness, budget, and uniqueness. For a sweet treat that your guests can indulge in at the end of the night, we love the Custom Favours Hot Chocolate Wedding Favor in a Tube and Levain Bakery Cookies. Want to give your guests something practical for the reception? The MyFavorShop Custom Orchid Theme Flip Flops will keep their feet content on the dance floor.
What to Consider When Buying Wedding Favors
Budget

When it comes to budget, think about how many guests you have—a small wedding might afford to feature custom tote bags or other higher ticket items as favors, while a larger guest list might need more affordable options. Pay attention to the price per piece, then multiply that by your estimated guest count.
Usefulness

The best wedding favors are ones that guests will use again or will enjoy at the moment (think donuts, candy, or a mini bottle of vino). Curtis says anything that will make guests feel more comfortable during your wedding weekend is a good idea. Rather than saving a favor for the end of the event, she suggests giving guests a favor box with small items that are both fun and practical—think candy, Advil, playing cards—at the beginning of the wedding weekend.
Or, choose something that you and your spouse-to-be collect as a couple, such as magnets or Christmas ornaments, Dow says. Your guests might also appreciate a hangover kit with ibuprofen and electrolyte drink powder, like the Real Vitamins Pre-Filled Hangover Kit. If that's the case, she recommends setting up a prominently displayed wedding favor table that guests will have to pass at the end of the night, along with signage indicating that these are favors that everyone should take.
Wedding Location
Another option is to get wedding favors that nod to the location of the event. For instance, you might offer leis if you get married in Hawaii or cactus candy for New Mexico nuptials. Or if it's a destination wedding, your guests might appreciate a travel item, like the Letter and Leather Luggage Tags.
What are some other unique wedding favor ideas?

Local or themed favors are also a fun way to incorporate the location of where you're getting married. If it's a rustic country wedding, homemade jams or jars of honey are a sweet parting gift. Or play up a destination wedding theme with a specialty that's unique to the country or region, like Mexican caramels or mini bottles of Limoncello for an Italian wedding.

When should we give wedding favors?

If the favor is a food item or a takeaway gift, set up a gift station that's near the exit, so guests will be sure to grab their favor at the end of the night. If it's a practical gift specific to the wedding location—think bug repellent for a woodland venue or mini sunscreens for a beach event—set up a party favors table at the entrance.

Is it rude not to give wedding favors?

No, it's not considered rude to forgo wedding favors. Consider them a fun "extra" you and your guests can enjoy if your budget allows.
Source
Brides
By Melanie Rud
Cover image: BRIDES / CHLOE JEONG
The Brides independently evaluate all recommended products and services. If you click on links they provide, they may receive compensation.
See more content from our blog!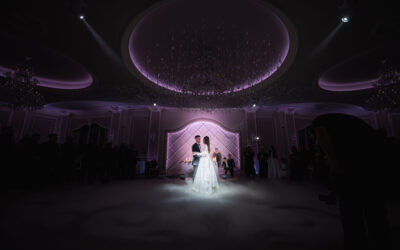 Your wedding guests will be of different generations: from grandparents to nephews and nieces to friends of your own age. That is why both wedding planning experts and modern couples agree that today's weddings should feature a good mix of new wedding songs (40% of your playlist) as well as the classics (60% of your wedding party playlist).
Contact & Location
The Mansion on Main Street is a picturesque events venue wrapped in elegance and modern beauty. Situated amidst exquisitely manicured grounds, lush gardens and a large cascading waterfall in Voorhees, New Jersey, this breathtaking property is ideal for gatherings of any kind, including but not limited to weddings, corporate events and celebrations.