How to Shop Virtually for Your Wedding Dress and Other Attire
If you're in the market for a wedding day dress or tux, the fitting room has now shifted into your living room. "We cater to a variety of brides, The type of bride virtual sessions work for is typically someone who is constantly on-the-go and is a savvy shopper. Another is one who is more private and wants an intimate try-on session with close friends or family at home," says Grace + Ivory founder Tina Wong Zysk. This bride typically researches before making a purchase and tends to shop with quality over quantity in mind. "She ensures spending is worth the value, and that's what we provide—and more," adds Zysk. 
How to Shop for Your Wedding Dress Virtually
The first step, with or without social distancing, is narrowing down your budget, along with your aesthetic and types of gowns you're interested in trying on. Then, it's contacting local boutiques that carry the corresponding gowns you so desire. 
Research and Gather Inspiration
"This is a great time for brides to think out and research the types of shopping environments that are best for them," says Beth Chapman, founder of the White Dress Society and her own Connecticut dress salon. 
Top boutiques across the country have started hosting guides for shopping online on social media. "We started working on video content about a week before we were going to close," says Krysta York of Charlotte's Weddings, a salon in Portland, Oregon. "Couples are still planning their weddings and even more so since they're stuck at home.  We want to be the first place they reach out to once this stay at home is lifted."
Dust off that measuring tape if you haven't already. Some salons and designers have measurement guides and tables with online instruction for taking down your correct details. "They can then have someone take their measurements at home," explains Zysk, whose team also sends out a link that features a video measurement guide. "We take about 14 different measurements, so you get a dress made for your proportions for a better fit."
If you have your measurements ready before your initial consultations, your salons will be armed with gowns and select silhouettes that could potentially be flattering on your body. "We ask that if the bride has the means, to take measurements prior to the initial interview and appointment," says June Rachele Eaton, who owns a salon in Southfield, Michigan.
Watters has been a great resource for brides and wedding party members. Says one salon owner, "We've been sending their IGTV post to all our customers who need instructions on taking their own measurements."
The main points include following suggested measurements as precisely as possible, beginning with an anatomy lesson. (Some people, after all, might confuse the rib cage from the waist. We don't judge.) Experts say to hold the tape or string parallel to the ground and ensure it isn't too tight or too loose. Ideally the measuring tape should be right up against the skin without added indentation.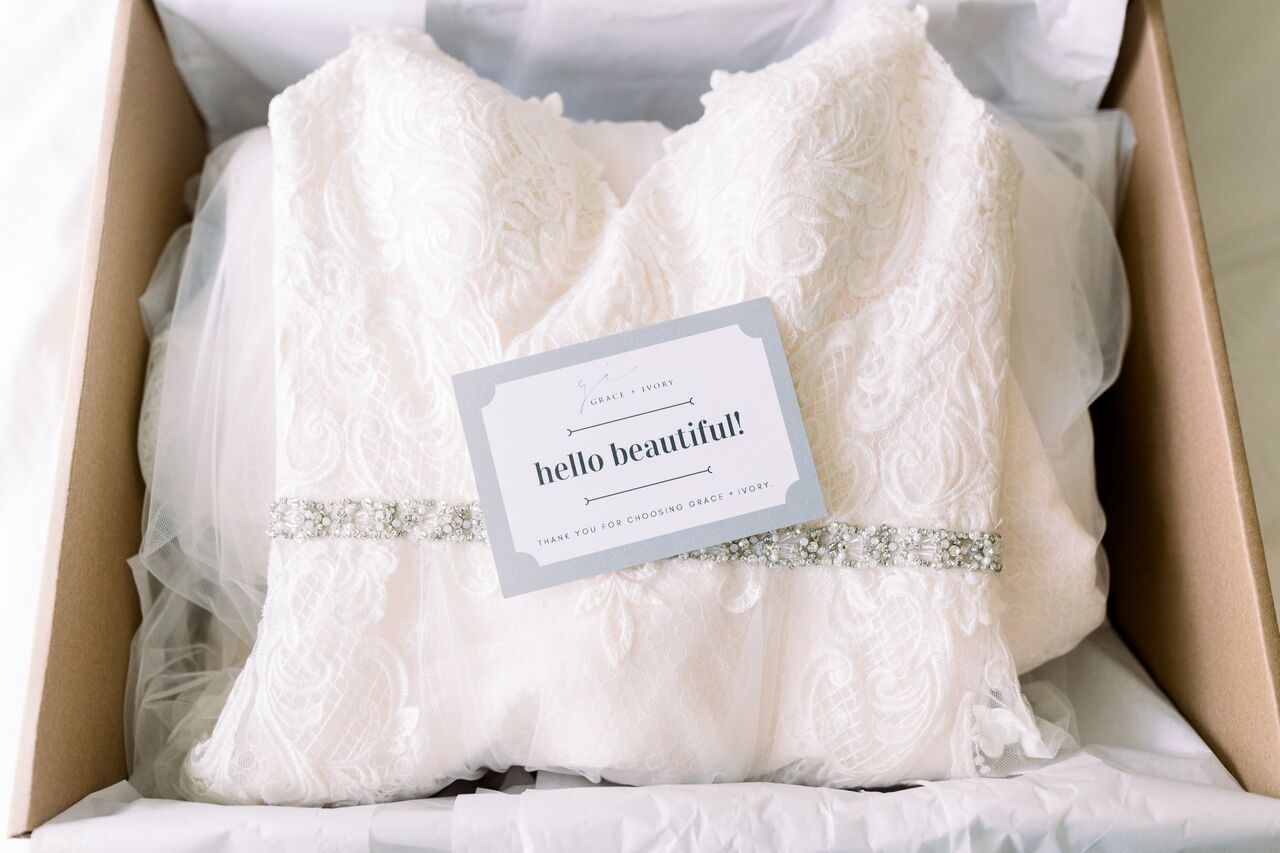 Sarah Bradshaw Photography
While it may not be the grand dress shopping experience you may have imagined, there are benefits that come out of scheduling that first call with your salons. "Because of the flexibility of the appointments, we're able to help ease many brides if there's any anxiety," adds Eaton. 
Rest assured: these pros hear you and they will do whatever it takes to secure your ideal dress. 
After the initial consultation, schedule calls with your chosen salons as in-house stylists can walk you through their selection (live from the salons!) for a custom-tailored experience. These stylists have seen all types of body shapes, preferences and styles of gowns, so know that you're in great hands.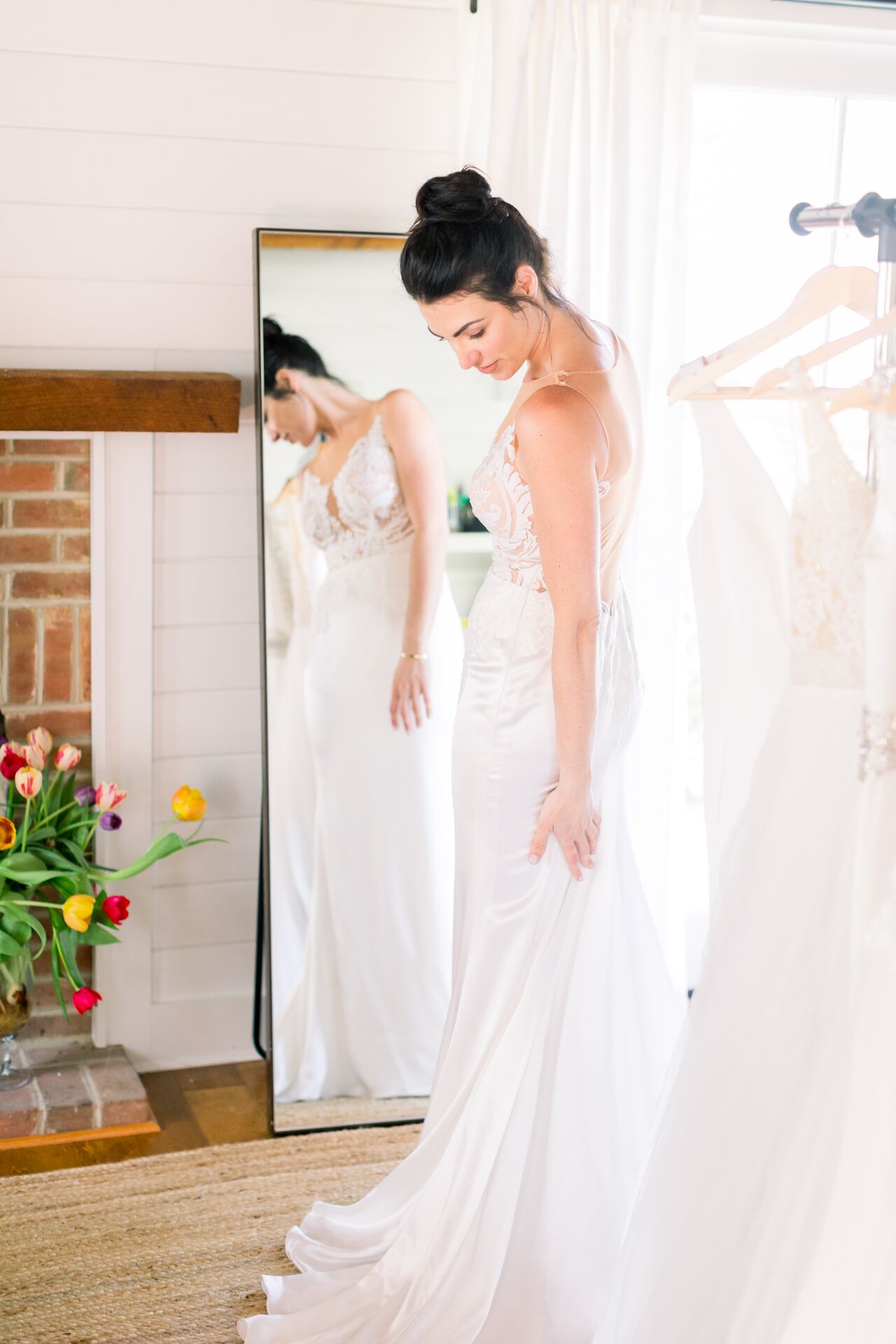 Sarah Bradshaw Photography
Guess What: Your Living Room Is Now a Fitting Room
If your wedding date falls before November, select salons will mail gowns directly to your front door (most involving slight shipping costs). Of course, these local businesses are following dress cleaning guidelines, in addition to other safety measures, to protect the health of clients and the public. 
If you're quarantined at home, between meetings and still need a dress for your fall wedding, this is most certainly the option for you. Select salons will offer detailed instructions for how to put certain pieces on at home, given not all gowns are as intuitive as they may seem. Model the pieces and take selfies to share with your bridesmaids. Most stylists will be on call and give you feedback as you try on each gown; plus, some salons are using Zoom or Hangouts so you can easily dial in your loved ones. 
A big flag: If you're social distancing with your partner, ask this person to kindly shuffle to another room if the element of secrecy is still something you'd like to maintain until the wedding day.
Another tip, other than to have an open mind, is to try these gowns on in bright daytime light if you're having an outdoor late summer wedding. You'll want to get a sense of how your dress will appear in photos too. If you have locked in a wedding photographer, get this professional's opinion too. It'll give you a better sense of what works for images if that's of primary concern. 
Once you're done, carefully follow instructions from the salon to package the gowns and send them back as other clients will likely be trying on pieces too. Know that these businesses are airing out the garments and steaming them at high temperatures in accordance with CDC guidelines. 
If you've narrowed it down and found the perfect gown, congrats. Now talk to your stylist about added adjustments, as well as accessories and, of course, the veil. Continue shopping for your dream pair of stilettos and that perfect accessory. 
Then, reach out to your local tailor or seamstress about hem length, bustles, trains and more. Many salons have a preferred vendor list for alterations if it's not done in-house. There is one steady tip, however, to bear in mind. "We always recommend, when in doubt, to order a size up.  Something can always be taken in, but often it can't be let out," explains Tanya R. Hartman, the owner of fancy occasion shop Gilded Social in Columbus, Ohio. "Don't get caught up on the number and just be prepared to pay for alterations down the road. It'll make for the best fit for your body that way anyway."
Financially speaking, prep appropriately for these costs as they will account for a portion of your overall dress budget. 
While the experience of virtual appointments may seem outside of the ordinary, we live in extraordinary circumstances where you're certainly not alone in this social distancing-planning realm. Other brides are shopping and narrowing down their perfect gowns digitally. Some are even enjoying this experience more.
"We've had eight virtual appointments in the last few weeks," says Eaton. "And we've sold four of those gowns… So far, so good."
How to Shop Virtually for Suits and Tuxes
Like dress salons, tux services and bespoke suit boutiques have also pivoted to go digital during this time with current and prospective clients. "Virtual style sessions have been a big hit so far with couples who are experiencing wedding planning from different places in their lives right now," says Danielle Conte of Friar Tux, which kicked off its digital service on March 26. "This offering comes at a time for much-needed virtual connection during the wedding planning process."
The steps are rather simple: clients set up a profile on the measurements page to kick off the process. They are then walked through a tutorial to nail down the measurement process. Some regions are even covered for measuring tape deliveries. Then, if there are any additional questions in the measuring process, a rep will help the prospective client work out what they need. 
"If the sizing of a suit or tuxedo is not correct when an order is received, the customer contacts our customer service department within 48 hours of receiving the garment to arrange for replacement garments to be sent," adds Conte. Overall, the service has been a hit with those who've tried it. 
"One groom recently remarked, 'This has been the best experience of the wedding planning process so far!'" Conte says.
How to Virtually Shop for Special Occasion Gowns
Some salons have created boxed dress services for multiple wedding party members to try on pieces at home. New York City's storied Kleinfeld Bridal, for example, though abstaining from virtual wedding dress appointments with new clients at this time, has a digital option available for other members of the bridal party. "They can browse a curated selection of wedding dresses and bridesmaid dresses available for purchase online," says the brand's head of marketing Jennette Kruszka. "Brides and bridesmaids can also experience the 'Try-at-Home' program, which allows a bride to select three dress styles for $15 each.  The dresses arrive to your doorstep and brides and their bridal party can have a virtual dress shopping experience, that 'yes' moment with friends and family–while practicing social distancing."
"We FaceTime with the customer [often the bride], first, to gauge her style and help narrow down color and selections," Gilded Social's Hartman adds. "Then, we ship her a box. From there, we schedule a second FaceTime during her try-on session, so we can be sure she is getting the most out of those samples at home."
Wedding party members will have all tools at their disposal, and if not, encourage them to take measurements at home. "Our 'Gilded Boxes' also come with clips, a measuring tape, swatches and information about our shop and order process," Hartman says. "This works both for brides who are styling their entire party or bridesmaids or moms who are individual shoppers."
________
Source
Content an images: The Knot
written by Esther Lee
images Sarah Bradshaw Photography
See more content from our blog!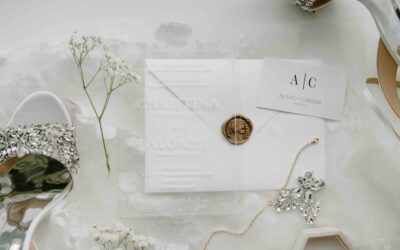 Yes, it is time to start thinking about your wedding invitations since 2024 is right around the corner and a new round of wedding seasons is coming soon. Brides might have the most options of wedding invitations ever in history, with all the different papers,...
Contact & Location
The Mansion on Main Street is a picturesque events venue wrapped in elegance and modern beauty. Situated amidst exquisitely manicured grounds, lush gardens and a large cascading waterfall in Voorhees, New Jersey, this breathtaking property is ideal for gatherings of any kind, including but not limited to weddings, corporate events and celebrations.