Romantic Ways to Propose At Home
If you were planning a proposal outside of the house this Spring, your elaborate plans are probably foiled. But quarantining at home doesn't mean you should push off popping the question. In fact, an at-home proposal doesn't have to sacrifice romance—it can even enhance it!
A recent survey conducted by James Allen revealed that the current situation has impacted proposal and wedding plans of 53% of respondents. Men and women who were planning on popping the question abroad have had to alter their plans, as well as those who were prepping for a proposal in a busy, public setting.
"We have found that many men and women are anxious that their original proposal idea, mostly including travel, won't work and they're trying to get a completely new proposal plan in place as soon as possible," says Megan Bicklein of The Yes Girls, a team of professional proposal planners.
But couples can still practice social distancing and propose at the same time. Can't dine at your favorite restaurant anymore? Support local businesses by ordering takeout or try to recreate the meal in your own kitchen. No longer flying to the beach next week? Bring the beach to you by transforming your living room into an island oasis—and maybe play a tropical playlist, too!
"What we have seen more of, and I think this can apply to all areas of life right now, is people caring less about the 'showiness' of the proposal, and instead, just being able to experience the moment with their loved one," adds Bicklein. 
And even if you haven't found the perfect ring yet, engagement ring shopping doesn't have to be put on hold: Enter online ring shopping. "This can be tons of fun," says Ria Papasifakis, vice president of revenue at 
Ritani
. "We have lots of couples shop together and we find that it doesn't take away or ruin the element of surprise for the proposal."
So, in light of the present situation, we rounded up some of the most romantic and creative ways to propose at home. How will you be popping the question?
Play a Slideshow of Memories
Few things are more romantic than reminiscing on your history together. Compile old photos and videos from throughout your relationship and play the slideshow on your TV. Gather your comfiest pillows and blankets to snuggle on the couch and perhaps even light a few candles, too. No movie theater date could ever top this!
Cook Your Favorite Restaurant Meal
Since you can't dine at your favorite restaurant, cook your favorite dish on the menu instead. Craving the cozy Italian spot down the street? Whip up spaghetti bolognese and pour a glass of wine. Missing the Mexican spot across town? Make flavorful tacos and homemade guac to enjoy.
Host a Virtual Cocktail Party
More and more couples host a private proposal immediately followed by a larger celebration with friends and family. But, while large gatherings are discouraged at the moment, you can still celebrate your engagement with loved ones online! Invite your closest friends to a video call and ask that they all pour their favorite drinks. Have everyone raise a glass and cheers!
"Travel" to Your Favorite Destination
When actual travel isn't an option, do the next best thing! Recreate your favorite destination inside your home by cooking the specific cuisine, playing cultural tunes and decorating a room to fit the aesthetic. If you can't propose in Paris, you might as well bring the City of Love to you!
Hire a Local Band to Serenade You Online
Supporting local businesses is crucial now more than ever. Since you can't go listen to your favorite band at your local bar, hire the group to sing you a few songs via Skype or Zoom. They'll appreciate the business and your partner will be elated by the surprise.
Take a Private Walk
In today's world, there are still safe ways to get out of the house and avoid others. Take a walk around the block, to your favorite park or a local landmark that is special to your relationship. If you have a car, go for a drive but keep the destination a secret to your partner. Find a private spot to watch the sunset and then pull out the ring!
See more content from our blog!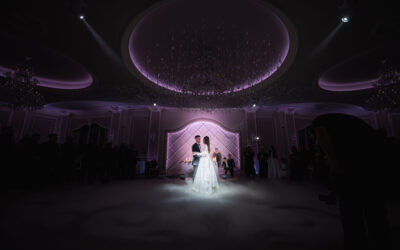 Your wedding guests will be of different generations: from grandparents to nephews and nieces to friends of your own age. That is why both wedding planning experts and modern couples agree that today's weddings should feature a good mix of new wedding songs (40% of your playlist) as well as the classics (60% of your wedding party playlist).
Contact & Location
The Mansion on Main Street is a picturesque events venue wrapped in elegance and modern beauty. Situated amidst exquisitely manicured grounds, lush gardens and a large cascading waterfall in Voorhees, New Jersey, this breathtaking property is ideal for gatherings of any kind, including but not limited to weddings, corporate events and celebrations.