Romantic Vacation Ideas That Will Leave the Two of You Mesmerized
Thinking of taking your sweetheart on a trip to remember? You won't go wrong with either of these romantic vacation ideas.
From languorous beach getaways and sophisticated city breaks to crazy alpine escapades and wonderfully quirky stays in the middle of nowhere, here are our picks for the sexiest and most romantic travel experiences:
Play in a Treehouse
For romance in the wild, nothing can beat the stunning treehouses of Lion Sands Game Reserve in South Africa. Remote and luxurious, these bush bedrooms elevated on platforms invite guests to sleep under the stars and dine in complete privacy while being surrounded by some of the world's most amazing wildlife.
Enjoy a Romantic Beach Dinner in Zanzibar
Floating in the Indian Ocean, just off the northern coast of Zanzibar, &Beyond Mnemba Island allows you to feast on succulent seafood at a private table for two on the beach. There's nothing quite like being barefoot in the sand with the sea breeze blowing through your hair and the sound of the waves gently lapping the shore at sunset.
Sleep Under the Stars in Italy
When Condé Nast names a property the "Most Excellent Hotel Spa", your expectations tend to be quite high. Well, L'Albereta – a superb 9th-century country villa near Italy's Lake Iseo, exceeds them all with its flawless service, irresistible Italian charm, and poetic Cabriolet Suite, whose retractable roof opens up to the heavens, providing you and your love with a magnificent view of the stars above.
Go Glamping in Australia
Tucked away in the Cape Range National Park, near the stunning Ningaloo Reef, Sal Salis offers all the romance of glamping, plus fantastic snorkeling, fresh and delicious local food, as well as fantastic wilderness experiences. Nestled amidst sand dunes, the beautifully appointed tents come with outstanding views, handmade king-sized beds, hammocks, and ensuite bathrooms with eco-friendly toiletries.
Feel the Magic of the 1001 Nights in Marrakech
There's something utterly sensual about staying in a Moroccan riad, and this traditionally designed bedroom at Riad Hikaya has all the ingredients for a magical couple's escape – timeless handcrafted furnishings, precious jewel-toned fabrics, a dramatic copper bathtub, and a door that opens right onto the pool.
Soak Up the Romance of the Vineyards in a Wine Porto Hotel
If you want to treat your loved one with a romantic weekend away, look no further than The Yeatman Hotel in the beautiful Portuguese city of Porto. Michelin-starred cuisine and a fabulous Caudalie Vinothérapie Spa, along with elegant wine-themed rooms fitted with spectacular baths, revolving beds, and private terraces overlooking the Douro River, will make your stay here unforgettable.
Bathe Under the African Sky in Botswana
Bathing alfresco on your private deck at Sanctuary Baines' Camp is an experience not to be missed if you ever find yourself in Botswana. The luxurious suites on the edge of the Moremi Game Reserve have sprawling wooden decks complete with sky beds and lavish bathtubs – perfect for an indulgent soak under the stars.
Live the Balinese Dream in a Spectacular Javanese House
The chance to sleep in a glass-floored bedroom doesn't come around too often, but when it does, make the most of it! Set above a fresh shrimp pond, the fascinating Udang House at Bambu Indah in Bali boasts an idyllic porch, a unique outdoor/indoor shower, and tempered glass floor panels that allow for outstanding underwater views.
Strip Away Your Inhibitions in a Wisconsin Glass House
If you want to impress your partner with something really extraordinary, invite her/him to share a cozy weekend together in a glass house surrounded by glorious nature. Candlewood Cabins in southwest Wisconsin prides itself with several such amazing units.
Keep the Passion Alive in the Andalusian Countryside
The peace and tranquility of the Andalusian countryside coupled with the rustic charm of Trasierra will result in a once-in-a-lifetime getaway for two. Just looking at this bedroom brightens up your day and makes you feel relaxed.
Live Like a King and Queen in a Venetian Palazzo
If you want to escape from the ordinary, take your special someone and go spend some time surrounded by the romance and grandeur of a bygone era at the Belmond Hotel Cipriani. Tucked away on the Venetian island of Giudecca, the majestic 15th-century palazzo welcomes its guests in splendid suites overlooking the lagoon or the beautiful St Mark's Square.
Spend the Night in a European Ice Hotel
Whether you opt for the majestic Alps or the peace of the Pyrenees, European igloo villages offer a range of romantic packages that include accommodation in artfully designed ice suites, delicious fondue dinners, whirlpool, sauna, and much more. With six different locations across the continent, Iglu Dorf is a safe bet if you want to treat your loved one to a special gift.
Immerse Yourself in Rustic Romance in Hungary
Hungary may not be the first destination that comes to mind when looking for the perfect love nest for two, but Józsi's Cottage – a delightfully romantic vineyard retreat on the edge of Vértes National Park, proves the contrary. Expect cozy, rustic interiors, flickering fireplaces, picturesque countryside views, and relaxed alfresco meals on your private terrace.
Sweeten Your Parisian Break with Morning Kisses by the Eiffel Tower
A romantic break in the City of Love is a dream come true for any enamored couple. And the stylish Terrass Hotel in bohemian Montmartre has not just graciously decorated rooms, but also some of the best views in town.
Dip in a Jacuzzi with a View in Santorini
The breathtaking views are reason enough to visit Santorini, but choosing the right hotel can make all the difference. Sophia Luxury Suites, for instance, lets you soak together in your private Jacuzzi while marveling at the fabulous vistas.
Get Back to Nature in Switzerland
If your other half has a passion for mountains and adventurous expeditions, surprise him/her with an amazing eco-luxury getaway in the Swiss Alps. Whitepod offers 7 km of ski slopes, spa facilities, refined local cuisine, and comfortable accommodation in lovely, hi-tech domes equipped with king-size beds, private bathrooms, and mezzanines.
Hang Loose in an Ancient Cave in Cappadocia
There's no better way to experience the magic of Cappadocia than by spending the night in a cave. Argos in Cappadocia, an ancient monastery converted into a luxury hotel, boasts some really remarkable suites – partially carved into the rock and appointed with private cave pools.
Book an Underwater Room for Two in Tanzania
Immersed in the Indian Ocean, the underwater room at Manta Resort makes for a truly mindblowing sleeping experience. The three-story structure comprises a rooftop deck, a dining/living area at sea level, and the outlandish glass-walled underwater bedroom, where you can literally sleep with the fish.
Sleep in a Bubble in Provence
Looking to add a playful touch to your romantic vacation? Well, Attrap'Rêves, a pretty unusual accommodation complex with multiple locations throughout France, offers you the opportunity to sleep in a transparent bubble dome in the middle of nature.
Find Peace and Seclusion on a Fijian Paradise Island
Nestled in a dazzling Fijian lagoon, Royal Davui Island Resort is the ideal destinations for couples seeking an exclusive tropical island hideaway. Appointed with private plunge pools, spa baths, and sprawling sun decks overlooking the ocean, its luxurious villas promise the ultimate in privacy and relaxation.
Get Pampered in a Palatial Spa in Dubai
A day at the spa may not be the most original romantic experience, but when the spa is a palatial ottoman-style retreat tucked away in an opulent Dubai resort, everything changes. Talise Ottoman Spa at Jumeirah Zabeel Saray is one of the best in the world and has everything you could ever imagine, from steam, snow, and hydrotherapy rooms to spectacular pools and a dramatic Turkish Hammam.
Escape to a Futuristic Hideaway in Tasmania
If you are looking to get away from it all to a secluded coastal location, where nature and architecture combine in a unique way, then Saffire Freycinet is the place to go. Resembling a spaceship, this exceptional resort enjoys an outstanding, remote position in Tasmania's Coles Bay, and offers blissful accommodation in soothing suites and pavilions, complete with plunge pools and majestic vistas.
Spend Lazy Days and Dreamy Nights in Your Malawi Beach House
It may sound like a cliché, but there's nothing more idyllic than spending some quality relaxation time with your partner in a private beach house, somewhere on a tiny, remote island in Malawi. Voted one of the "Most Romantic Places in the World" by Condé Nast, Kaya Mawa invites you to share special moments in a dream-like setting.
Live Your Own Fairytale in a Magical Australian Castle
Be the king and queen of your own fairytale at this whimsical Baroque castle in Australia. Thorngrove Manor's artistic interiors, fanciful atmosphere, and abundant romantic features will make your escape sweeter than ever.
Enjoy Private Moments in an Arty Bedroom in Thailand
If a designer beach retreat is what you're after, look no further than the surreal oceanfront villas and penthouse of Iniala Beach House in Thailand. The intimate resort is perfectly located on the pristine sands of Natai beach and fascinates guests with its theatrical interiors, fabulous spa, and lovely gourmet restaurant.
______
Source:
By Meeroona to Travel Away
See more content from our blog!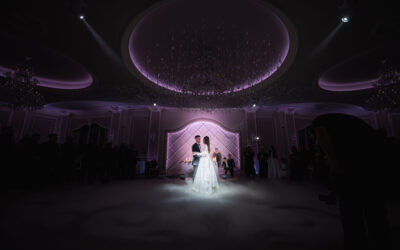 Your wedding guests will be of different generations: from grandparents to nephews and nieces to friends of your own age. That is why both wedding planning experts and modern couples agree that today's weddings should feature a good mix of new wedding songs (40% of your playlist) as well as the classics (60% of your wedding party playlist).
Contact & Location
The Mansion on Main Street is a picturesque events venue wrapped in elegance and modern beauty. Situated amidst exquisitely manicured grounds, lush gardens and a large cascading waterfall in Voorhees, New Jersey, this breathtaking property is ideal for gatherings of any kind, including but not limited to weddings, corporate events and celebrations.