Real Wedding Vow Examples to Inspire Your Own
Find funny, timeless and heartfelt vow inspiration from real couples who penned their own.
What do you imagine your 
handwritten wedding vows
 will sound like? Do you want your partner and guests in fits of laughter (and to avoid getting teary yourself) or to hit them right where it counts—in the heart—so they're reaching for tissues? You could make your words sweeping and poetic, or intimate and particular—toss in an anecdote or recite your favorite quote. Whichever route you take, penning your own promises is one of the purest and most memorable ways to personalize your wedding ceremony. Read on for a few of the best wedding vow examples—some snippets, some in full—from real couples who wrote their own.
1. Lighthearted, Romantic Wedding Vows
Dre: 
"I promise to always remember that you are indeed human. That you may sometimes make questionable decisions, decisions I don't agree with, like throwing a beach party that I didn't authorize on the one free day we had before our wedding—a day when we should be doing wedding admin together and things like, I don't know, writing our vows! But what I love about you is I know that you do these things because you care so deeply about those who are close to you and are genuinely one of the most thoughtful and considerate people I have ever known. You remind me of my mother in this way. (That and your mutual unbridled passion for shopping and [my parents' dog].) Today, I promise to show that same care and consideration for you for the rest of my life. Right now, it's the easiest thing in the world to do because I honestly love you so much and want nothing but your happiness, but even when things are difficult and it gets hard to do and our love gets more comfortable, complacent and timeworn, I will always show that same care and consideration for you."
Dan:
"Back in June 2013, I decided I needed one more Michelada after a night out in Downtown LA. It led me to wandering around a block from Skid Row—something I later learnt the guide books advise against. But what those guide books also don't tell you is that you could end up meeting the love of your life a result. I met the love of my life in you Dre—you are my number one. You make me smile whenever I think of you. I promise to make you smile as much as you make me smile, even if that means I have to watch a bit less football or 'soccer.' I also promise to pretend not to be annoyed when I find giant mounds of Dre hair in the most unlikely place after one of your giant detangling sessions, or just simply finding smaller ones that have broken free on their own literally everywhere. It is a small price to pay to live with you and your fantastic barnet, as we say in the UK."
2. Short, Funny Wedding Vows
Jenna: "Mike vowed to change me from 'the lady friend' in his cell phone to 'wifey.''"
Mike: "Jenna vowed to only purchase one more dog."
3. Sweet, Anecdotal Wedding Vows
Chelsey: 
"Eric, you and I both know how indecisive I can be at times. I simply don't like to make decisions. But if there is one decision in my life that I know is the right one, it's to spend the rest of my life with you. There is an infinite number of things I love about you. I love your thoughtfulness and your ability to keep me grounded. I love your loyalty to me and our relationship. I love the way you weirdly get excited about Chipotle water and I love how when you laugh really hard, your one eye starts to crinkle up. I promise to be patient with you, even if it means that I have to listen to how you should have started that one player on your Fantasy Football bench every single Sunday during football season."
Eric: 
"Chelsey, when we first met, I never imagined this day would come, but now that we are here I couldn't have imagined choosing anyone else but you to go through life's journey with. I love your laugh, your smile, your caring nature and that face you make when something is so cute, you just have to squeeze it. I promise to support you, to honor you and to love you unconditionally, even when we may disagree on something. Like whether The Bachelor or Monday Night Football is more important to watch. I can't imagine where I would be without you, and I cannot wait to continue this crazy journey with you by my side, I love you."
4. Emotional Wedding Vows
"It was one section of my vows in particular that really got Mike and made him lose it. I've performed with my comedy troupe for over 13 years now, and I decided to borrow some advice from our experiences on stage together, which I thought seemed applicable to our marriage. After taking a few moments discussing the various things that happen before our shows and about the importance of listening, not rushing the moments, and just having fun, I said the following [vows]:
'The last thing we do as a team is we all stand in a circle. One by one we look someone in the eyes and say, 'I believe in you.' And though we've never really defined what that means definitively, for me, I've always felt like I was looking at a good friend and telling them, 'I love you. And no matter what happens out there, I've got your back.'
So, without further ado, let's remember to listen, let's try not to rush the moments and let's have a lot of fun. Michael Dailey, I believe in you.'
That really got Mike. He knows how much the members of my team are like family to me and we were finally becoming a family ourselves."
5. Timeless, Romantic Wedding Vows (With Shared Language)
Liz:
"Anna, I knew from the very moment I laid eyes on you that you were my forever. Someway, somehow, I was determined to make you mine. And from this day forward my heart is entirely yours….
As we continue to grow in our lives together, I promise to give you all of my words when needed, and to share in the silence when they are not, to pick you up if you are down, to love you unconditionally, to lay my bare skin on you when needed most, to care for you and our families for as long as we live, to adventure with you always, to say I love you before falling asleep each night, to be the best mom I can be as we grow a family together, and to always know in the deepest part of my soul, that when challenges arise we will always find our way back to one another.
Anna, you are my everything and this is my promise to you."
Anna:
"Liz, Of all the people you've met on your journey and of all the places you've been, somehow and someway, you ended up here—with me. It is the most powerful and humbling fact that I can accept.
I used to think that we met by chance but now I know without a doubt that the universe put you in front of me because we were meant to spend our lives together.
You have filled my life with joy and have given me a sense of peace that I have never known.
You are my best friend, my biggest supporter, and… the best backup singer a girl could ask for.
Although today marks the start to the rest of our lives, I know it will not be enough time with you.
I will not take our time together for granted. And because words cannot do it, I promise to show you, for the rest of my life, how much I love you.
I promise to encourage you to follow your dreams.
I promise to make you laugh when you are taking yourself too seriously.
I promise to hold your hand through the good times and through the bad times.
I promise to be loyal and faithful and to put you before all else.
I promise to never stop making up songs for you. Although, I know you wish I would.
And I promise that when we are old and gray, we will look back on our lives together and we have no regrets.
…From this day forward, you will never walk alone."
6. Shared, Traditional-ish Wedding Vows
Amy and Russell:
"You are my lover and my teacher,
You are my model and my accomplice,
And you are my true counterpart.
I will love you, hold you and honor you,
I will respect you, encourage you and cherish you,
In health and sickness,
Through sorrow and success,
For all the days of my life."
7. Deeply Personal Wedding Vows
Alex:
"I promise to encourage your compassion,
Because that is what makes you unique and wonderful.
I promise to nurture your dreams,
Because through them your soul shines.
I promise to help shoulder our challenges,
For there is nothing we cannot face if we stand together.
I promise to be your partner in all things,
Not possessing you, but working with you as a part of the whole.
Lastly, I promise to you perfect love and perfect trust,
For one lifetime with you could never be enough.
This is my sacred vow to you, my equal in all things."
8. Simple, Powerful Wedding Vows
Ronnie:
"I call you 'My Megan' because you are my everything. You are my light, and you've shown me more love than I've ever known."
9. Grateful Wedding Vows
Annebel:
"Rachel, I feel overwhelmingly lucky and proud to be standing beside you today…. Thank you for accepting me for all that I am. Thank you for knowing that I've fought everyone that tried to put me in a dress since I could walk and allowing me to express myself the way I see fit. Thank you for loving me in a suit. Thank you for always supporting and loving me, unconditionally, I know I haven't always made that easy. I love that you love my persnickety, killer Chihuahua like she's your own. I know on that fact alone, you're going to make an amazing mother to our children someday. I vow to love you without reservation or conditions. I vow to always do my best to give more than I take, and not keep score. When I am with you, I am the best version of myself because I am utterly and unapologetically myself. I vow to continuously work on myself, and to be the wife you want and deserve."
Rachel:
"Annabel, I was drawn to you from the day we met. Your warm and inviting eyes and your magnetic smile softened my tough façade immediately. I remember wanting to have, and sometimes make, reasons to talk to you. To see you beam that amazing smile back at me, immediately putting me at ease and brightening my day. I love that we started out as friends. That is my favorite part. You truly saw me. You understand me, accept me, in a way no one else has, in a way that I believe no one else can. You are my best friend…. I'm so grateful for our special brand of weird. To me, it means more than just being silly. It signifies a special, profound, unfettered love for each other. It's loving each other at our most intimate, vulnerable times. It colors our tapestry with yet unnamed, exotic colors, known only to the two of us."
10. Romantic, All-Encompassing Wedding Vows
Anne:
"I take you to be my partner for life,
I promise above all else to live in truth with you
And to communicate fully and fearlessly,
I give you my hand and my heart
As a sanctuary of warmth and peace
And pledge my love, devotion, faith and honor
As I join my life to yours."
11. Witty, Humorous Wedding Vows
Her:
"I promise if there's only one avocado left, I'll let you have it."
Him:
"I promise to put you first and love you even when you get real sassy."
________
Source: The Knot
Featured photo: Amy Rizzuto Photography
See more content from our blog!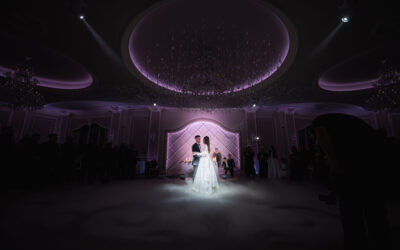 Your wedding guests will be of different generations: from grandparents to nephews and nieces to friends of your own age. That is why both wedding planning experts and modern couples agree that today's weddings should feature a good mix of new wedding songs (40% of your playlist) as well as the classics (60% of your wedding party playlist).
Contact & Location
The Mansion on Main Street is a picturesque events venue wrapped in elegance and modern beauty. Situated amidst exquisitely manicured grounds, lush gardens and a large cascading waterfall in Voorhees, New Jersey, this breathtaking property is ideal for gatherings of any kind, including but not limited to weddings, corporate events and celebrations.