Raise a Glass to 8 Wedding Cocktail Trends for 2020
Wedding food and beverages haven't always held the best reputation, but modern couples are making sure to change that—especially in the cocktail department. While signature cocktails have already made their way into weddings, 2020 couples are taking things up a notch with additions like custom edible paper, stamped ice cubes, and interactive bars on wheels, just to name a few.
Whether you're looking to think outside the box or embrace the standby classics, these are the biggest wedding cocktail trends for 2020, according to the experts.
Yellow Umbrella Events
Mobile Bars
Sure, a fixed bar set-up in the corner of your reception hall is pretty standard, but why not up the ante with a modern bar on wheels? Sadie Smythe of Drink Slingers in Austin, Texas said many 2020 couples are opting for a mobile bar like their Cantina Caravan made from an old Shasta Trailer and their equally fun Kickstand Mobile Mule, a horse trailer-turned-bar. Similar to food trucks, "they're a really fun focal point of a wedding reception. These bars practically beckon guests to gather 'round."
Edible Paper Elements
From invitations to wedding websites to signage, designing distinct "brand" elements for your wedding day is nothing new. However, this year some couples are taking branding to the next level by giving their sips a more signature look. "A fun way to brand cocktails is by printing custom designs on edible paper which are then placed atop a foamy cocktail. This is a new trend that we are excited to be embarking upon! The custom design is printed on sugar sheets or rice paper and they look amazing," Smythe said. And the best part? "They melt right into the cocktail and are completely FDA compliant."
HD Liquid Catering
Classic Comebacks
While some 2020 couples are pulling out all the stops in the cocktail department, others are taking a distinctly "less is more" approach. Heather Nichol of HD Liquid Catering in McKinney, Texas noted that classics like tequila and gin are in the midst of a major comeback, as some brides and grooms turn back to simplicity with limited ingredients and garnish. "Instead of complicated signature cocktails, we are seeing increasing requests for drinks like Gin 'n Grapefruit or Tequila 'n Topo Chico," she said.
Vina Enoteca
Specialty Ice
Although specialty ice has been a trend sweeping the craft cocktail bar scene for many years, Smythe said it's finally making its way into wedding bartending. "We are seeing stamped cubes for a branded effect, which really takes it up a notch. Large format cubes keep cocktails colder longer, they look pretty and really level up a cocktail."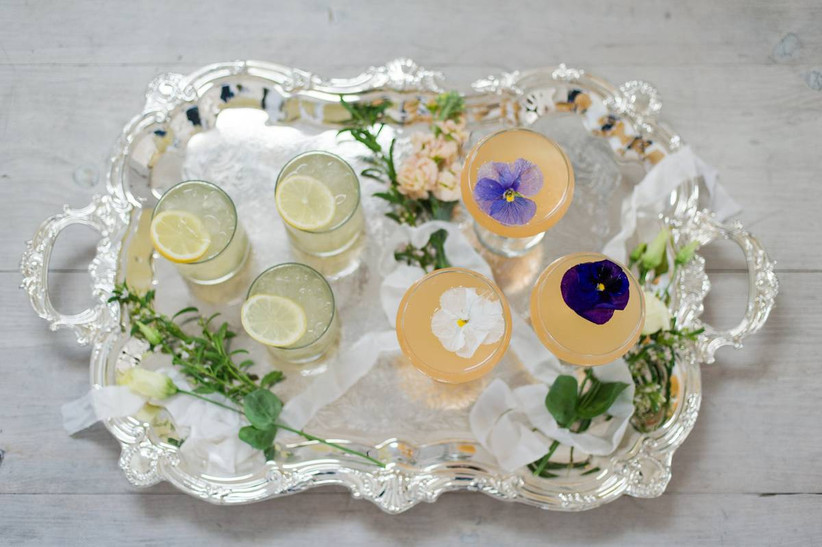 HD Liquid Catering
Natural Elements
"We will see more fresh (edible) flowers and green herbs as wedding cocktail garnish in 2020," Smythe said. In addition to adding flavor and affordably turning cocktails into beautiful works of art, it's a great way to express your natural side and add a personal touch to each drink.
HD Liquid Catering
Spiked Seltzers
Hard seltzers and spritzers have enjoyed heightened popularity over the past several years, but Nichol said they're not going anywhere in 2020. Not only are these carbonated alcoholic sips relatively cost-effective for the budget-conscious couple, but they're often popular among guests as a low calorie and low sugar option.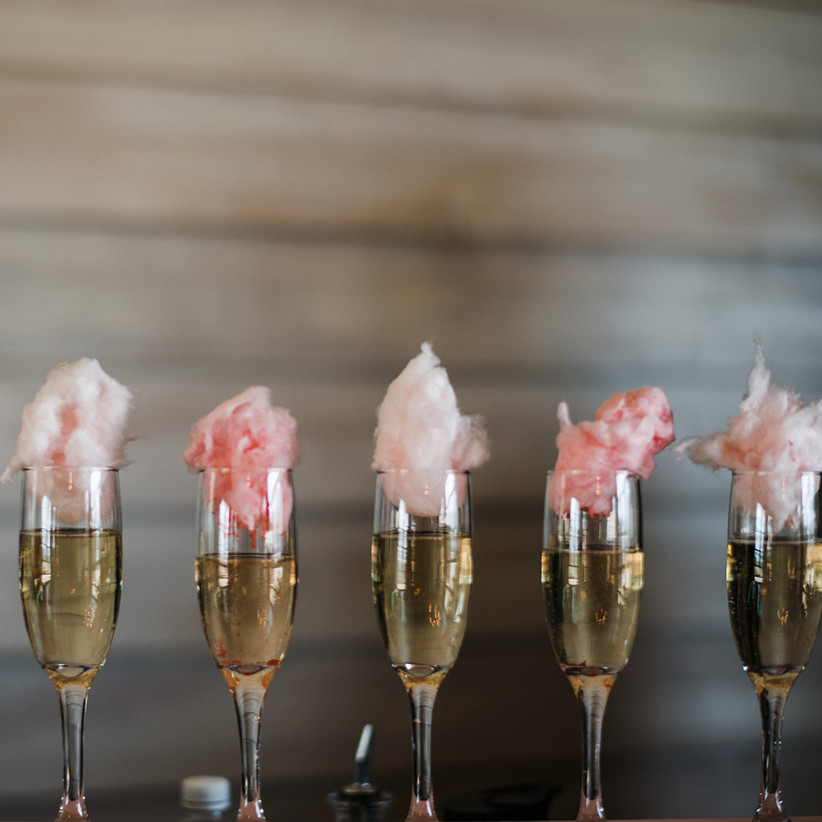 Donny Tidmore Photography
Cotton Candy Toppers
Whether you're planning a morning wedding or a day-after brunch, don't overlook all the fun to be had with breakfast-themed cocktails. According to Smythe, mimosas will be getting an upgrade in 2020 with the new trend of cotton candy toppers in amazing flavor and color options to suit any style. It's a fun wedding cocktail trend for couples of all ages!
SCHAFFER
'Sans Spirits' Offerings
Alcohol isn't for everyone, but that doesn't mean guests who choose not to imbibe should miss out on the fun. "We're seeing more and more 'conscious cocktails,' where a signature wedding cocktail is served alongside its non-boozy counterpart," Smythe said. "Mocktails are a great way for pregnant women, sober people, designated drivers, or those who simply choose not to drink alcohol to feel like a part of the celebration while still feeling supported in their choices. It's a beautiful win-win!"
See more content from our blog!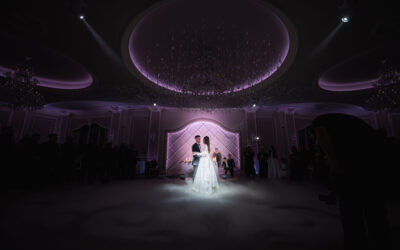 Your wedding guests will be of different generations: from grandparents to nephews and nieces to friends of your own age. That is why both wedding planning experts and modern couples agree that today's weddings should feature a good mix of new wedding songs (40% of your playlist) as well as the classics (60% of your wedding party playlist).
Contact & Location
The Mansion on Main Street is a picturesque events venue wrapped in elegance and modern beauty. Situated amidst exquisitely manicured grounds, lush gardens and a large cascading waterfall in Voorhees, New Jersey, this breathtaking property is ideal for gatherings of any kind, including but not limited to weddings, corporate events and celebrations.