How to Use Quarantine to Your Wedding-Planning Advantage
If you're stuck at a home for a while, you can make a big dent in your wedding planning checklist. Here's how.
With all the extra time you're likely spending cooped up in your home with your soon-to-be spouse, you might as well put it towards planning your big day, right? Unfortunately that's easier said than done when it comes to the current state of affairs with the coronavirus pandemic. All non-essential businesses across the United States are currently shut down—and sadly nearly all wedding vendors fall under that category.
"Quarantine rules are shifting what normally would have been in-person interactions to phone calls and virtual meetings," explains  Leah Weinberg of Color Pop Events in Long Island City, New York. "For example, whereas normally the couple would have met in person with their florist to discuss final design ideas and see mock-ups, now they might catch up over the phone and mock-ups might not even be possible, with flower markets already shutting down in major cities."
On the plus side, Weinberg thinks that catch-up appointments that normally would have been just phone calls have now translated into more meaningful interactions via video chat since we're all so desperate for more meaningful interaction. "This means that couples might get to 'see' their vendors more than they normally would have ordinarily," says Weinberg.
Danielle Rothweiler of Rothweiler Event Design in Verona, New Jersey,  agrees on seeing the positives, adding that it's easier to get a hold of vendors (and it's easier for vendors to get a hold of their clients) because everyone is home. "Venues and vendors are also incredibly sympathetic and are doing whatever they can to accommodate their couples."
While the situation is less than ideal, wedding planners agree that couples can use this newfound extra time together to check off tasks from their wedding-planning checklist. "If there were decisions they were putting off because they hadn't had time to discuss or were never home at the same time to have a conversation, well, now they have the time and are home together," says Weinberg. "If couples were a little behind in the planning process, this is going to give them time to catch up and likely get ahead of the game."
Here are six expert-recommended ways to use quarantine to get ahead on your wedding plans.
Write your vows.
If you and your future spouse are planning on writing your vows, take the time to do so now, while you have lots of it. "Many of our clients leave vow writing and ceremony planning until the last minute, which can put added stress on them," says Shannon Leahy Rosenbaum of Shannon Leahy Events, in San Francisco, California. She suggests taking this time to do a little research and put more thought into the ceremony itself, something she says is often overlooked, but is a critical and important part of the day.
Play mixologist.
One business that is considered essential, meaning it's still open during the shelter-in-place regulations, is alcohol stores. This means you can order your favorite types of liquor as well as mixers to try out some cocktail recipes you might want to have at your wedding. Rothweiler suggests researching on Pinterest for some fun ideas and then mixing them up with your partner while you're social distancing together.
Create your playlist.
There's no better time like the present to start brainstorming which music you'd like to play at your wedding—after all, you have the time! Consider which songs you might want to play for personal dances, such as your first dance and parent dances. Also consider the songs you absolutely don't want played at your wedding—those are important to note too! "Download and listen to these songs so you can practice your first dance," says Rothweiler. "Have a dance party with your partner!"
Iron out logistics.
You know all those to-dos on your list that you've kind of been dreading doing? This is a great time to get to work on them, says Rothweiler. "Call your hotel and ask for an updated list of guests who booked rooms through your room blocks to find out if you need to add more rooms," she says. "Update your wedding website with any new information or simply reach out to wedding guests to let them know you're thinking of them."
Catch up on your thank-you note writing.
Rosenbaum recommends taking the opportunity to write thank-you notes to your parents, wedding party, and vendors for being so flexible and supportive during this time. And if you've received some wedding gifts already, you can also write thank-you notes to the guests who sent them. "If you're feeling particularly ambitious, write a note to each of your guests that can be tucked in their place setting at the wedding ," she says. "This kind of thoughtfulness goes such a long way and one of the best mood-boosting activities you can partake in during this difficult time is practicing gratitude."
Give yourselves a break from planning, too.
Even though you have the time, don't make your entire quarantine about planning your wedding. "I know that advice is common even during normal times, but it's even more critical now that you and your partner are together 24/7," says Weinberg. "Too much wedding talk can really get overwhelming and exhausting, so make sure you specify certain days and times of the week to tackle your wedding planning to-dos."
______
Source
Written by 
Jenn Sinrich
Featured image: Dean Drobot / Shutterstock
See more content from our blog!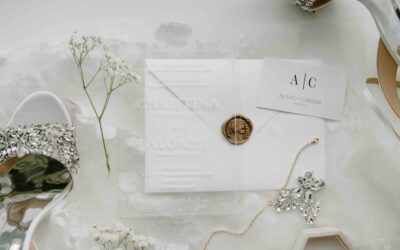 Yes, it is time to start thinking about your wedding invitations since 2024 is right around the corner and a new round of wedding seasons is coming soon. Brides might have the most options of wedding invitations ever in history, with all the different papers,...
Contact & Location
The Mansion on Main Street is a picturesque events venue wrapped in elegance and modern beauty. Situated amidst exquisitely manicured grounds, lush gardens and a large cascading waterfall in Voorhees, New Jersey, this breathtaking property is ideal for gatherings of any kind, including but not limited to weddings, corporate events and celebrations.