Colorful Fall Wedding Centerpiece Ideas
Tip: Embrace the season's hues for a table-making statement
When setting the table for a fall wedding, you have plenty of options in terms of colors and styles. But this season (more than any other!), one thing is for certain: You want to draw your guests' attention to the center of the table. After all, fall is a time of social gatherings with family and friends—and if you think about it, that's exactly what your wedding is. So that's where your centerpieces come in.
Your centerpieces are what will really draw your guests attention to the center of the table—and, hey, if you nail them, they may even be a conversation starter. But before you get ahead of yourself, know that the number one rule for fall centerpieces is to keep them low to the table. Why? So your guests can actually socialize and make contact with the people across from them!
From there, the rest is really up to you, but, as we said, there are number of questions to be answered: Candles or no candles? Red or white flowers? And that's why we identified seven trends in fall and thanksgiving centerpieces for you. Take these creative ideas and color palettes as your starting point, and then customize away for your style, your party, and your venue.
For instance, you can choose between very literal fall décor like pumpkins (with a modern, metallic twist) or go the unexpected route with some classic white centerpieces with—get this!—feather accents. Or you can even break any idea of a fall wedding you had and showcase bright pink florals on your big day. (You'll see that they can work for fall when paired with a bare wooden table and copper accents.) After all, that's what real wedding inspo is for. So keep reading to gather more ideas, look at beautiful table decorations, and start thinking about how you're going to dress your fall dinner table. We can't wait to see what you dream up!
Stone Fruits
Fall is a season for farmer's market runs so incorporate that vibe into your table centerpieces. This arrangement (of dried hydrangeas and pale pink roses) looks especially striking next to a bundle of pears. This is because the fruit picks up accents from the floral centerpiece to create a cohesive feel and vibe.
Fall Foliage
Bright leaves may seem like an obvious choice for fall wedding décor, but that doesn't make them any less perfect. We love the texture that leaves add to an arrangement; in fact, you can think of them as your seasonal greenery. We also very into how this bright arrangement pops when paired with a dark tablecloth!
Bright Blooms
Yes, bright pink flowers can work for fall. Take this bundle of fresh blooms in shades of pinks and reds! It feels fresh and modern thanks to the flower's warm undertones, the berry accents, and the table setting in general. Seriously, a bare wooden base and cooper accents are all you need.
Mini Pumpkins
Again, pumpkins may be an expected choice, but this example is definitely not that! This set-up feels surprising for many reasons—with the first being that the pumpkins are painted in a mixture of both muted and metallic tones. The balance is striking, as is the bundled setup. The more, the merrier, right?!
Unique Cloches
The cloche is a centerpiece trend that's here to stay as brides (and florists alike) love creating a mini showcase of special blooms. Translate this design for your table setting by mixing jars of various heights with votive candles for a romantic look that's full of texture.
Deep-Hued Accents
We're generally obsessed with this combination of colors and textures. For fall, forget a tight arrangement of roses and create something like this with chocolate cosmos and dark, berry-colored accents. The figs are also a welcome addition!
Fun Feathers
This centerpiece is definitely not part of some Gatsby-esque celebration! No, this feather-adorned centerpiece feels rustic yet elevated thanks to the classic garden roses in the arrangement and gold accents on the table.
______
Source: by Anna Price Olson to Brides
Featured image: Melissa Marshall
See more content from our blog!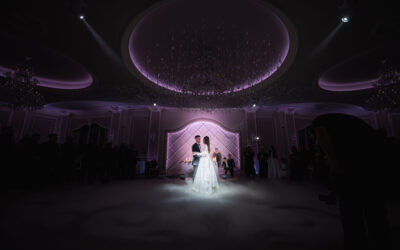 Your wedding guests will be of different generations: from grandparents to nephews and nieces to friends of your own age. That is why both wedding planning experts and modern couples agree that today's weddings should feature a good mix of new wedding songs (40% of your playlist) as well as the classics (60% of your wedding party playlist).
Contact & Location
The Mansion on Main Street is a picturesque events venue wrapped in elegance and modern beauty. Situated amidst exquisitely manicured grounds, lush gardens and a large cascading waterfall in Voorhees, New Jersey, this breathtaking property is ideal for gatherings of any kind, including but not limited to weddings, corporate events and celebrations.