Bride Entrance Songs For an Epic Walk Down the Aisle
Camille Fontanez Photography
Trying to choose your ceremony music? Check out these bride entrance songs that will set the tone for this special moment.
The moment a bride begins her walk down the aisle is an important and dramatic one. And the bride entrance song truly sets the tone for the entire ceremony. Therefore, you definitely want to choose a song that best suits your wedding ceremony's look and feel. Do you want a vibe that's ultra-romantic and majestic, or perhaps something sweet and lighthearted? Do you prefer an instrumental bride entrance song or one with vocals? We know it can be tough browsing through so many wedding entrance song selections trying to find the perfect pick, so we're here to do the work for you. Check out these wedding ceremony songs that will definitely give your guests all the feels as you make your way down the aisle.
Check out the Wedding Wire's favorite bride entrance songs that will bring all the feels during your ceremony.
"Hallelujah" by Pentatonix
Of course, the Leonard Cohen original is a beautiful, emotional song, but we love this a cappella cover by Pentatonix as a bride entrance song. It's simple, yet powerful—and may cause your guests to shed a few tears.
"Somewhere Over The Rainbow" by Israel Kamakawiwo'ole
This Hawaiian cover is a dreamy pick that will definitely set a romantic tone for your ceremony. If you're having an outdoor wedding and want a song that's a bit nontraditional, but has a beautiful melody, then this wedding entrance song is perfect for you.
"Love Story" by Taylor Swift
Taylor Swift's throwback country hit is a romantic and upbeat bride entrance song choice.
"Somewhere Only We Know" by Vitamin String Quartet
Your guests will surely be delighted to hear this classical spin on the popular Keane song. It's absolutely perfect for a processional—definitely worth a listen!
"The Book of Love" by Peter Gabriel
Peter Gabriel's cover of The Magnetic Fields' song will give your guests goosebumps as you walk down the aisle. With Gabriel's raspy and rich vocals paired with the lush violins, this love song is a tear-worthy bride entrance song.
"Sea of Love" by Cat Power
If you're hosting a beach wedding ceremony, this may be the perfect bride entrance song for the occasion. With sweet and simple lyrics like "Come with me/My love/To the sea/The sea of love," it's ideal for a wedding by the water.
"I'm Yours" by Jason Mraz
Jason Mraz's catchy hit gives off major island vibes and is a beachy bride entrance song choice.
"Alone" by Trampled by Turtles
This bluegrass tune is a beautiful choice if you want your bride entrance song to have a folk-rock vibe. We especially love the violins in this piece, as well.
"Halo" by Beyoncé
Featuring drums, piano and killer vocals by Queen B, this pop power ballad will definitely get everyone's attention as you make your way down the aisle.
"Thinking Out Loud" by Ed Sheeran
A popular pick for first dance songs, Ed Sheeran's love tune can also be played as a wedding entrance song.
"Canon in D" by Pachelbel
A timeless classic that everyone will recognize, Canon in D is a beautiful (and one of the most popular!) bride entrance song to play as you make your way down the aisle. The violins and piano are at a slow pace that makes it easy for both you and whoever is walking you down the aisle to match. So, if you're worried that you may rush down the aisle and are browsing wedding ceremony songs, this is a perfect choice.
"Butterfly Waltz" by Brian Crain
This bride entrance song is the perfect happy medium between a classical tune and something just a bit more modern. It's definitely more upbeat than some of the more solemn classical tunes, and is particularly ideal for an outdoor, garden ceremony.
"Here Comes the Sun" by Beatles
We love this Beatles classic that will definitely put a smile on everyone's face. It's a great pick if you're browsing bride entrance songs for an outdoor ceremony, too.
"I'm Kissing You" by Des'ree
If you think the '90s film version of Romeo & Juliet is the height of romance, then this song is a natural fit for your bride entrance song.
"One Love" by Bob Marley
This song is perfect for a destination beach wedding or an oceanfront ceremony. Bob Marley's happy-go-lucky tune will match a laidback tropical vibe and make you feel relaxed as you make your way down the aisle.
"Songbird" by Fleetwood Mac
The piano and vocals of this Fleetwood Mac love song will definitely make everyone swoon as you walk down the aisle.
"Marry Me" by Train
If the title hasn't sold you already then the lyrics definitely will of this sweet song. "Promise me/You'll Always be, happy by my side/ I promise to/Sing to you, When all the music dies," is one of our favorite verses that will a hundred percent have both you, your partner and your guests shedding tears.
"A Thousand Years" by Christina Perri
A popular bride entrance song choice if you wish to have a pop song to walk down the aisle to. Christina Perri's vocals will make guests remember your entrance for years to come.
"Ave Maria" by Schubert
This is another classical pick that works best for a traditional wedding ceremony. You can opt for just an instrumental version or you can have someone cover the vocals to really set the mood for your vows.
"Cowboy Take Me Away" by Dixie Chicks
If you're planning a barn wedding ceremony or something rustic and having been looking for country bride entrance songs, then this Dixie Chicks hit is just for you.
"Bittersweet Symphony" by the Verve
Calling all 90s' obsessed brides-to-be! Whether you prefer the instrumental version or rather have the vocals, this song has a non-traditional vibe that is light and upbeat.
"Unchained Melody" by Righteous Brothers
An oldie that's definitely is a goodie, "Unchained Melody" is a romantic choice that will be a crowd pleaser.
See more content from our blog!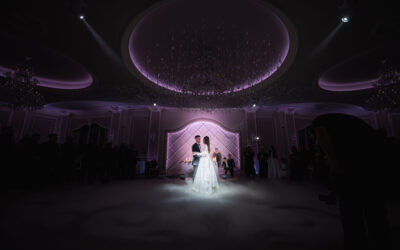 Your wedding guests will be of different generations: from grandparents to nephews and nieces to friends of your own age. That is why both wedding planning experts and modern couples agree that today's weddings should feature a good mix of new wedding songs (40% of your playlist) as well as the classics (60% of your wedding party playlist).
Contact & Location
The Mansion on Main Street is a picturesque events venue wrapped in elegance and modern beauty. Situated amidst exquisitely manicured grounds, lush gardens and a large cascading waterfall in Voorhees, New Jersey, this breathtaking property is ideal for gatherings of any kind, including but not limited to weddings, corporate events and celebrations.