7 Couples Who Met on Bumble Share Their App-to-IRL Love Stories
It's easy to see why dating apps have quickly become the preferred mode of meeting new people for a certain generation. Finding dates from your couch? Seriously, it's the best. And yes, they do work. Just ask these seven couples, who each found the love of their lives on Bumble. Here, they're sharing their personal meet cutes, from match to marriage and beyond.
Matthew and Colleen from Charlotte, NC: Matched 2017, Engaged 2018.
Their first date was a disaster, remembers Colleen. After matching with Matthew, a fellow former college athlete, Colleen suggested they go on a run. Mid-workout, she got the worst nosebleed, staining both their clothes. They laughed about it over post-run takeout, but Colleen thought that was the end. Later, Matthew told her that he'd called a friend on the way home and said, "I'm going to marry this girl." Fast-forward a year and a half, and he was down on one knee.
Mav and Diora from Los Angeles, CA: Matched 2016, Engaged 2017.
Diora, a single mom who was over the bar-dating scene, swiped on Mav and thought, That's The One. When Mav opened the app and saw Diora's face, she threw her phone in disbelief over her good luck. (Later, Mav would realize she'd hung Guess ads featuring former model Diora in her college dorm room!) Mav and Diora now coparent Diora's daughter, Sophie, and they can't wait to add more kids to the mix, which already includes four dogs.
Dan and Kate from Brick, NJ: Matched 2016, Married 2018.
Dan and Kate wouldn't even have matched if they weren't both visiting family at the Jersey Shore (they lived about 50 miles apart). From the start, everything seemed easy, with summer weekends full of beach dates. Both had online-dated for a while and knew exactly what they wanted: a solid marriage, a family, and a year-round home on the Shore. Just over two years later, Brayden arrived and their dreams were complete.
Sirisha and Kunal from Omaha, NE: Matched 2015, Married 2018.
Today, Sirisha and Kunal can laugh about the fact that neither was really looking forward to their first date. Kunal forgot to make a dinner reservation, and Sirisha was afraid he'd go on and on about his dude hobbies: drumming and sports. But they ended up spending most of the night sharing funny stories about their nieces and nephews, and now—big reveal!—the couple is expecting their own new addition, due this summer.
Ruvi and Larisa from Brooklyn, NY: Matched 2017.
Ruvi recalls when he knew it was the real deal: Larisa shared her mom's super–top secret chocolate pecan pie recipe with him before he'd even been introduced to her mom! Since then, they've cooked up their own cherished recipe (for ceviche, inspired by a trip to Tulum, Mexico) and spent a lot of time meeting each others' families (Ruvi has 10 siblings, Larisa has 4). Next, they're headed to San Diego so Larisa can meet even more of Ruvi's relatives.
Kirk and Laura from New York, NY: Matched 2016.
Initially, Laura had a birthday party to attend right after her first date with Kirk. But when she learned the party was canceled, their drinks led to a spontaneous dinner—and Kirk chose a restaurant on a whim that happened to be one of Laura's favorites. The coincidences didn't end there: On date two, the pair showed up in identical glasses. Now they share an apartment, dog duties for Laura's pup, and a goal to eventually move to California.
Brenton and Michela from New York, NY: Matched 2015, Married 2018.
Brenton was Michela's first swipe, match, and date—and after that first meeting, they both knew it was endgame . For the proposal, inspired by one of their most memorable dates, Brenton re-created a snowy Central Park scene in a Brooklyn warehouse (Bumble helped!). Family and friends flew in for the celebration, which included an epic "snowball fight." Michela took over production duties to prep for their summer wedding last year.
For more from Bumble magazine, including how to get your hands on the first issue for free, check out bumble.com/mag. Hurry—it's only while supplies last!
Styling: Ann Wang. Hair: Hide Suzuki. Makeup: Angela Davis Deacon at De Facto.
See more content from our blog!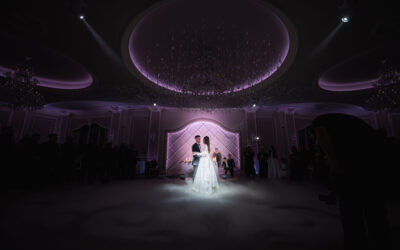 Your wedding guests will be of different generations: from grandparents to nephews and nieces to friends of your own age. That is why both wedding planning experts and modern couples agree that today's weddings should feature a good mix of new wedding songs (40% of your playlist) as well as the classics (60% of your wedding party playlist).
Contact & Location
The Mansion on Main Street is a picturesque events venue wrapped in elegance and modern beauty. Situated amidst exquisitely manicured grounds, lush gardens and a large cascading waterfall in Voorhees, New Jersey, this breathtaking property is ideal for gatherings of any kind, including but not limited to weddings, corporate events and celebrations.