6 Tips for Hiring a Wedding DJ
Your wedding entertainment is one way you can make sure your guests have a blast. It can also be another way of adding your own personal touch to the event. Your wedding is a party, after all! You want to make it a kick-ass party that your guests won't soon forget. Whether your goal is to get people moving on the dance floor or to just have some great music accompanying the reception, hiring a wedding DJ can be a great option.
Unlike a live band, a DJ can play the actual recordings that your guests love and crossfade them so there's no awkward silence between songs. Which DJ you hire will depend in great part on what kind of music you want and what your guests will be excited to hear. If you want a dance party, you'll find plenty of DJs who can give you one. You can also find DJs who will customize a playlist for you, whatever your tastes. Here are some tips to keep in mind when hiring a wedding DJ.
1. Know what to look for and where
The most common option is to go with a DJ whose primary business is weddings. These wedding DJs know the ins and outs of wedding receptions and may even be great at serving as an emcee to make announcements. To find one of these, do the usual web searching and asking for referrals from other vendors.
If your focus is on having great dance music, you may consider a DJ from the local club scene. These DJs may actually charge cheaper rates, but they won't necessarily be experienced with weddings. To find one you can start by asking at local clubs.
If you really want to go all-out on music, you may be able to find a wedding DJ who is also renowned for their great music or a club DJ who has lots of wedding experience. These can be ideal options, but be aware that they may cost you. A professional wedding DJ of this variety will probably be well known in your area. Just ask vendors.
2. Ask to hear samples of the wedding DJ's work
Once you've found a DJ or two that seems right for your wedding, ask to see examples of their work. This could be a video of a live performance, a mixtape, or sample playlists. The more important to you the quality of the music is, the more you should see and hear before hiring.
3. Give the DJ your playlist and your "do not play" list
If you're already set on a playlist, discuss it with DJs and make sure they are willing to follow it. You may also want to create a "do not play" list and share it to avoid any unpleasant surprises.
4. Ask how they get the crowd going
If you want your DJ to be really involved in making your reception fun, make sure to ask about how they engage a crowd. Some important questions to ask:
How does the DJ get people dancing if they seem reluctant? 

Will they accept requests from guests?

Is the DJ willing to also act as an emcee and make announcements?
5. Get a contract
As with all vendors, you should get a contract. Don't work with someone who won't provide one! Be sure to check our guide to hiring wedding vendors for general tips on finding, vetting and reviewing contracts.
6. You can DIY, but you may need help
Of course, you don't need a professional DJ to have music, or even a dance party! You can set up the sound equipment and have your playlist ready when the reception begins. Just remember to crossfade the songs so there's no pause in the music. You'll also want to put someone else in charge of watching over the music, just in case. This person can respond to any issues that arise and keep meddlesome guests away (not that you'll have any of those). With someone you trust safeguarding the music, you'll be free to dance like crazy!
_____
Source: Joy
See more content from our blog!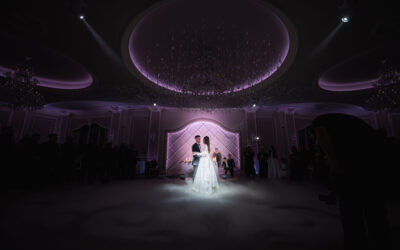 Your wedding guests will be of different generations: from grandparents to nephews and nieces to friends of your own age. That is why both wedding planning experts and modern couples agree that today's weddings should feature a good mix of new wedding songs (40% of your playlist) as well as the classics (60% of your wedding party playlist).
Contact & Location
The Mansion on Main Street is a picturesque events venue wrapped in elegance and modern beauty. Situated amidst exquisitely manicured grounds, lush gardens and a large cascading waterfall in Voorhees, New Jersey, this breathtaking property is ideal for gatherings of any kind, including but not limited to weddings, corporate events and celebrations.