These 2020 Groom & Groomsmen Trends Are Super Dapper
The hottest 2020 groom wedding attire trends just for you. Check them out and see which look best suits your style for the big day.
While it might seem like
wedding dress trends
grab all the attention, let's not overlook the fresh, new looks coming onto the groom wedding attire scene. Grooms, groomsmen, and even groomsmaids are no longer expected to play it safe with fashion, and instead, have
endless attire options to fully customize their look.
Curious to know what guys will be wearing down the aisle in 2020? We consulted with our menswear industry experts for an official guide to what's "in" for groom (and groomsmen!) wedding attire this year.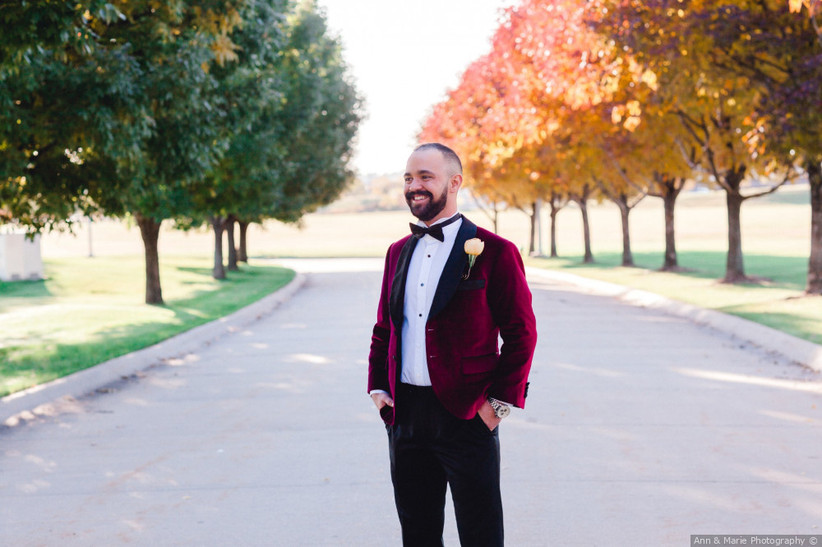 Hello, Velvet
For men tying the knot between October and March, velvet is an increasingly popular option, according to Stephanie Aynilian of Biltmore Tuxedos in Ridgewood, New Jersey. "There are many different colors of velvet jackets that pair perfectly with black pants for a chic yet classic look. Plus, if a groom doesn't want to go all velvet, there's always a velvet bow tie to add a little bit of fall or winter flair to his look," she said.
Jewel Tones
For men interested in a twist on tradition, vibrant groom wedding attire color options are a great go-to. Rich colors like burgundy, maroon and forest green are all adding a modern edge to suit and tuxedo styles, allowing grooms to make a statement on their big day.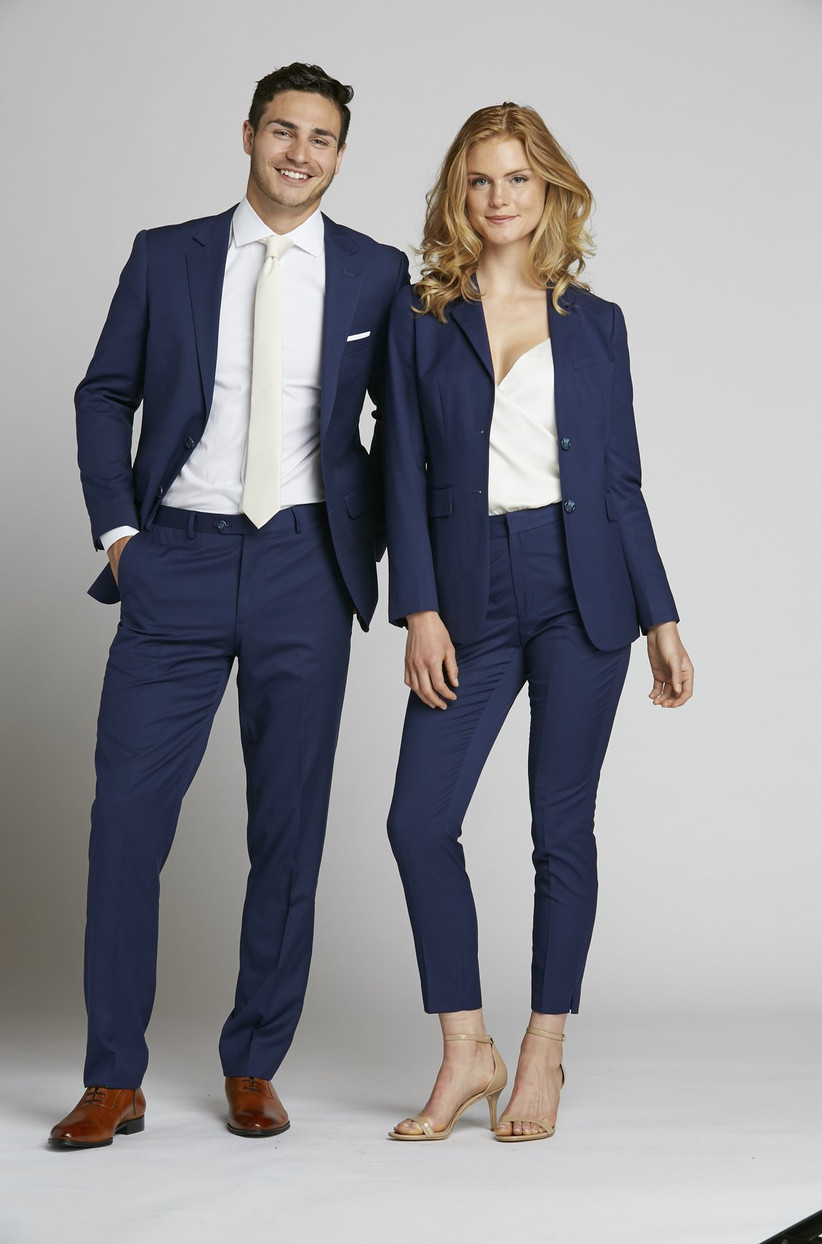 New Groomsmaid Options
"In years past 'groomsmaids' haven't had much, if any, suiting options to show that they are on "his" side when the big day arrives, said Jeanne Foley of The Groomsman Suit in Chicago, Illinois. "Now, with the launch of our matching women's suiting line, we are seeing just how many women are ready to show their support for their best friend, brother, or close family member by wearing what the groom chooses for his crew."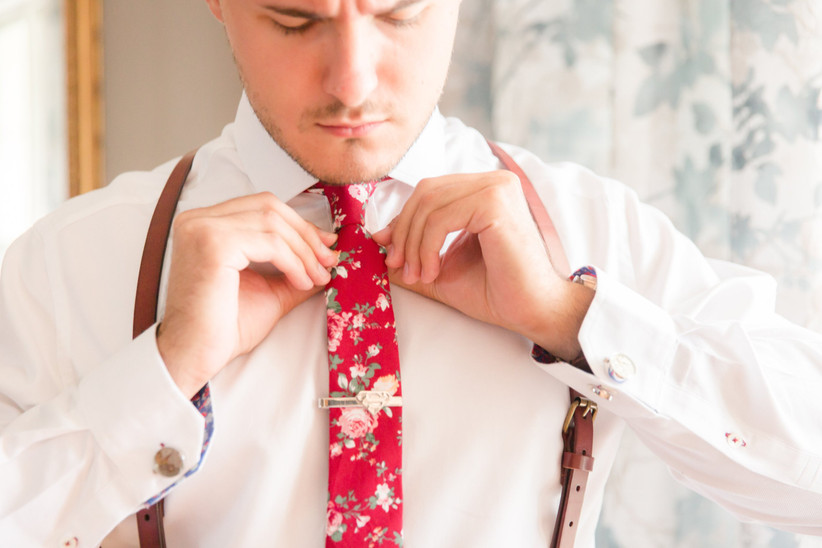 Playful Tie Patterns
When it comes to incorporating pattern, Jeanne Foley also said many grooms and groomsmen are beginning to embrace a more daring look. "We are seeing tons of florals, pin-dot, stripes and a combination of the three. While solid, more neutral tie colors still rule weddings, we're loving how some couples are choosing a bold and fun tie to define their wedding style.
Red-Carpet-Inspired Accessories
If you're a bit of a daredevil when it comes to your fashion choices and want to wear something a bit risqué—think Timothée Chalamet or Michael B. Jordan on the red carpet—then you'll dig this new menswear accessory. Novelty bibs, or harnesses (if you're into that kind of thing) are the next fad in menswear that we can totally see risk-taking grooms sporting on their big day. Designed by Louis Vuitton and currently going viral after several award shows, these edgy pieces are perfect for grooms with a, ahem, wild side.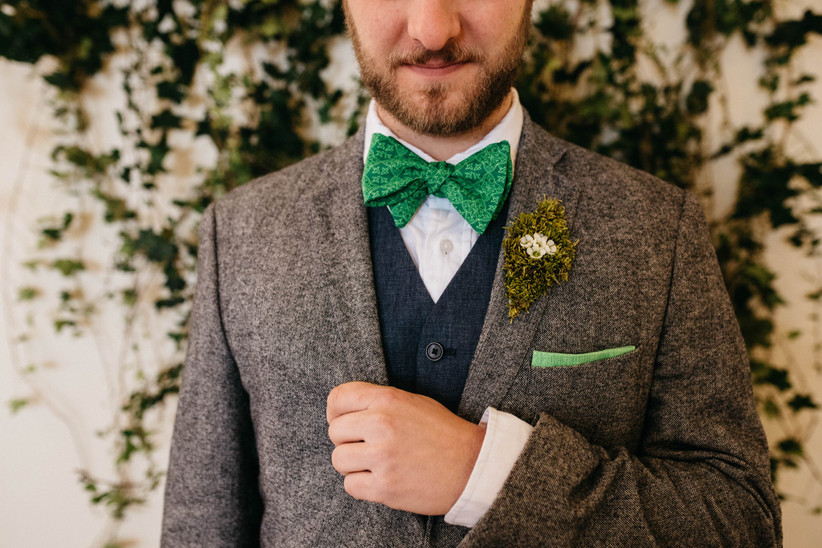 Contrast Vests
While the term "contrast vest" might give you bad flashbacks to high-school senior prom, this look is slowly making a more tasteful appearance in groom wedding attire. "While we're not seeing bright colored vests make a comeback, we are seeing more grooms choose a textured gray vest as a complement to the navy suit for a mix-and-match look," Foley said.
All About Navy
Despite its popularity for many years in a row, experts agree that navy blue is one menswear trend that's not going anywhere in 2020. According to Jeanne Foley, "The classics are still going strong, and navy is such a great grounding color to play with fun accessories like the contrast vest or patterned tie. Plus, navy still gives you that formal look but can also easily be styled for a rustic backyard wedding." Similarly, Stephanie Aynilian shared that the navy blue tuxedo is an ongoing most-requested look. "There are so many style options in navy blue," she said. "Whether it's navy with a black lapel or all navy, it's a very modern style option while still holding a traditional look."
________
Source
Content and Images: Wedding Wire
Written by Stephanie Weers
Featured Image: J Lee Photography
See more content from our blog!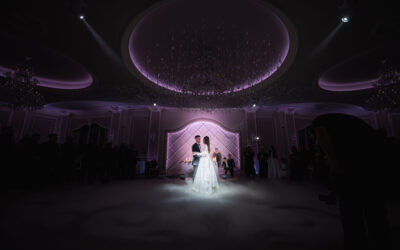 Your wedding guests will be of different generations: from grandparents to nephews and nieces to friends of your own age. That is why both wedding planning experts and modern couples agree that today's weddings should feature a good mix of new wedding songs (40% of your playlist) as well as the classics (60% of your wedding party playlist).
Contact & Location
The Mansion on Main Street is a picturesque events venue wrapped in elegance and modern beauty. Situated amidst exquisitely manicured grounds, lush gardens and a large cascading waterfall in Voorhees, New Jersey, this breathtaking property is ideal for gatherings of any kind, including but not limited to weddings, corporate events and celebrations.