20 Ideas to Create a Champagne Wall for Your Wedding
These clever displays are an ideal way to set the tone for the celebration.
If there's one celebratory drink that's absolutely synonymous with weddings, it's a flute of Champagne. While using the beloved beverage as the base for your signature cocktail drink or encouraging guests to raise glasses of bubbly after a heartfelt toast are common ways to feature the drink at a wedding, it's not your only option. A Champagne wall—or an installation decorated with flutes of Champagne for your friends and family to grab and enjoy—is a unique décor feature guaranteed to delight your guests, and it's easy way to put the drink of the night on full display. They're often used as a way to provide attendees with welcome drinks or as part of an escort card display that leads guests to their seats. "Having a Champagne wall really elevates your wedding," event planners Annie Rodriguez and Nikki Kraemer say. "Not only is it an incredible photo op, but it also serves a dual purpose in alleviating the bar line since guests can just grab a pre-poured Champagne glass."
One of the best parts about having a wall of filled coupes or flutes at your wedding is that there's an endless number of ways to customize and decorate them. With different types of glassware, shelving, signage, drink tags, and add-ons, you can use these clever installations to further reinforce your aesthetic, personalize your event, and evoke the right ambience. For instance, all-black shelving and a neon sign is perfect for a modern celebration, while gold shelves trimmed with flowers are ideal for garden nuptials.
Wondering how to make a Champagne wall a part of your big day? Here, we share expert-approved tips to help you integrate the installation into your wedding, plus 20 stunning ideas guaranteed to inspire you.
How to Include a Champagne Wall at Your Wedding
From the decorations to the location, there are many different elements to consider when designing a wedding Champagne wall. Here are a few must-know tips, according to the experts.
Think About Your Aesthetic
Every detail that you incorporate into your big day should reflect the celebration's overarching theme, and the same rings true for your Champagne wall. When selecting a design for your display, Rodriguez and Kraemer recommend considering how it will play into the day's look and feel. "Make sure the colors, fonts, and glassware all reflect the overall aesthetic of the wedding," they note. "You ideally want your Champagne wall to flow with your aesthetic, not go against it." For instance, gold shelving and crystal glassware work well for a glamorous ballroom soirée, but a greenery wall lined with colorful coupes is a better fit for a garden fête.
Make It Personal
A Champagne wall that supports your overall vision looks aesthetically pleasing, but adding a personal touch to its design will really up the ante. To make your display stand out, include aspects that represent your love story. "Some of our favorites are a fun, catchy phrase that the couple may say all the time as the signage on the wall, custom drink toppers for Champagne coupes with your pet on them, or a custom monogrammed drink tag attached to the side of the glass with your nicknames for each other on them," they suggest.
Select a Suitable Location
While it's important to consider the design of your wedding's Champagne wall, you also want to think about where it's being set up. Simply put, it needs to be positioned in the right location to make an impact. A display hidden in the back of the room won't deliver the same experience as one that's front and center. Whether you're going to welcome guests to your ceremony or use glasses of bubbly to assign their seats, Rodriguez and Kraemer advise positioning your display in a noticeable place that suits the flow of the day. Additionally, the planners stress arranging your wall on a flat surface to prevent the flutes from falling over. If it can be in a temperature-controlled setting, even better: That'll ensure the bubbly remains cold in the time it takes for guests to grab a glass.
The Best Wedding Champagne Wall Ideas
Now that you know how to create a Champagne well for your wedding, you're probably eager to start thinking about what you'd like your own to look like. Here are some breathtaking ideas to inspire your own design.
See more content from our blog!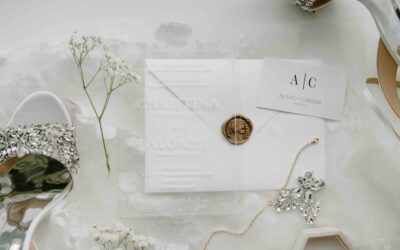 Yes, it is time to start thinking about your wedding invitations since 2024 is right around the corner and a new round of wedding seasons is coming soon. Brides might have the most options of wedding invitations ever in history, with all the different papers,...
Contact & Location
The Mansion on Main Street is a picturesque events venue wrapped in elegance and modern beauty. Situated amidst exquisitely manicured grounds, lush gardens and a large cascading waterfall in Voorhees, New Jersey, this breathtaking property is ideal for gatherings of any kind, including but not limited to weddings, corporate events and celebrations.