15 Unique Wedding Cake Flavors that Go Far Beyond Vanilla
Looking for wedding cake flavors with a twist?
From pink champagne to peanut butter cup, discover 15 truly unique flavors

Make dessert unforgettable with a wedding cake unlike any other! We've got 15 of the best wedding cake flavors that are truly one-of-a-kind, with tips from top dessert chefs and confectioners. Disclaimer: Your mouth will start watering.
15 Unique Wedding Cake Flavors
1. Pink Champagne
Celebrate your big day with a pink champagne caked topped with with with raspberry mousse and vanilla buttercream. "Girly brides—and husbands who don't mind a bright pink cake—love this. Instead of adding water to the batter, I use champagne," says TLC's Next Great Baker winner Marissa Lopez.
2. Luscious Lemon
For brides who love all-things citrus, consider layering a tangy Meyer-lemon cake with sweet berry compote for a totally laid-back last course. "I suggest this for summer weddings—it's refreshing, and you can easily add fruit, like fresh blueberries, to the filling," says Lopez.
3. Grand Marnier
Baumwoll also loves full-flavored cakes, saying, "I would recommend a rich flavorful cake like a hazelnut-almond cake filled with dark chocolate ganache, mocha buttercream, and raspberry preserves."
For couples that think spice is nice,Patti Paige of Baked Ideas in New York City recommends ginger spice cake. She loves serving "gingery spice cake with real maple frosting and vanilla bean icing along with a little cup of strong hot chocolate." Top off the frosting with walnuts for an added crunch.
6. Spiked Red Velvet
Nothing says "southern" like red velvet cake. Whether you hail from south of the Mason-Dixon line or not, decadent layers of red-velvet cake and cream cheese frosting are a guaranteed crowd pleaser. Take your icing to the next level by lacing the cream cheese with decadent amaretto. "This is a good in-between option—more adventurous than basic vanilla or chocolate but still a hit with the guests," says Lopez.
7. Coffee and Cream
Try a chocolate cake topped with coffee buttercream for a buzz-worthy dessert. Incorporate a coffee-meringue buttercream, espresso-Kahlua ganache and hazelnut mousse, all atop a chocolate torte.
8. Bananas Foster
Bananas Foster may have been born in the French Quarter, but you don't have to be in New Orleans to enjoy the classic treat. Build these quintessential Nola flavors into your wedding dessert by combining a butter cake with a caramel-and-banana filling, plus rum and cinnamon.
9. Caramelized Vanilla
Dessert doyen Kate Sullivan of New York City's Cake Power loves caramelized vanilla cake with salted caramel buttercream and whipped dark chocolate ganache. Sullivan's creations range in design from multi-tiered cakes with intricate, gilded brocade patterns to confections adorned with woodland flora and fauna.
10. Peanut Butter Cup
Layer a chocolate cake with peanut butter buttercream and chocolate and peanut butter ganache, then top it all off with Reese's Peanut Butter Cups.
11. Key Lime
Get a little sweet and sour with a decadent cake topped with Key-lime buttercream and cinnamon graham cracker crumbles to mimic a classic pie crust.
12. Chocolate Dream
Pair Devil's Food Cake with chocolate ganache for a dark, rich wedding cake. "It's the ultimate chocolate cake—I'd want to eat this cake at my own wedding," says Lopez.
13. Caramel Apple
Top apple spice cake with caramel buttercream frost and brown-sugar mouse. "This is my take on the caramel apple. I can see these flavors working for an autumn wedding in a rustic venue, like a barn," says Lopez.
14. Chocolate and Vanilla Swirl
Get the best of both worlds with chocolate and vanilla cakes layered with chocolate buttercream, plus mocha mousse. "The mocha mousse gives it a grown-up twist," says Lopez.
15. Tropical Guava
If you want to add a tropical touch to your wedding, you can't go wrong with a guava cake. The colorful confection is an island classic. Top a pink guava cake with fresh-guava buttercream and guava jam.
_____
Source:
By Gray MacDonald and Tyler Atwood to Brides
Featured Image: Lacie Hansen Photography
See more content from our blog!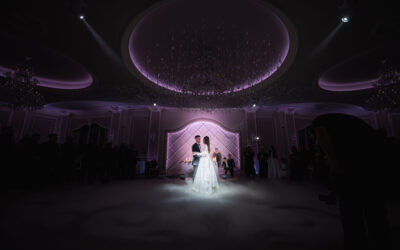 Your wedding guests will be of different generations: from grandparents to nephews and nieces to friends of your own age. That is why both wedding planning experts and modern couples agree that today's weddings should feature a good mix of new wedding songs (40% of your playlist) as well as the classics (60% of your wedding party playlist).
Contact & Location
The Mansion on Main Street is a picturesque events venue wrapped in elegance and modern beauty. Situated amidst exquisitely manicured grounds, lush gardens and a large cascading waterfall in Voorhees, New Jersey, this breathtaking property is ideal for gatherings of any kind, including but not limited to weddings, corporate events and celebrations.