11 Ways to Keep Your Dance Floor Packed All Night Long
No one wants an empty dance floor at their reception.
Here's how to start the party – and keep it going strong.
Here's one wedding nightmare you might not think of until it's too late: an empty dance floor. You've booked the band or DJ, planned your playlist and specifically carved out time for dancing—so why isn't anybody on the dance floor? You don't want to force people to get out there, but, like, seriously, why isn't anybody dancing? Trust us, if you follow our advice, you won't have to deal with this wedding reception dilemma. Your guests will find their way to the dance floor naturally and willingly (and that's an understatement). Here are the 11 best ways to ensure a packed and lively dance floor the entire night. Let the party begin!
1. Set the Mood Early
Cocktail hour is a great time to get the party going. Consider hiring specialty performers. Entertainment like a mariachi band, jazz trio, bluegrass group or barbershop quartet will energize the crowd postceremony and get everyone in the mood to celebrate. Look to your love story when deciding on specialty music: Hire a brass quintet if you met in marching band, an accordion player if you took an unforgettable trip to Paris together, or get a steel drummer in honor of your upcoming Caribbean honeymoon. The main idea is to make sure your guests aren't noshing and drinking in silence.
2. Make Sure There's Enough Space
Small dance floors are too cramped and big ones make people too self-conscious. Here's a good rule of thumb: There should be at least three square feet of dance floor space for every two guests. So, if you have 150 guests, you would need a 15′ x 15′ dance floor; 200 guests would be about an 18′ x 18′ area; 400 guests calls for about 25′ x 25′ of space. Ask your reception site about adding on extra flooring if the standard seems too small. And one more thing—make your dance floor the focal point of the room, not tucked into a corner. By highlighting it, you send guests the message that dancing will be a big part of the evening.
3. Align Your Seating Chart
Seat friends and family who love to dance closest to the dance floor. They'll be more likely to get up and start moving early if they have easy access. And once they're out there, others will follow (some people just need a little encouragement). As for your more elderly guests, do them a favor and keep them away from the speakers. They'll appreciate it. Mind your decibel levels too. You want your friends and family out there dancing, but you also want your nondancing guests to be able to enjoy themselves without having to yell. Talk to your musicians about how they plan to handle volume and accoustics within your reception space.
4. Skip the iPod Idea
You may have the most genius playlist in mind, but there's a reason why DJs and bands are so common at weddings—they're pros at reading and interacting with the crowd, and adjusting to their mood throughout the evening. They're there to ensure everyone is dancing and having an amazing time (so you don't have to). Besides, do you really want a friend or family member getting up to grab the microphone all night to announce your cake cutting and bouquet toss? Didn't think so. If you do your homework, you'll find a band or DJ in your price range who fits your style. Trust us—it's worth the money knowing your guests will be entertained all evening.
5. Don't Limit the Genre
Even if you both truly love indie rock, there's a good percentage of your guests who probably haven't heard of Modest Mouse and won't appreciate it like you will. A playlist made up entirely of '80s dance music, rap or country is the same story. Don't get us wrong, including your favorite genre at your wedding is great, but it's important to include a little mix of everything—that way there's a little something for everyone. Your wedding is a celebration of your relationship—one that probably involves music—but it's also a time to share with your extended family. Keep them in mind when developing your playlist. Throw grandparents a nod with Frank Sinatra and give your aunts and uncles a chance to dance to a little "We Are Family"(unless you're truly averse). Seeing them enjoy the night will be well worth a few minutes of Sister Sledge.
6. Make Music Interactive
Let guests in on the fun by allowing them to request songs via the RSVP card. Or set up a poll on your wedding website and ask everyone to vote on your first dance song or the last song of the evening. You'll have everyone looking forward to the voters' choice song reveal.
7. Create a (Short) Do-Not-Play List
There's no bigger dance floor turnoff than hearing your least favorite song (ahem, "Chicken Dance"). Put together a short list of please-don't-play songs for your DJ or band to avoid. But at the same time, don't micromanage. While your music pro should know which genres you like and dislike, let them figure out the best way to mix the music.
8. Keep Your First Dance Brief
You may have fallen in love listening to "Free Bird," but imagine how long nine minutes and eight seconds will feel alone on the dance floor. (And if it's dragging for you, imagine how your guests will feel.) Pay careful attention to your favorite song's length before committing to it for your first dance. Time your song and practice dancing to it beforehand. Even four minutes can kill you if you're just rocking back and forth. If your heart is set on a certain (long) ballad, try to have it cut down to a reasonable length. Work with your DJ or band to come up with the perfect shortened version. Same goes for your parent dances too.
9. Keep Things Exciting
Surprise your guests with something unexpected, like introducing a never-seen-that-before act. Think live entertainers, like break dancers or flamenco dancers. Time it right so they make their entrance just as the toasts are wrapping up to get all your guests back up and moving on the dance floor and out of their food coma.
10. Serve Dessert (or Snacks) on the Dance Floor
Ready for this genius idea? Instead of breaking up the flow of your dance party, have your traditional cake-cutting moment earlier in the evening, say, right after toasts or your first dance, before the first course is served. That way, guests will already be seated and paying attention, while you'll still be in focused, newlywed mode (not trying to get low during "Shout"). Then, once the party gets going, have your caterer pass perfect bites of cake around the dance floor, instead of serving plated slices at people's seats or way in the back at a designated dessert table.
11. Dance!
Here's the simple truth: The most fun weddings are those at which the newlyweds are having an absolute blast. Set an example for everyone by getting your happy selves out there as soon as possible. Your guests will notice and be more likely to join you when they see how much fun you're having. And when in doubt, enlist your wedding party. Your reception will be a long, busy evening, so let your crew know beforehand how important it is to you that your guests dance, and ask them to lead the movement to the floor. That way, if you do get caught up talking to guests, they'll have your back.
________
Source: The Knot
Featured image: Pictures by Katie
See more content from our blog!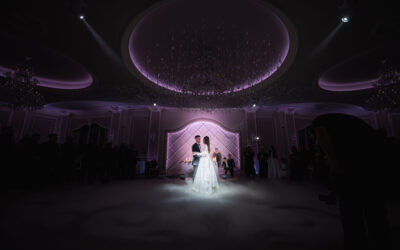 Your wedding guests will be of different generations: from grandparents to nephews and nieces to friends of your own age. That is why both wedding planning experts and modern couples agree that today's weddings should feature a good mix of new wedding songs (40% of your playlist) as well as the classics (60% of your wedding party playlist).
Contact & Location
The Mansion on Main Street is a picturesque events venue wrapped in elegance and modern beauty. Situated amidst exquisitely manicured grounds, lush gardens and a large cascading waterfall in Voorhees, New Jersey, this breathtaking property is ideal for gatherings of any kind, including but not limited to weddings, corporate events and celebrations.